For one iconic baked goods company, things are apparently back to normal — much to the relief of its very passionate consumer base.
Entenmann's, the over-120-year-old baked goods company, quietly reintroduced its plastic windowpane packaging to products in-store, causing folks on social media to celebrate.
Back in 2021, the maker of doughnuts, cakes, cookies and other pastries you can find in your local grocery store, announced a temporary change to its packaging that attracted a bit of consumer ire. 
In an Oct. 21, 2021 statement, the company explained that its signature "window boxes" — the little cellophane window on each box that provides a peek of the sugary treats inside — would be taking a little hiatus due to unforeseen circumstances involving the facility that makes them.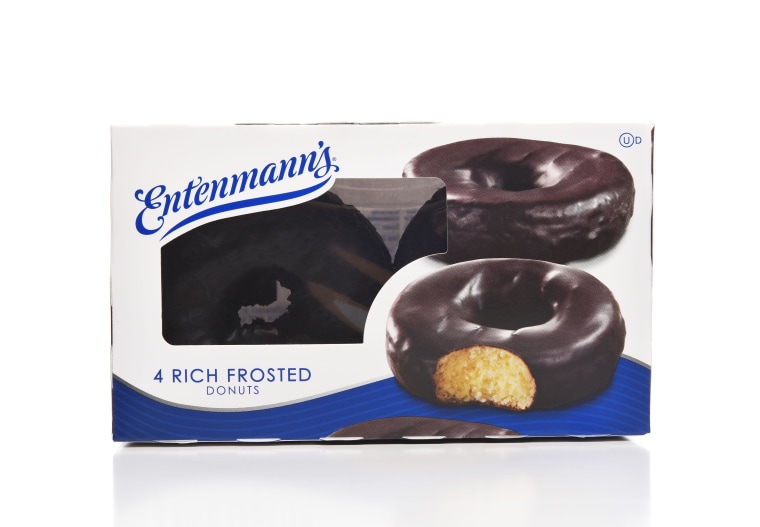 "The next time you are shopping for your favorite Entenmann's full-size products, you may notice the packaging looks a little bit different," the statement reads. "The clear cellophane 'window' that has showcased its donuts, cookies and cakes for decades will be temporarily replaced by a photo of the sweet baked goods inside." 
Entenmann's also said that some products were to be placed in clear clamshell packaging.
According to the company, although there were no changes to any of its actual products, the shift in its look was in response to a material supply disruption caused by Hurricane Ida on Sept. 1, 2021. The facility that produces Entenmann's packaging in Valley Forge, Pennsylvania was severely flooded when a dam near the facility burst, destroying 5,000 tons of packaging inventory and causing critical damage to the machinery that produced the boxes.
A representative for Entenmann's also said the emergency had "serious implications" for its supply chain and caused a brief disruption in product availability, and that the change was meant to ensure that customers could keep enjoying Entenmann's Hot Cross Buns, Devil's Food Crumb Donuts and everything else it offers, without interruption.
Still, that didn't stop customers from sounding off on social media about the change, which appears to have lasted through most, if not all, of last year.
"Everything i have feared, supply chain has now come for the little window in the f---ing Entenmann's box," tweeted one person.
"@Entenmanns why yall got a fake window on the side of the choch chip cookies?" tweeted one user in December 2022, also making sure to tag Elon Musk, NASA and SpaceX in the tweet in the hope that they would get right on the pressing issue.
"THEY REMOVED THE YUM YUM WINDOW FROM ENTENMANN'S POUND CAKE!?!" shouted another person on Twitter.
"You can't really tell by the photo but I feel personally attacked that Entenmann's took away the little window & replaced it with a printed picture," read one consumer's tweet on Feb. 4, 2022. "Not cool."
But the snack company's consumer base is a loyal one, and folks stuck it out until the packaging returned. This can be summarized in a trio of tweets from a Twitter user and avid rich frosted doughnut lover @Gettin_snakey.
"Absurd they took away the plastic window for these @Entenmanns," read the first tweet in the thread on Oct. 29, 2021. 
Some time later, that same user expressed their frustration by tweeting "Still no plastic window over a year later… @Entenmanns care to explain?" on Nov. 25, 2022. (Entenmann's, for its part, did indeed respond to this, along with many other tweets.)
Finally, on Jan. 27, the Twitter user spoke again, this time much more positive in tone, considering the window box's return had already been well underway.
"Want to thank @Entenmanns for staying true to their word and bringing back the window," they tweeted, adding the hashtag #welcomebackthewindow. "I always knew the Entenmann's empire would overcome the devastation of Hurricane Ida."
Entenmann's parent company, Grupo Bimbo, confirmed to TODAY.com that the window boxes have indeed returned to supermarket aisles.
"Entenmann's is thrilled to return to our iconic window boxes!" Maureen Sticco, vice president and general manager of sweet baked goods for Bimbo Bakeries USA, tells TODAY.com. "We made the change out of necessity in September 2021 —  we experienced a material supply disruption caused by Hurricane Ida — and always planned to return to our original packaging. We are happy that time has arrived and love that our consumers are excited as well."
Other companies have been through similar controversial packaging transformations. In 2009, Tropicana famously redesigned its recognizable orange-with-a-straw-in-it packaging to a less-iconic full glass of orange juice, causing sales to drop significantly, so they ended up switching it back.
Elsewhere, in the deli section, Hillshire Farm momentarily switched its lunch meat from red lids to tubs with clear lids in 2013, then reversed course. Although consumer feedback was positive, sales dropped, and the company — like Entenmann's — switched back to the packaging the company was known for.