Finally, you won't need to buy a plane ticket or a park ticket to enjoy one of Disney's most iconic treats.
On March 3, Dole Packaged Foods announced that the Dole Whip, the tropical frozen and dairy-free dessert that can be found at Disney Parks, will soon be offered nationwide in a freezer aisle near you.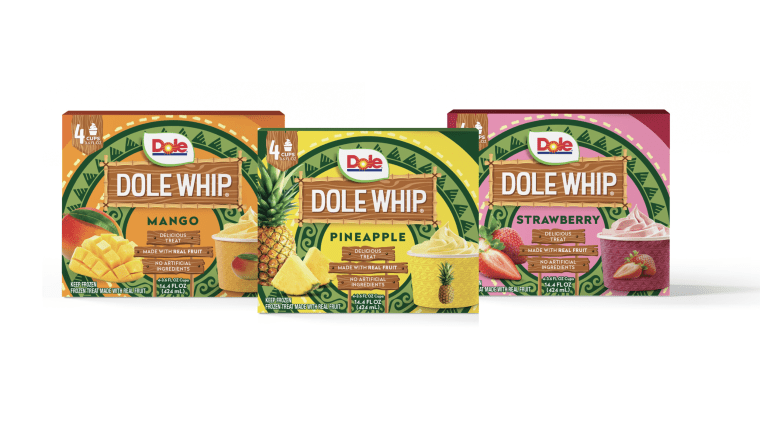 The new offering will be available in three flavors: pineapple, mango and strawberry. This is slightly different from the original trio offered almost four decades ago, which swapped out mango for orange. Regardless, you'll soon be able to find it in the freezer aisle at your local grocery store, as first reported by SF Gate.
Although the company hasn't announced when you'll be able to pick up a package of Dole Whip for yourself, the Hawaii-founded agricultural company is offering a first taste of the new lineup of innovations during the Natural Products Expo West convention taking place until March 11.
The move comes as the company said it would bring 11 new launches to market this year in 2023. Those include "healthier" snacking options like the Dole Good Crunch, a dehydrated snack consisting of crunchy pineapple and banana bites, beverages like a 40-calorie Light Pineapple Juice Drink, probiotic sodas and a gut-boosting fruit juice drink called Dole Digestive Bliss made with 50% fruit juice and boosted with plant-based macronutrients.
The Dole Whip, originally conceived by food scientist Kathy Westphal, was created at the Dole Technical Center in San Jose in 1983. Westphal was tasked with creating a version of a treat the park had been serving as Dole was a sponsor at Walt Disney's Enchanted Tiki Room at Disneyland Park.
Going off of the original offering, a vanilla soft-serve ice cream with pineapples on top, that couldn't stand up to the heat, the food scientist created a nondairy, dry-mix version that has since achieved cult status, with recipe blogs touting copycats and even surely-unauthorized Dole Whip fan products on Etsy.