Though Trader Joe's releases exciting limited edition and seasonal groceries throughout the year, there are dozens of products that have withstood the test of time and become certifiable hits (sometimes with cult-like followings). These are the items you'll find in practically every store, backed by years of positive reviews, publicity and countless social media videos touting their exceptional flavor.
But if you happen to be a Trader Joe's newb and are overwhelmed by the selection, we've rounded up 30 of the most celebrated products of all time. Unsurprisingly, there is something for every palate, preference and personality, so there's bound to be a snack, entree or dessert you fall in love with after first bite.
1. Unexpected Cheddar Cheese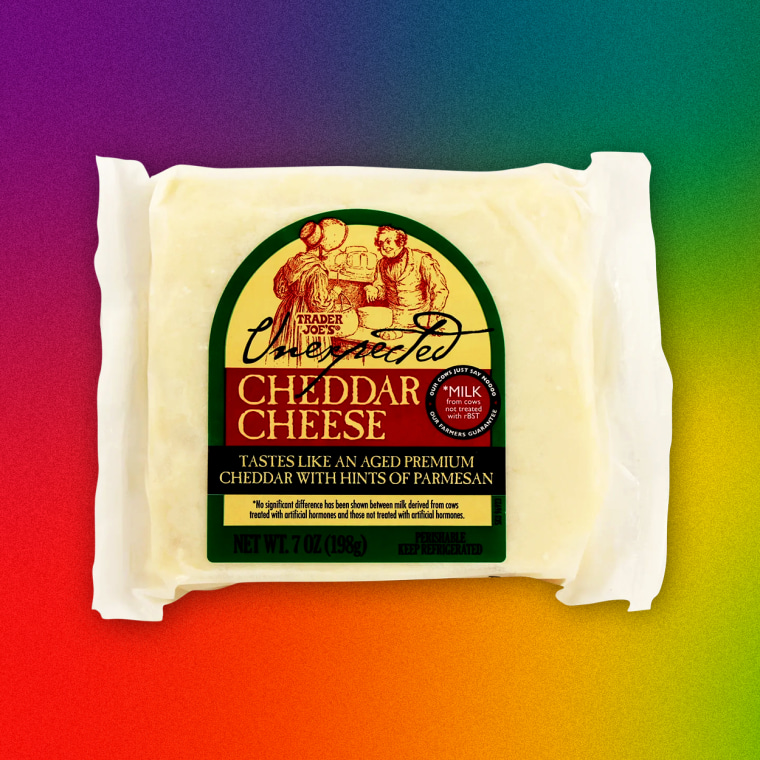 Julie Chen's famous tagline on CBS's "Big Brother" is "expect the unexpected," which can also be applied to this cheese — it pivots from a cheddar to an unexpected Parmesan after only a few chews. Unexpected Cheddar also topped TJ's Customer Choice List for so many years that it is no longer eligible for awards. Grate it on pasta, sprinkle it on pizza or melt it on a sandwich for a salty, somewhat nutty addition to any dish.
2. Everything But The Bagel Sesame Seasoning Blend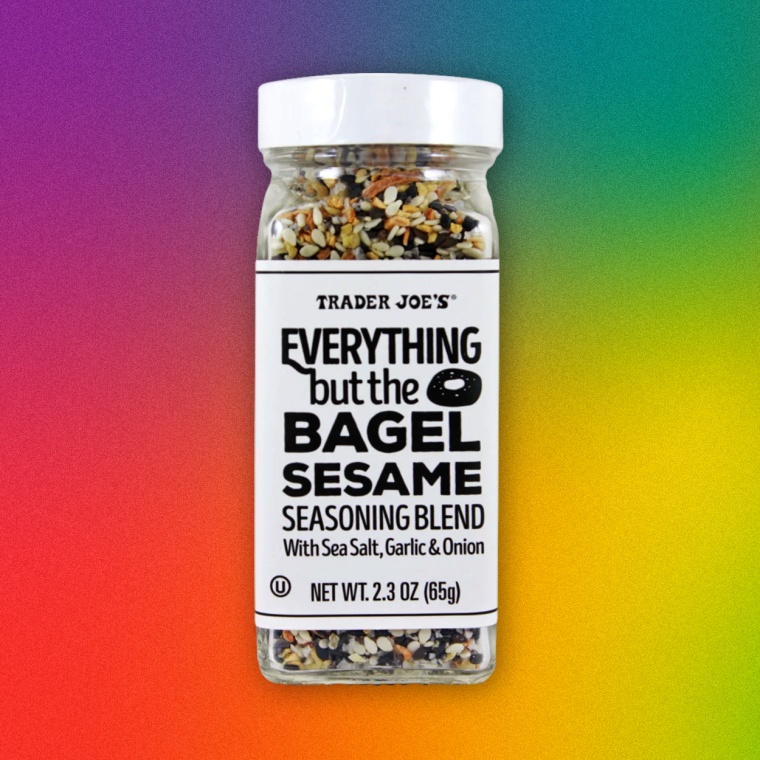 You don't need to venture to the Big Apple for a taste of the city's famous everything bagels. TJ's has found a way to bottle the flavors, sans actual bread, so that you can shake out sesame seeds, poppy seeds and dried onion on everything, from omelets and grilled chicken to roasted asparagus and even vanilla ice cream (yes, that's apparently a thing).
3. Cauliflower Gnocchi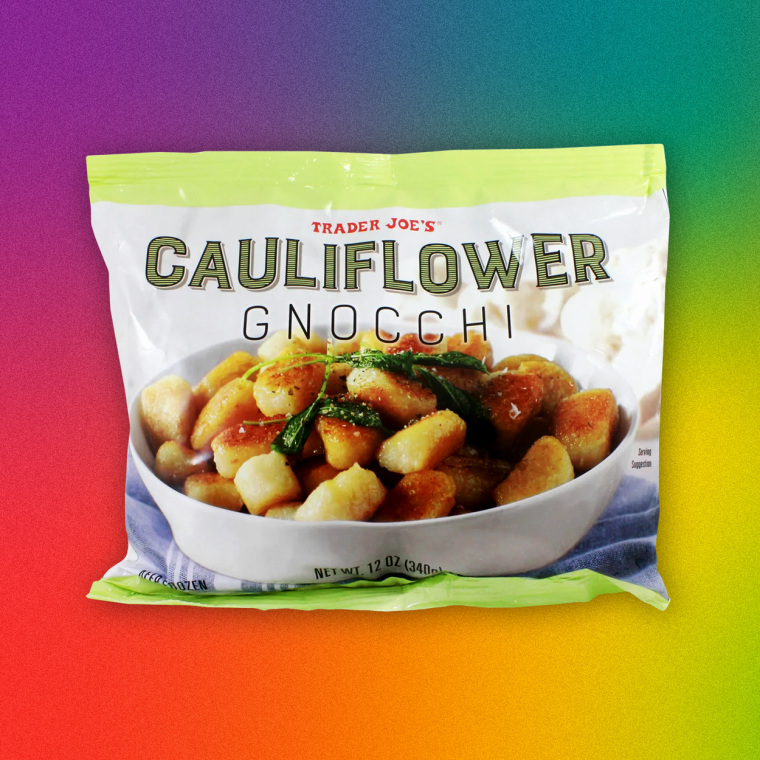 The brassica-based pasta has blown shoppers' minds for years with its ultra-velvety texture and ability to pair with practically any sauce. The tiny parcels of not-potato are also easy to prepare — boil 'em, saute 'em, air-fry 'em or even microwave 'em. You can even bake them for an oh-so-subtle crunch that is oh-so-delicious.
4. Chili & Lime Flavored Rolled Corn Tortilla Chips
These tangy, spicy Takis dupes are perhaps the most addictive snack on this entire list. And while Trader Joe's recommends serving them with a bevy of their signature dips, there is no better way to eat them than on their own. Warning: Your fingers will be stained red for hours, but the splurge is worth the unwelcomed dye job.
5. Mandarin Orange Chicken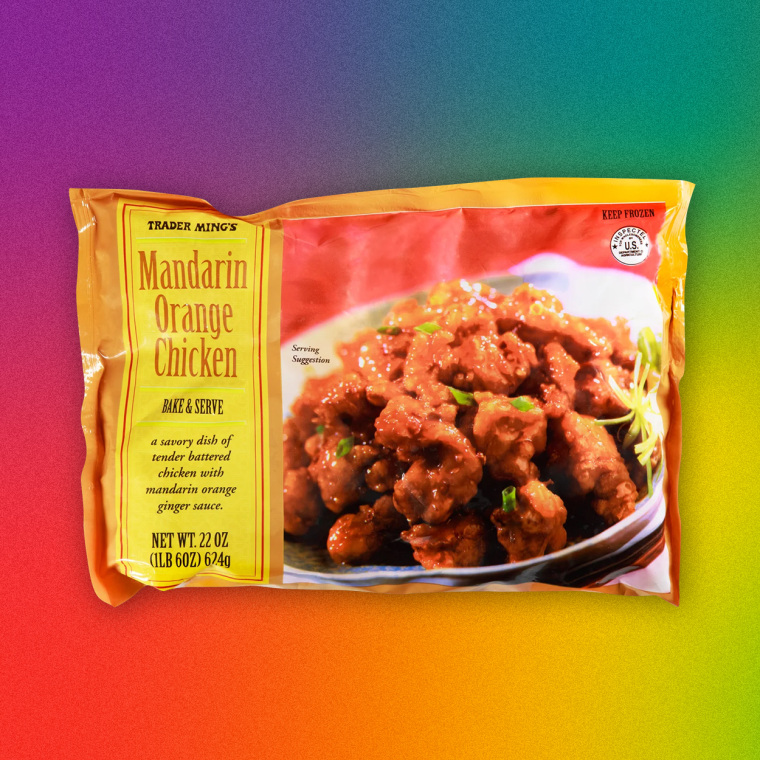 We seemingly can't get enough orange chicken from that famous shopping mall panda, so it only made sense for Trader Joe's to capitalize on the dish and offer it in frozen entree form. Dare we say, this tray may taste even better than the Americanized O.G. — a sticky-sweet, saucy feast of fried chicken bites that always satisfies any craving for comfort food.
6. Mochi Cake Mix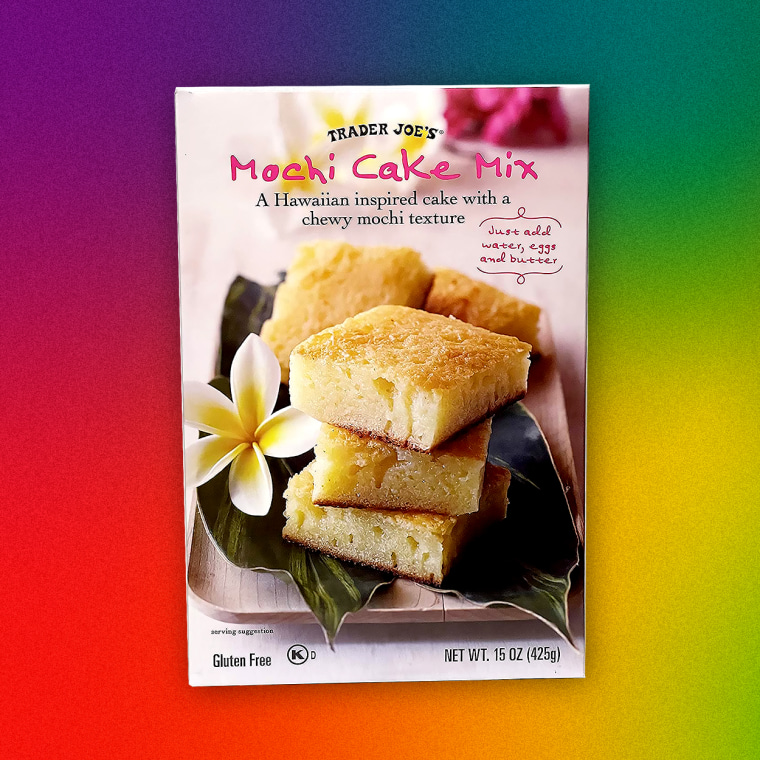 This sought-after box sells out as soon as it hits shelves — and for good reason. It yields a drool-worthy dessert bar that's buttery and chewy, with a golden crust that lines the edges. If you're a true mochi maniac, be sure to also check out Trader Joe's impressive assortment of frozen varieties like strawberry and green tea.
7. Ube Purple Yam Flavored Ice Cream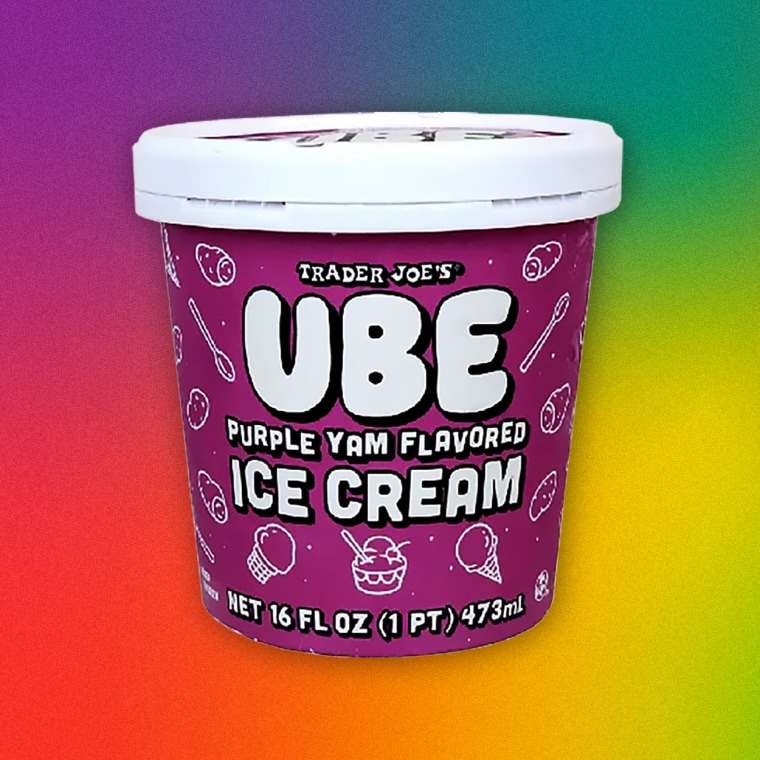 Sure, the purple color of ube is eye-catching, but incorporating the yam into ice cream is no clever marketing ploy. This pint is creamy, decadent and, most importantly, worthy of coveted freezer space. Its royal hue is simply an added bonus.
8. Lemony Arugula Basil Salad Kit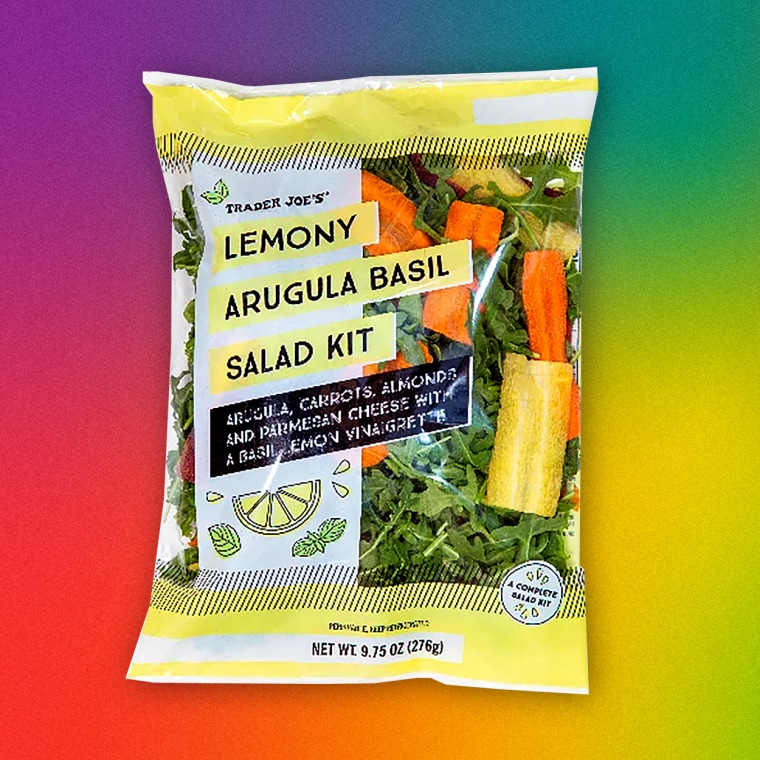 Here is a perfect example of the minimal effort an exceptional side can require. Peppery arugula is topped with shredded Parmesan, shaved carrots, roasted almonds and an herbaceous lemon-basil vinaigrette that practically screams summer. All you need is a bowl, a set of tongs and less than five minutes of your time.
9. Hold the Cone! Mini Ice Cream Cones
If you've polished off that ube pint and want to enforce some semblance of portion control moving forward, these adorable mini ice cream cones offer the perfect sweet treat for any sudden demands made by your sweet tooth.
10. Dark Chocolate Peanut Butter Cups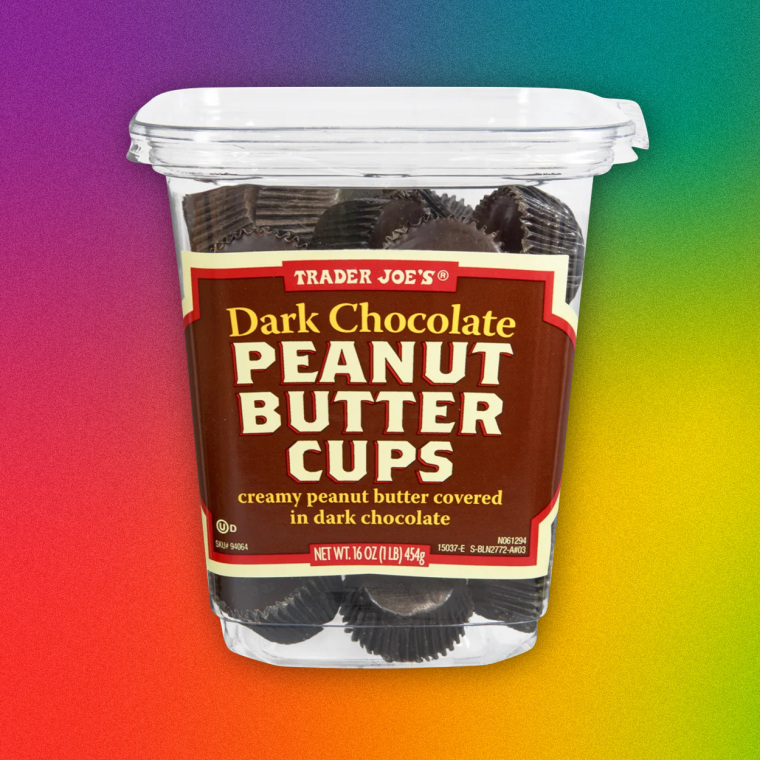 The only mainstream peanut butter cup that could give Reese's a run for its money is Trader Joe's dark chocolate offering. These end up in practically every must-have list thanks to its high-quality cocoa and roasted peanut butter, both free of unnecessary preservatives and artificial ingredients. Still have peanut butter on the brain? Be sure to also invest in the store's Bamba Peanut Snacks and Peanut Butter-Filled Pretzels.
11. Sparkling Black Tea with Peach Juice Beverage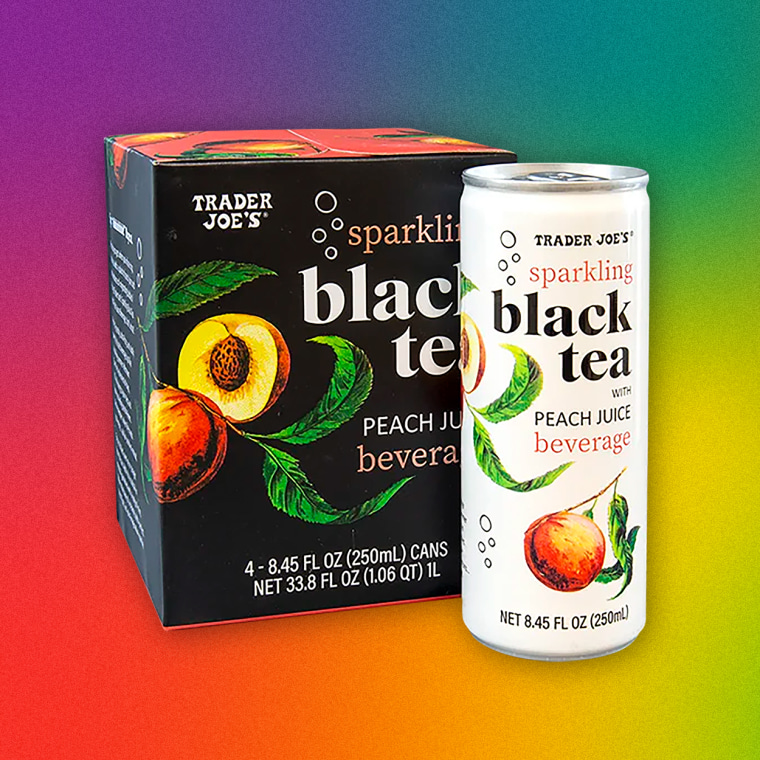 Don't overlook Trader Joe's expansive beverage section, complete with sparkling canned varieties like this beloved black tea that incorporates real peach nectar. You didn't hear this from us, but these may or may not pair perfectly with vodka for a spiked warm weather sipper.
12. Carne Asada Burritos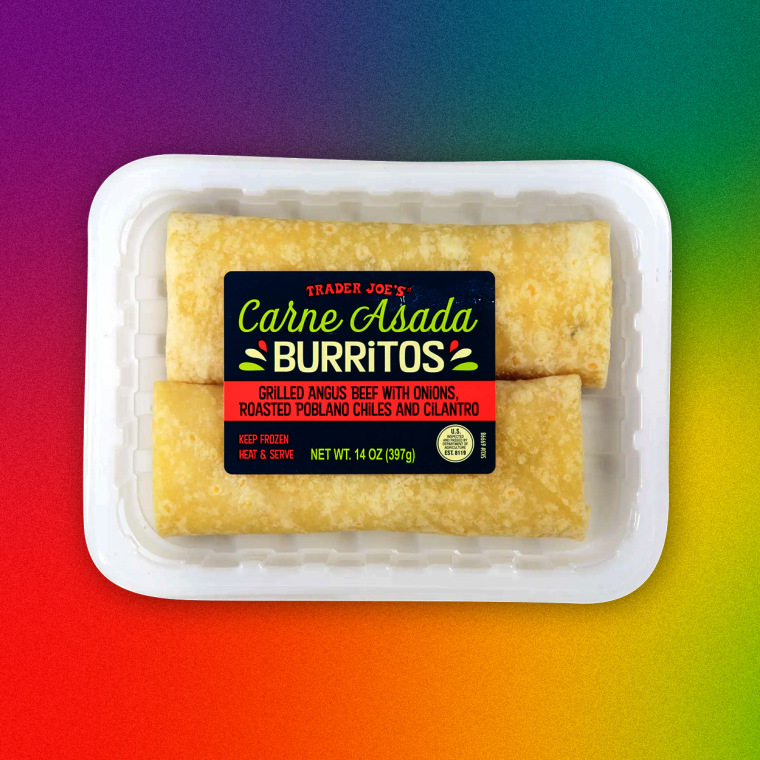 Taco Tuesday? Pfft. We're all about carne asada burrito every day. It's a lunch-time favorite for office-goers who don't want to take the time to meal prep. Simply pop these bad boys in the microwave and enjoy the gourmet bites of grilled Angus beef, chopped onions and roasted poblano chiles.
13. Gluten Free Mac & Cheese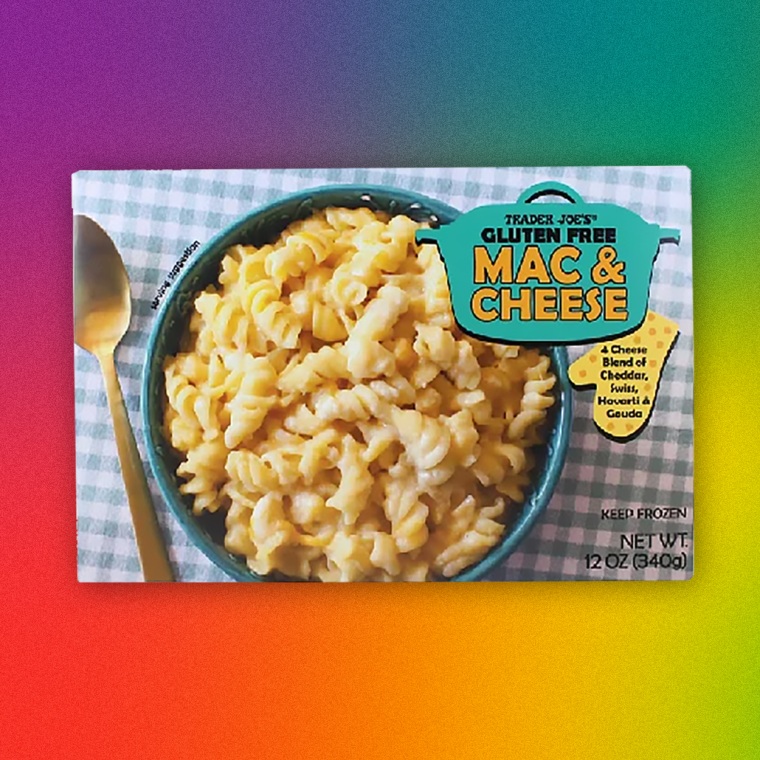 There is no denying that Trader Joe's Diner Macaroni and Cheese is exceptional, but its gluten-free variety is where the brand really shines, offering a flourless take on the timeless classic for our gluten-sensitive and Celiac friends. It's just as cheesy, just as creamy and may even taste better than its traditional predecessor. We'll let you decide.
14. Plantain Croutons with Garlic and Sea Salt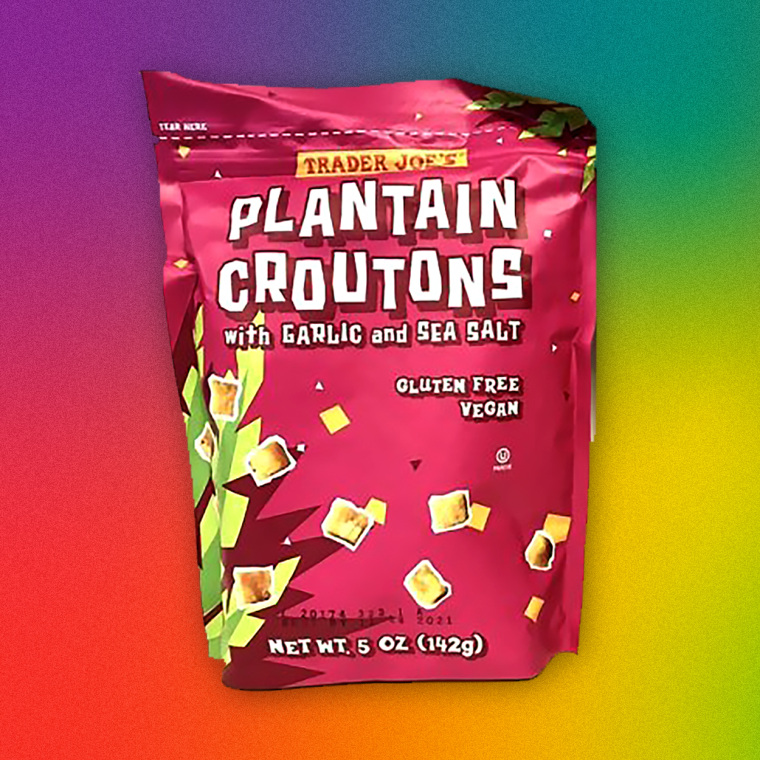 One of the newer icons on this list, the plantain crouton is the crunchy offspring of the uber-popular plantain chip. Seasoned with only garlic and sea salt, they add a fantastic crunch to any boring salad and make an ideal bread alternative for those limiting their carb intake.
15. Soy Chorizo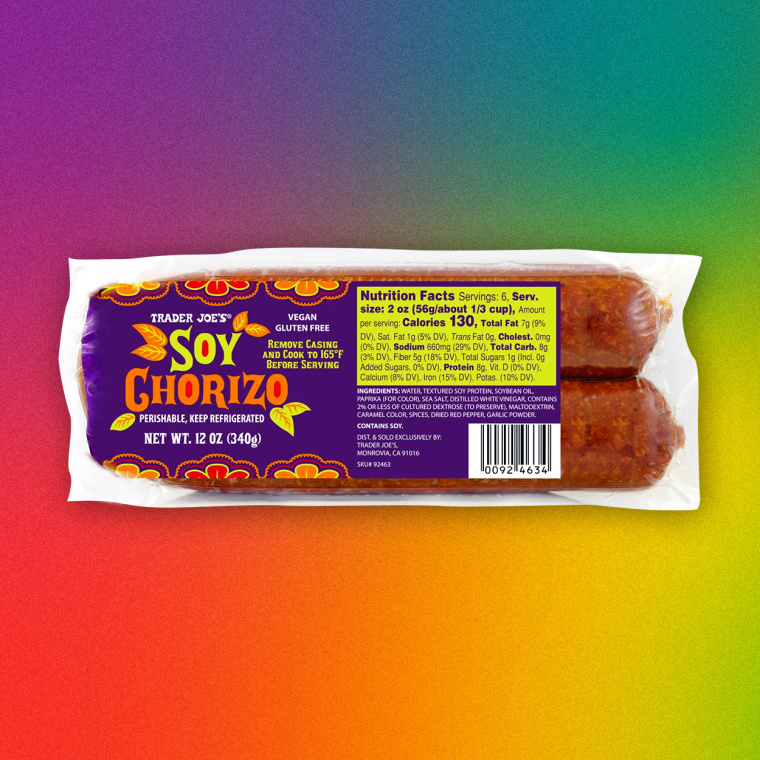 Vegans can get in on the joys of chorizo with a soy alternative chock-full of the same bold spices you find in the Spanish pork product. Add it to scrambled eggs or chop it up to create a sweet potato hash that will undoubtedly become a recipe added to your weekly dinner arsenal.
16. Buffalo Style Chicken Dip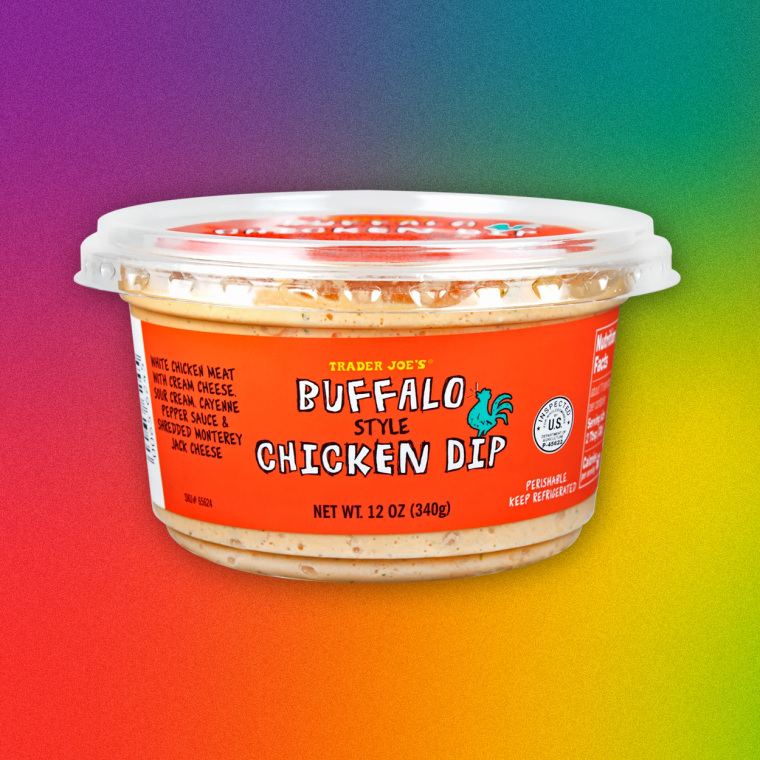 Chicken wings are delicious. Bones are not. This dip takes everything you love from the game day app and condenses it into a creamy, zesty indulgence. You can, of course, nosh on it with hearty tortilla chips, but feel free to get creative with pasta to create the spring picnic salad of your dreams.
17. Speculoos Cookie Butter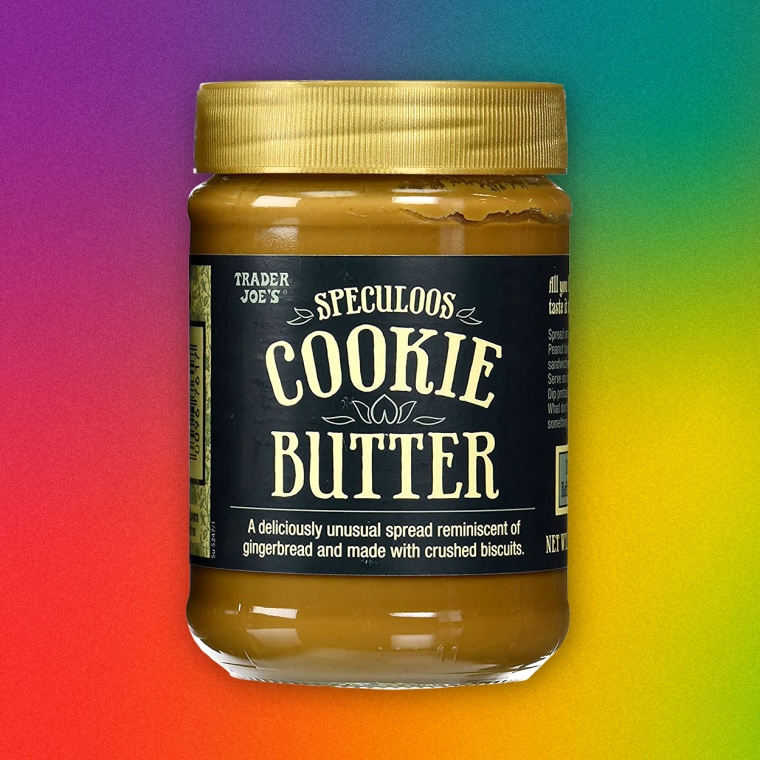 Peanut butter, who? We've been topping our sandwiches with this Belgium-inspired cookie spread that harmonizes effortlessly with Nutella. But our favorite way to eat it is with a spoon and an appetite, straight from the jar, with zero inhibitions.
18. Jalapeño Sauce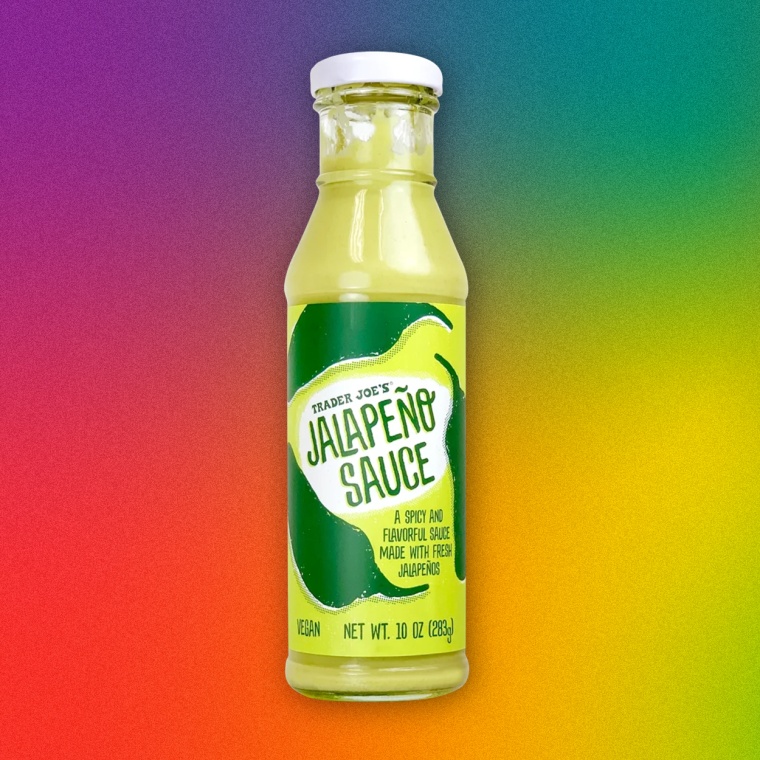 If you're searching for a condiment that you can drizzle on practically everything, look no further than this pale green jalapeño sauce that is heavy on flavor but low on tongue-assaulting heat. It's the perfect balance between cream and spice, elevating a wide range of dishes like simple guacamoles to more complex Mexican beef stews.
19. World's Puffiest White Cheddar Corn Puffs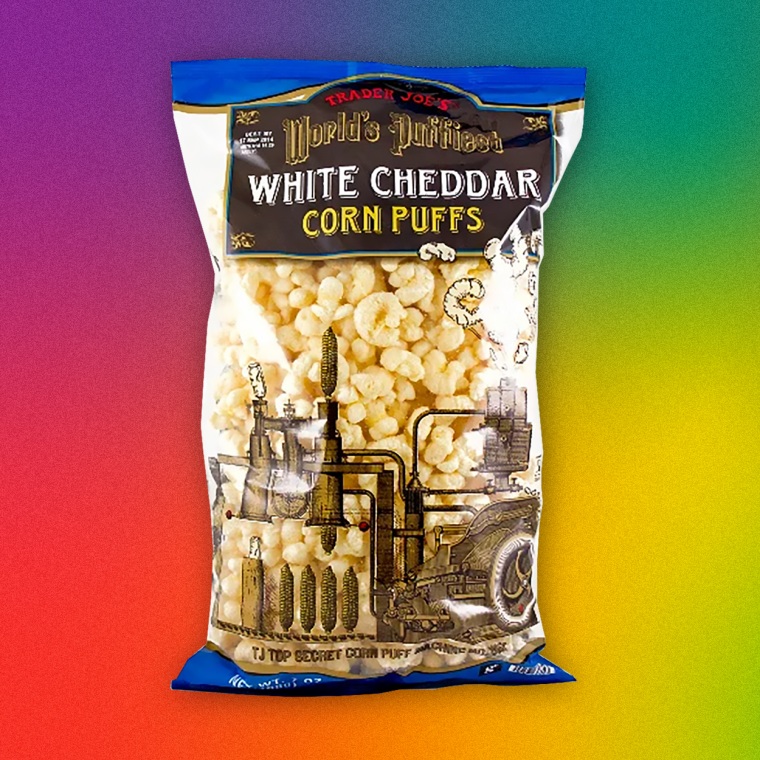 Sometimes the mood calls for something salty and crunchy, and these white cheddar corn puffs more than hit the spot. They're light, airy and coated generously with real cheese. Have a bag clip on standby because it's entirely too easy to polish off all seven servings in one sitting.
20. Cauliflower Pizza Crusts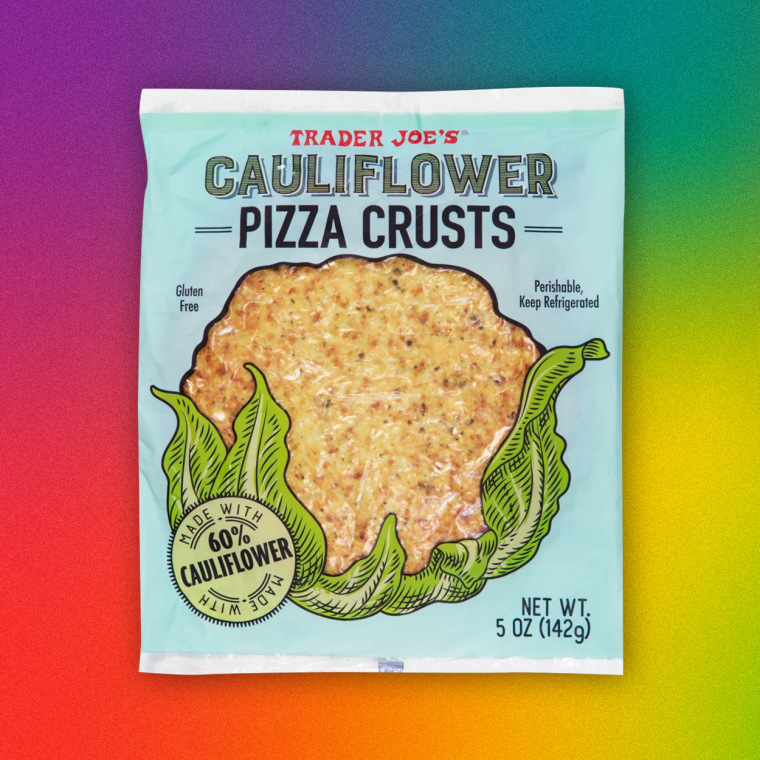 It's no secret that Trader Joe's brings its A-game when it comes to cauliflower and this pizza crust is no exception. Bound together by the stalked veggie, eggs, grated parmesan and a handful of herbs and spices, these thin crusts also double as sandwich wraps and gluten-free tortillas.
21. Chicken Gyoza Potstickers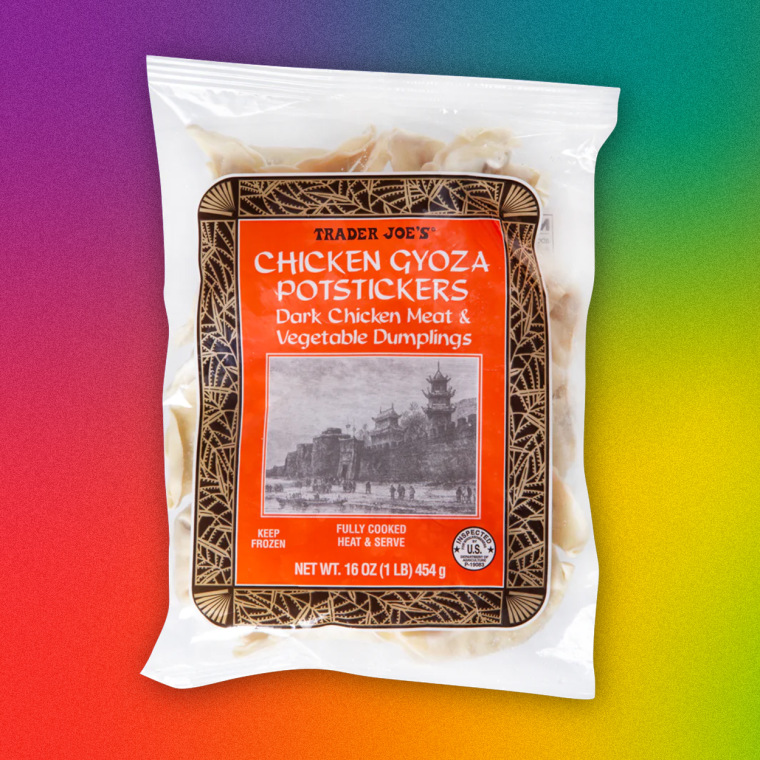 These crescent-shaped dumplings are great to have on hand as a back-up dinner option. You can steam or microwave them, but pan-frying will produce that wonderfully crispy skin that encapsulates the chicken, onion and cabbage inside of it. Opt for TJ's Gyoza Dipping Sauce, of course, to amplify flavors beyond a standard soy or ponzu.
22. Mediterranean Style Hummus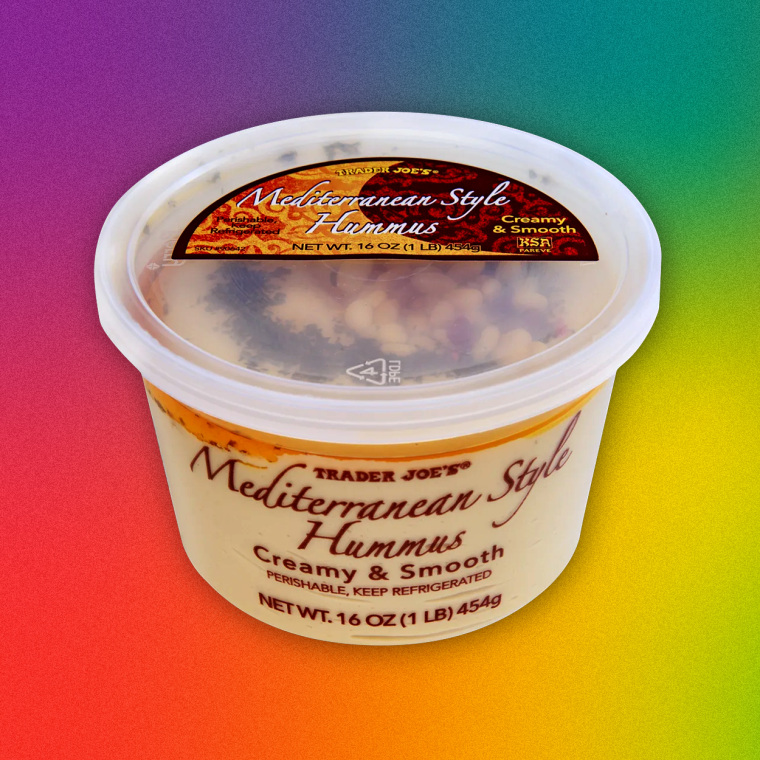 There is no shortage of hummus options at Trader Joe's but the store's Mediterranean tub, garnished with pine nuts, parsley, red bell pepper and olive oil, is a fan favorite not only for its flavor but also its whipped consistency. It never feels too heavy on a cracker and can be used as a sandwich spread in place of mayonnaise to integrate a creamy element.
23. Vegan Kale, Cashew & Basil Pesto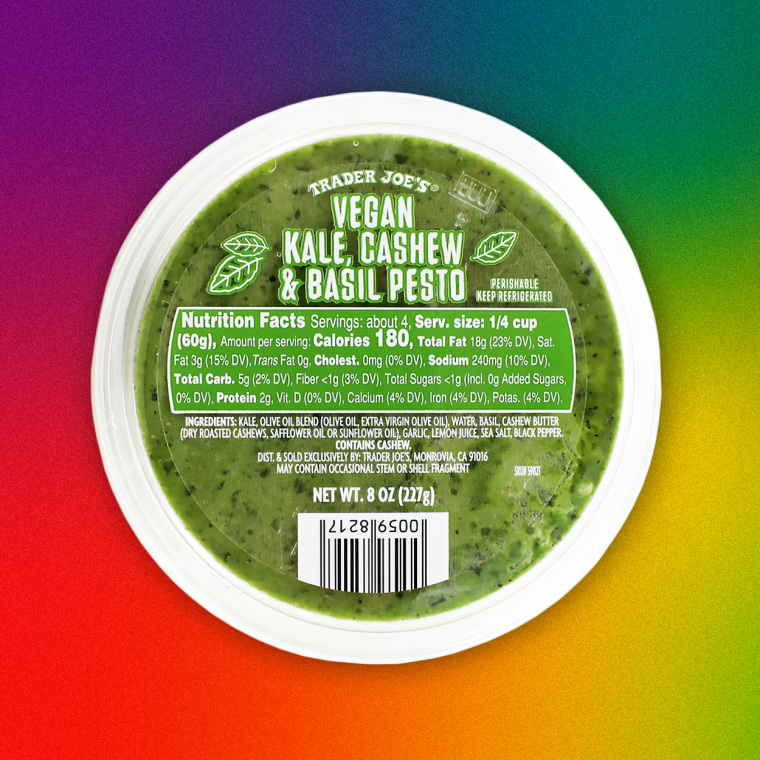 You can have your pesto and nutrients, too, with this veggie and protein-packed vegan alternative to one of Italy's most celebrated exports. Use it beyond pasta as a dip for fresh-baked bread, a marinade for chicken or even as a base for a salad dressing. There is no wrong way to get your greens.
24. Fleur de Sel Caramel Sauce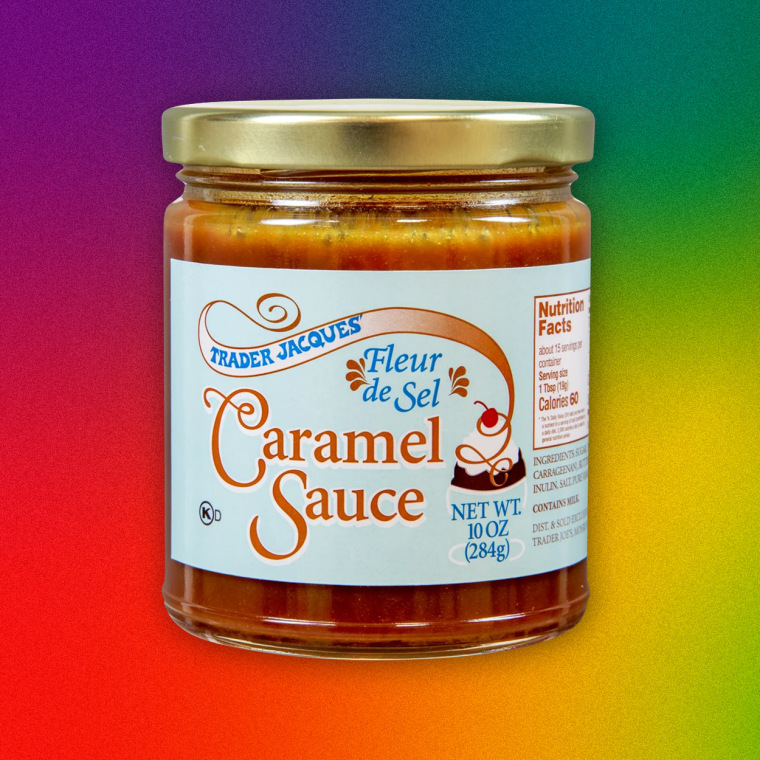 The only thing better than a caramel sauce is a salted caramel sauce, and this thick, decadent jar is arguably one of the best on the market. Or as they say in France (where its salt is hand-harvested), "C'est parfait."
25. Jicama Wraps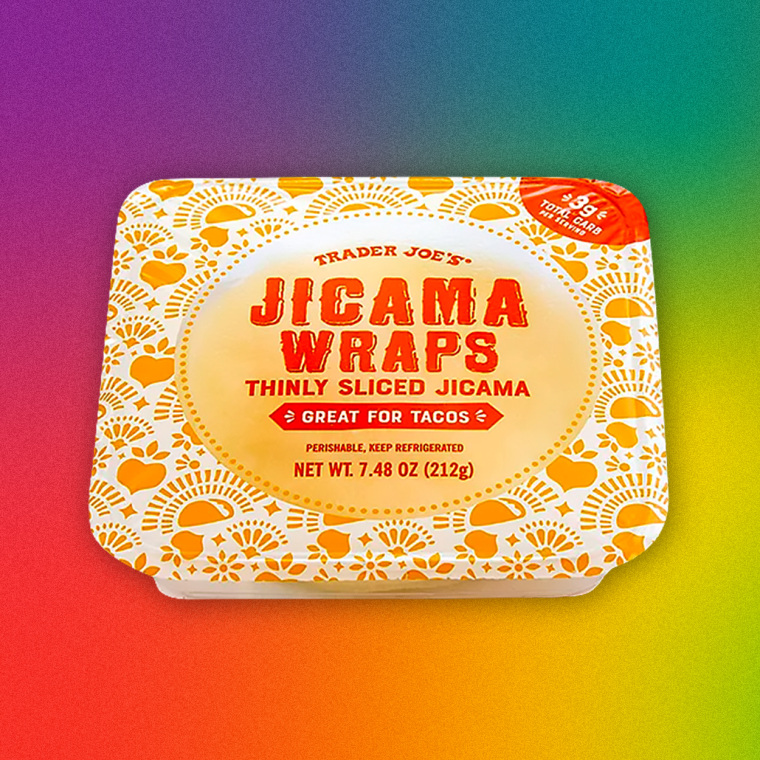 Say "tata" to tortillas with refreshing jicama wraps. There is something about their crunch that makes even the most scrumptious of taco shells pale in comparison*. (*OK, this may not be true, but if we're ditching grains, this would be our No. 1 choice.)
26. Cold Brew Coffee Concentrate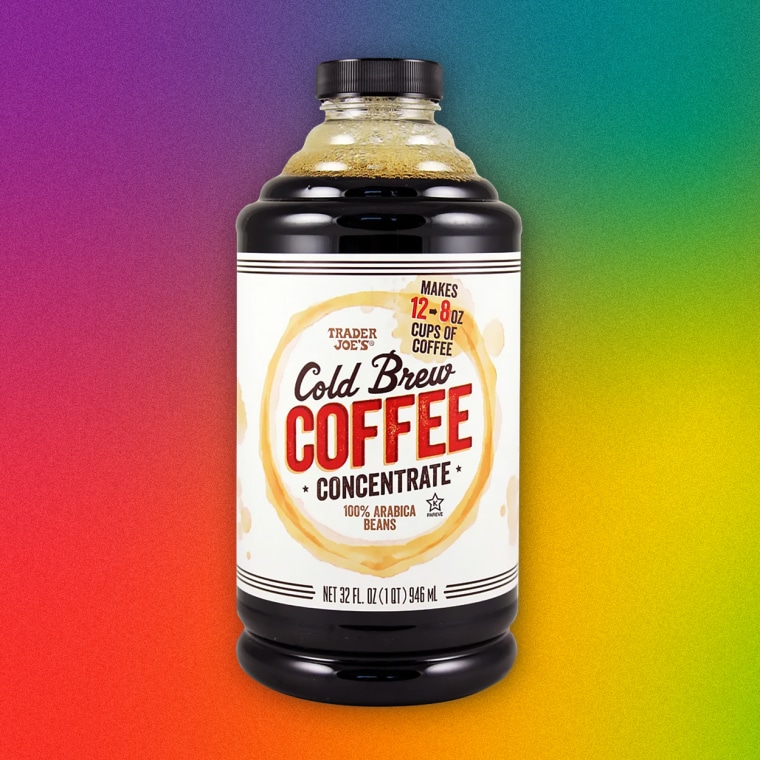 Do the brew. If you're looking to save some cash and ditch that expensive Starbucks habit, Trader Joe's makes an excellent cold brew concentrate that only requires water, milk or cream. You can also pour a splash of it into coffee-based recipes like roasts and tiramisu for a deeper toasty flavor.
27. Crunchy Chili Onion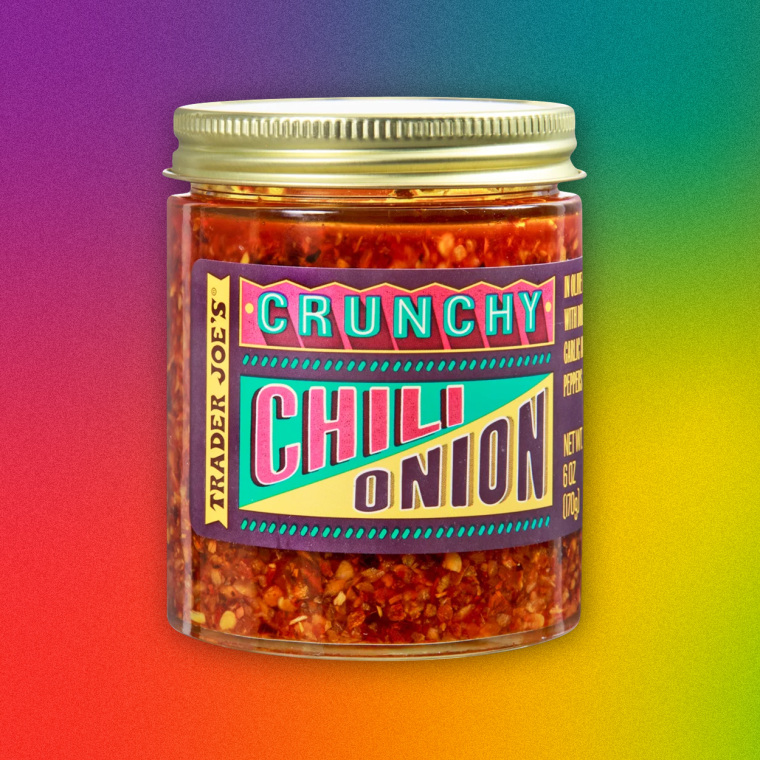 Chili crisp continues to trend as a more textured departure from everyday hot sauce, but this onion-y offshoot provides a sweetness and sharpness that makes it different from the garlic-forward jars you've likely grown accustomed to (and become obsessed with). Change up your routine and bring in a different bulb.
28. Gone Bananas!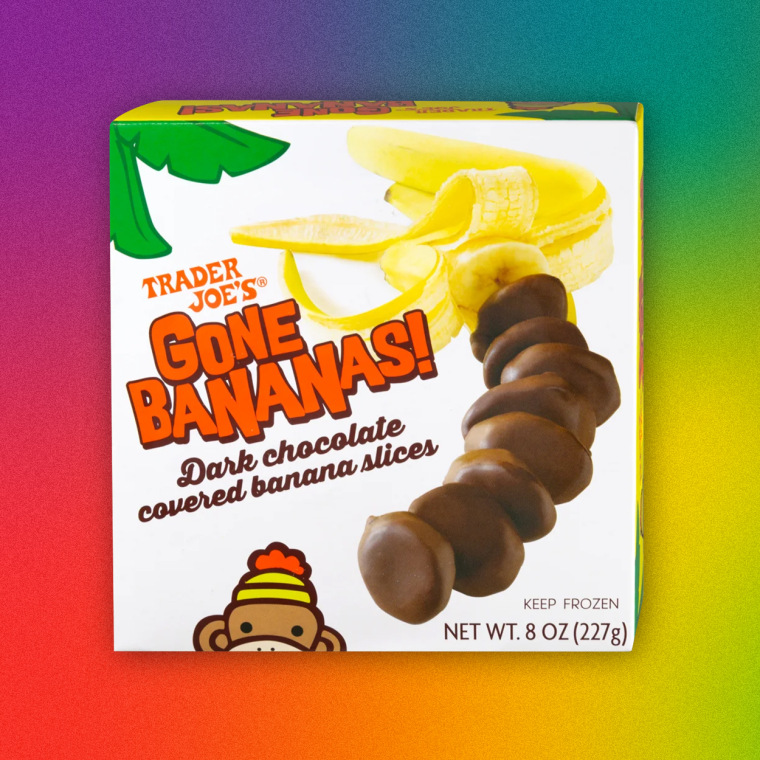 This s--- is bananas, and shoppers went bananas when it was introduced years ago. While it's nothing more than dark chocolate-covered frozen banana slices, it makes for a light and delicate dessert to appreciate after going ham on, well, all of the ham at a summertime barbecue.
29. Everything But The Elote Seasoning Blend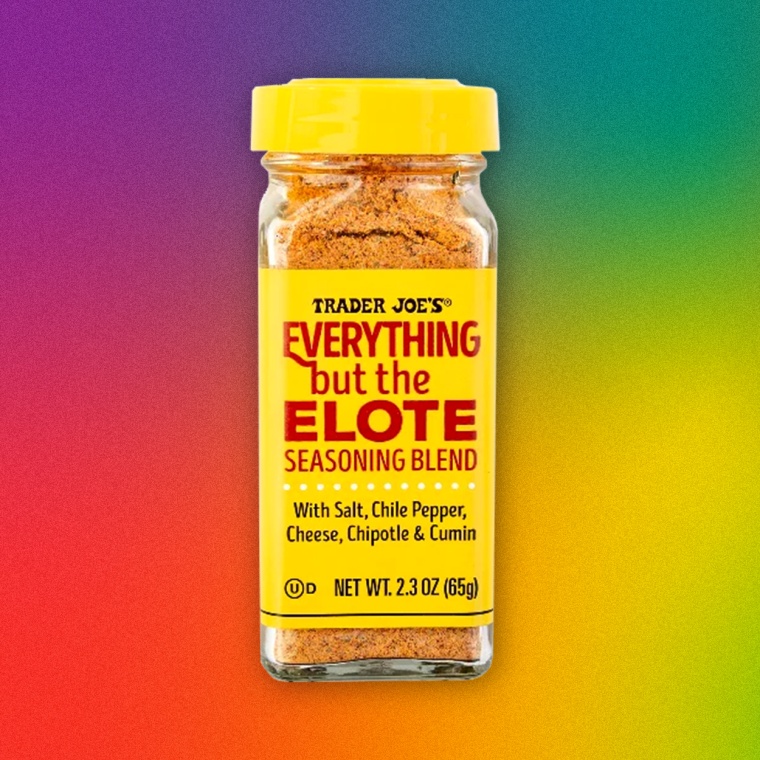 Mexican street corn may have its moment in the sun (literally) at summer street fairs, but you can enjoy the flavors of sweet mayo, cilantro, chili powder, cheese and lime year-round with this elote-inspired seasoning. It also, unsurprisingly, tastes good on steamed corn and, more specifically, popcorn. So meta.
30. Two-Buck Chuck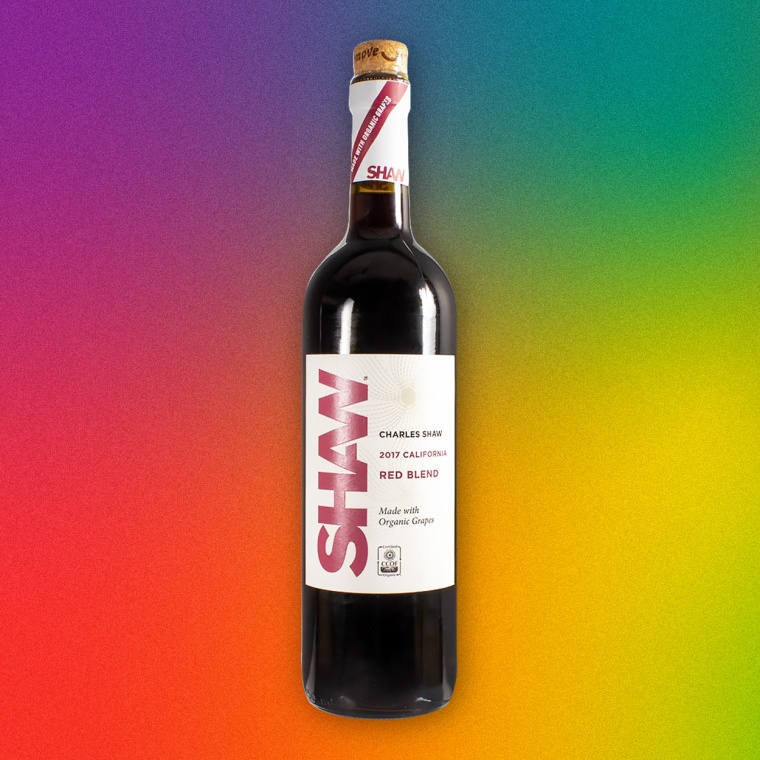 Aside from seemingly endless selection and innovation, affordability is Trader Joe's biggest draw. And there is no item more competitively priced than the Charles Shaw line of $2 bottles, affectionately known as "Two-Buck Chuck." Sure, this isn't the fancy bottle to bust out during the special dates and holidays, but if you're hosting a Thursday happy hour and don't want to pour your hard-earned money into booze, load up on a bottle or seven and guests will never notice the difference.