When 3 p.m. rolls around and not even an iced coffee can get me through the remainder of a trying work day, I rely on good ol' beef jerky to carry me to the finish line. The flavorful snack is not only energy-boosting with its high protein content and simple ingredients, but also a case of mouth gymnastics with a trademark chewy texture that will wake anybody up from an afternoon slump.
But when it comes to the dehydrated red meat, I'm no expert — I buy whatever is readily available and rarely think twice about what makes a bag the best of the best.
Matt Kreider, executive chef of W Fort Lauderdale's Steak 954, certainly is, and after what I can only describe as an epic spread of steak (everything from filets to rib-eyes to A5 wagyu) during an epic Florida vacation, I sought him out to walk me through what makes the the perfect beef jerky.
"The beef is obviously the most important place to start," he confirms. "You want a high-quality beef that has been humanely raised and fed on a nutritious diet."
Unfortunately, this isn't always what you find with mainstream grocery options, so the second thing to look out for is excessive sodium content.
"A lot of store-bought products have more salt than necessary, so paying attention counts," adds Kreider, who also encourages consumers to keep processing methods in mind. (You want a jerky that isn't full of too many additives to achieve that crave-worthy taste and texture.)
While I'll never pretend like beef jerky will take the place of the perfectly-grilled steaks I enjoyed at Kreider's restaurant, it does conveniently provide the sustenance I need during any unexpected (or expected, if we are being honest) bout of hanger.
Check out how 10 of the most mainstream brands fared below.
TODAY independently determines what we cover and recommend. When you buy through our links, we may earn a commission. Learn more.
10. Trader Joe's Natural Original Beef Jerky
This may come as a shock to the masses, but not everything Trader Joe's makes is a homerun. And while I wouldn't mind picking this up as a last-minute snack before a camping or road trip, it's not something I'm going to rush and buy on a weekly basis. The pieces I ate were a touch fatty, very dry and far too sweet (basically a description of me, if I'm being completely honest). Skip it and opt for one of the beloved chain's hundreds of certifiably delicious snacking alternatives.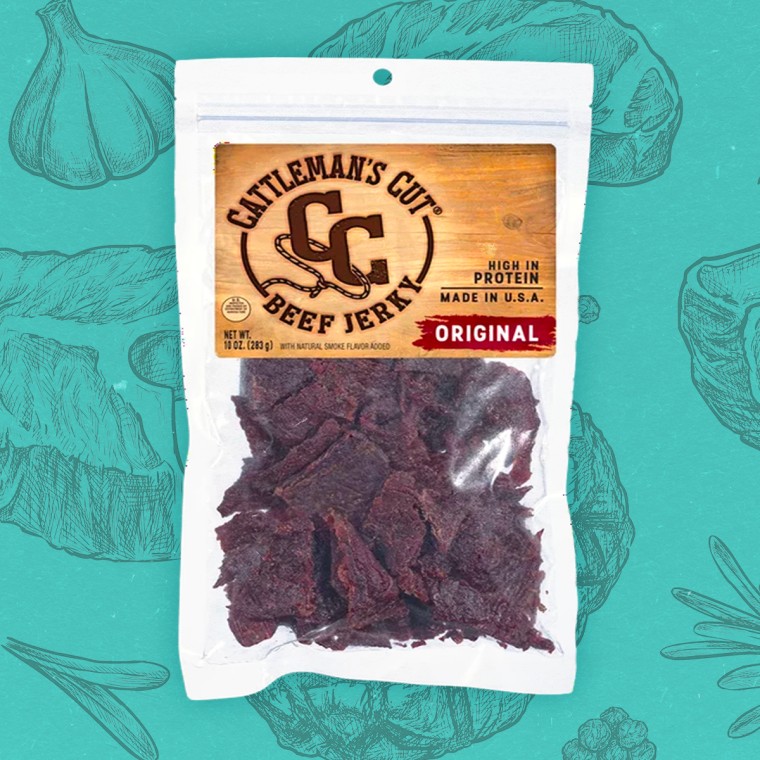 Mr. Cattleman has created a pretty solid jerky, though my nitpicky self unsurprisingly stumbled across a few issues. I appreciated the softness, despite the inconsistency, but my major problem was with the somewhat sour aftertaste. It didn't taste rancid, by any means, but it was distinct enough to prevent me from going back for more. Also, the pieces were quite oily and I, frankly, only have the mental capacity to deal with my oily Sicilian forehead on a daily basis. That said, I really dig Cattleman's Cut jerky sticks — look for those instead and you'll thank me later.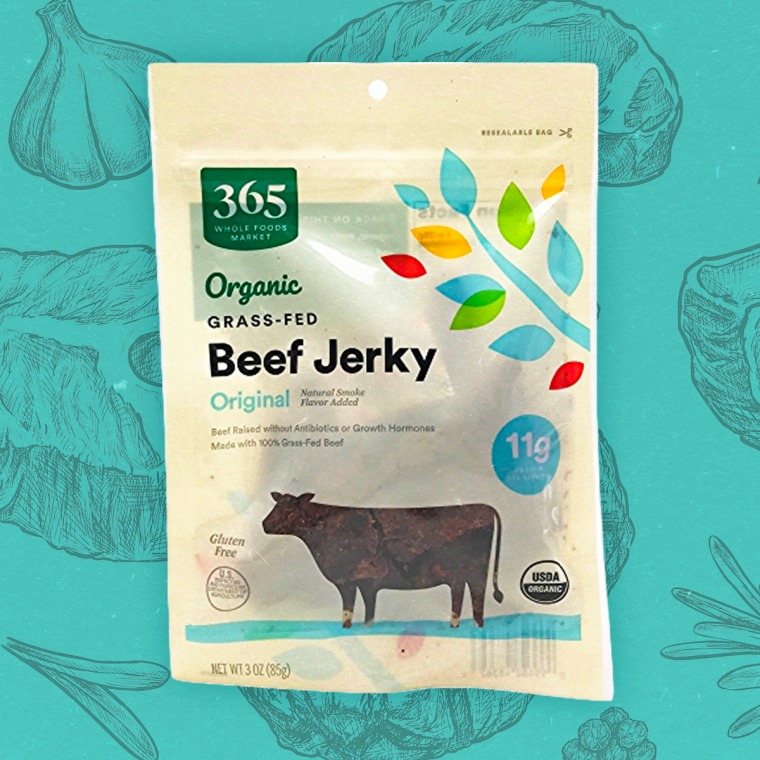 Holy salt content, Batman. This one will have you grabbing a tall glass of ice water to rid your mouth of overwhelming brininess. I did enjoy the texture, though — a perfect balance between soft and hard, though its smoky flavor tasted a bit too artificial for my liking. At least the product is certifiably organic, like Kreider recommended. Props to you, Whole Foods.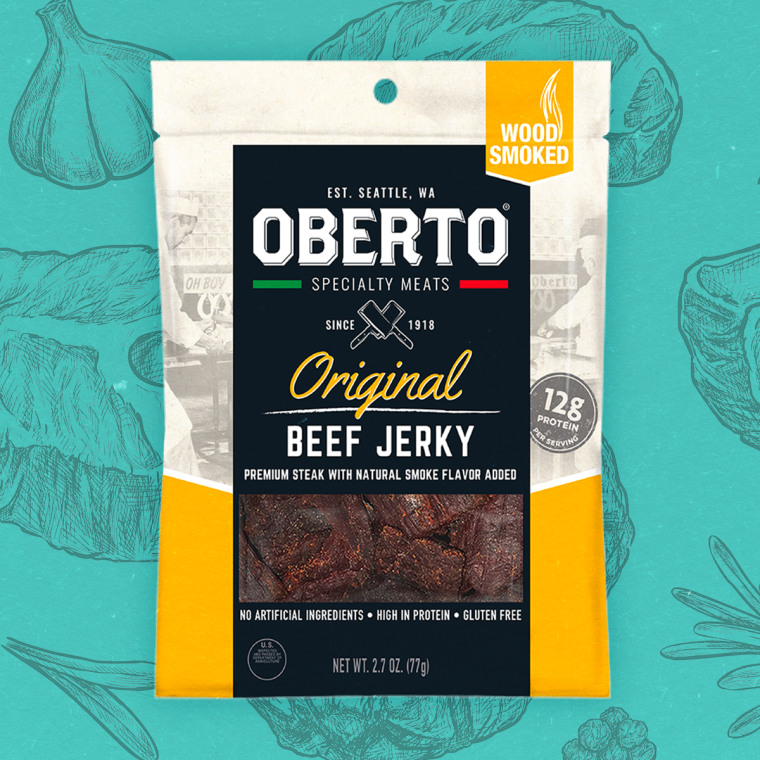 Oberto's jerky was very average, like my basketball skills and singing abilities, but I do think it'd be a hit among kids and picky eaters. There was nothing particularly special about its taste and texture, though I did admire the variation in sizes (you could gnaw on some pieces while consuming others in a bite or two). If you're looking for an affordable, safe bet, go for it. But if you want something that feels a bit more gourmet, read on.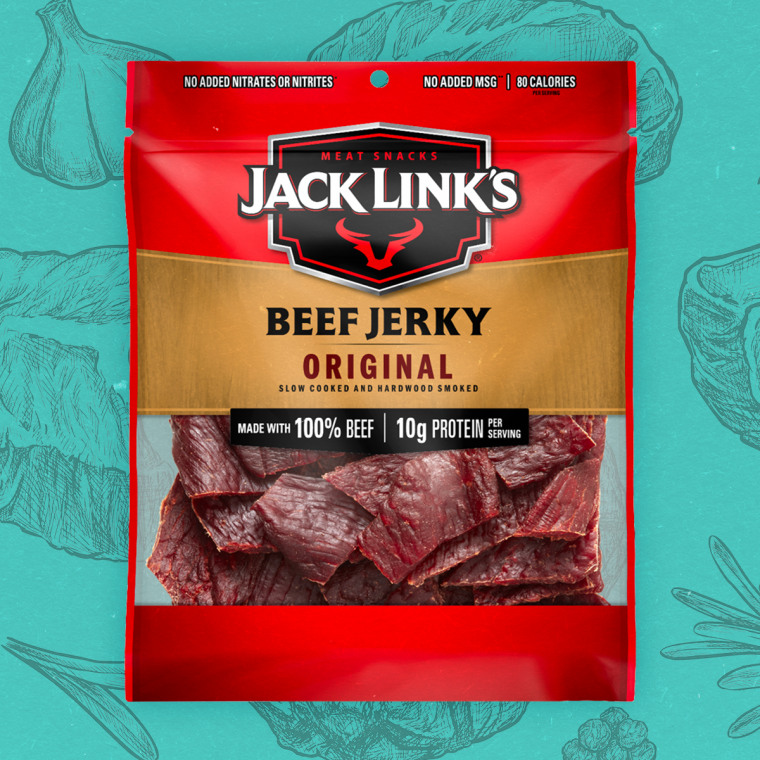 I don't like hating on Jack Link's because I think its flavored jerky iterations are oh-so-fun and clever (looking at you, Flamin' Hot), but the brand suffers from a lack of consistency. You'll chomp into a piece that is super soft and chock-full of bold smoke and salt, and then your next piece will literally be so tough that a T-Rex would have difficulty ripping through it. If I was guaranteed jerky perfection with each bite, this would have ranked a lot higher. But for now, it remains a strong sixth place.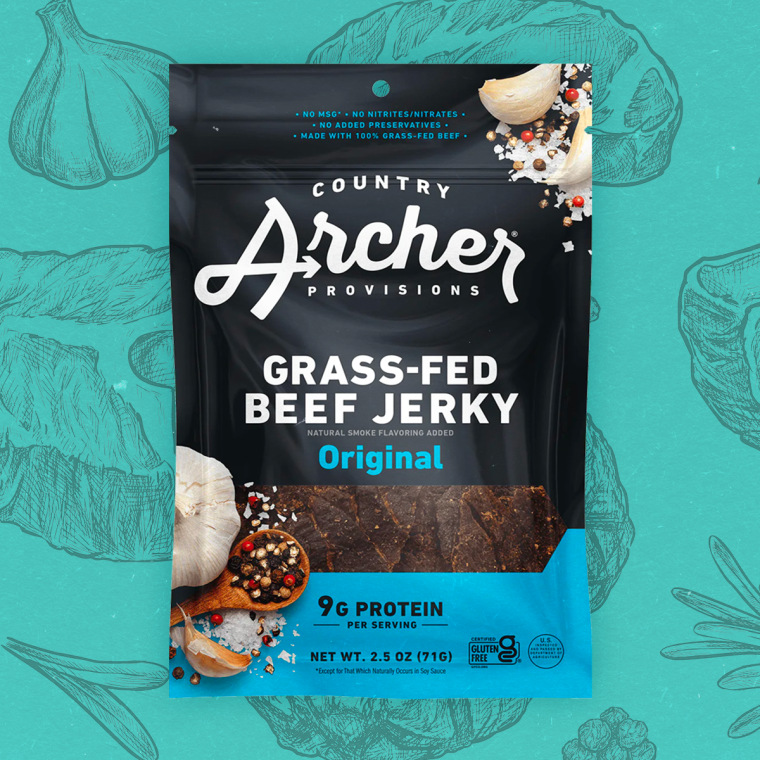 Country Archer really reigned supreme when it came to texture — the perfect hybrid of buttery softness and fibrousess (sounds so appetizing, right?). I know some weirdos people prefer their jerky to feel like chewing tobacco (which this is not), so they'll savor the moments that take a bit more effort to swallow (without requiring the Heimlich maneuver). Another perk? A subtle spiciness in the form of black pepper, which is always welcomed.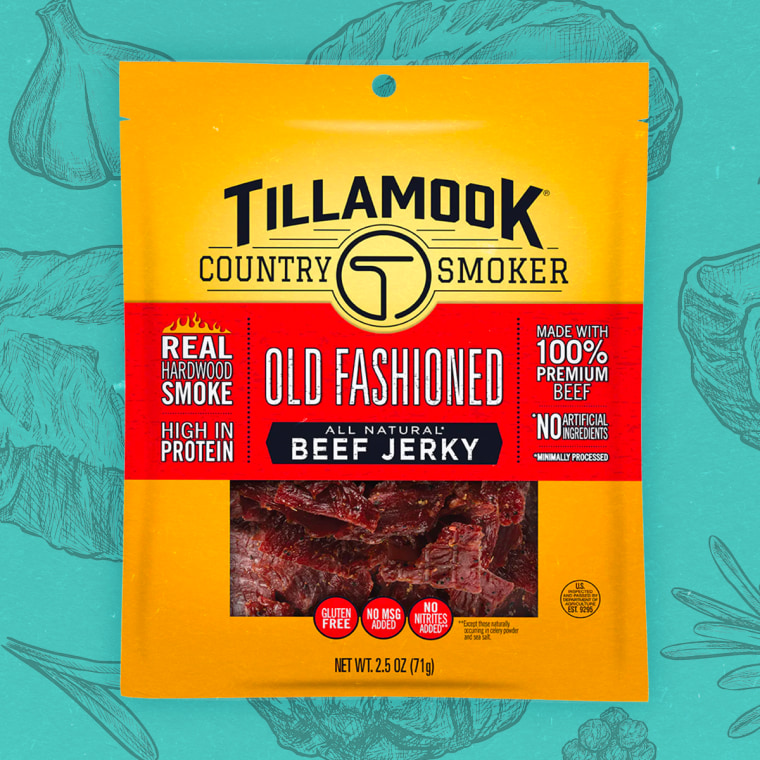 While I actually actually prefer Tillamook's zero-sugar option, this was a pretty stellar jerky. It was a bit on the sweet side and not as smoky as I typically prefer, but it boasted great texture throughout and felt the most snackable. This would be the one I'd eat an entire bag of with all-too-great ease and then regret my choices an hour or two later when my stomach is in complete and utter distress. Worth it!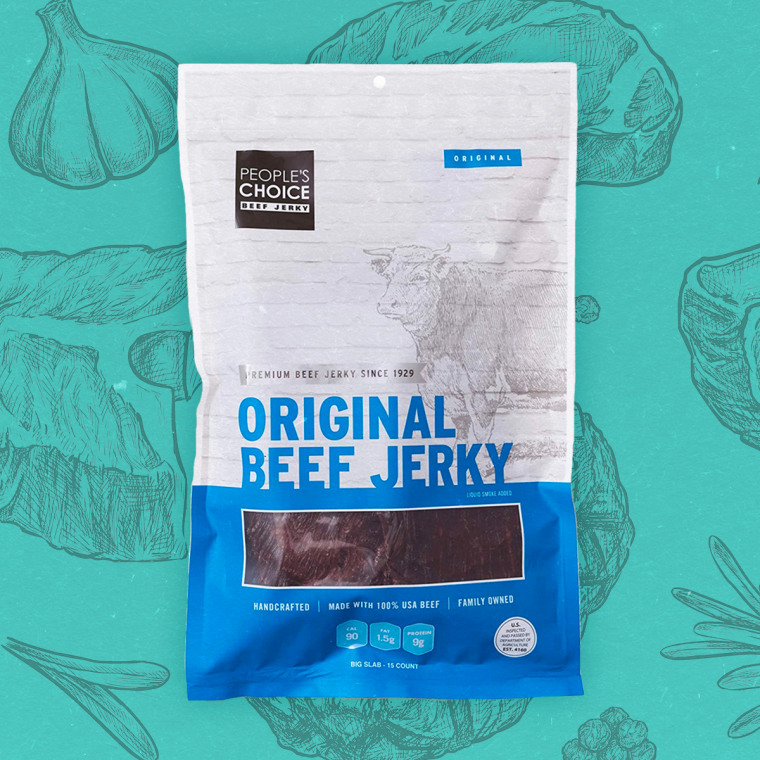 The sleeper hit of the bunch was People's Choice, which offered a jerky that was uniquely rich and decadent, almost as if it was sourced from an expensive cut of meat. The texture was a bit crumbly and off-putting, but it was extremely beef-forward (in the best way possible) and an ideal choice for any ravenous carnivore who doesn't like all the bells and whistles of added spices and flavors.
2. Aplenty Hickory Beef Jerky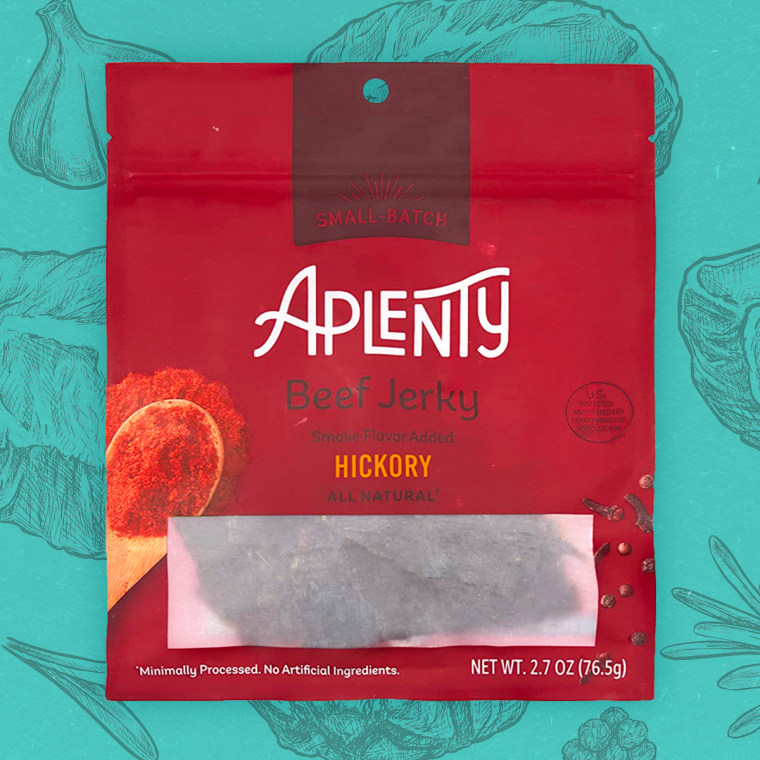 This was probably my favorite flavor of the bunch. I loved, loved, loved the hickory smoke, which imparted its way into every piece. And while it was a bit on the thinner side with strips that required too much labor on the jaw, Amazon has concocted another hit with its Aplenty line. Watch your backs, mainstream grocery stores. The e-retailer giant is coming for your gig.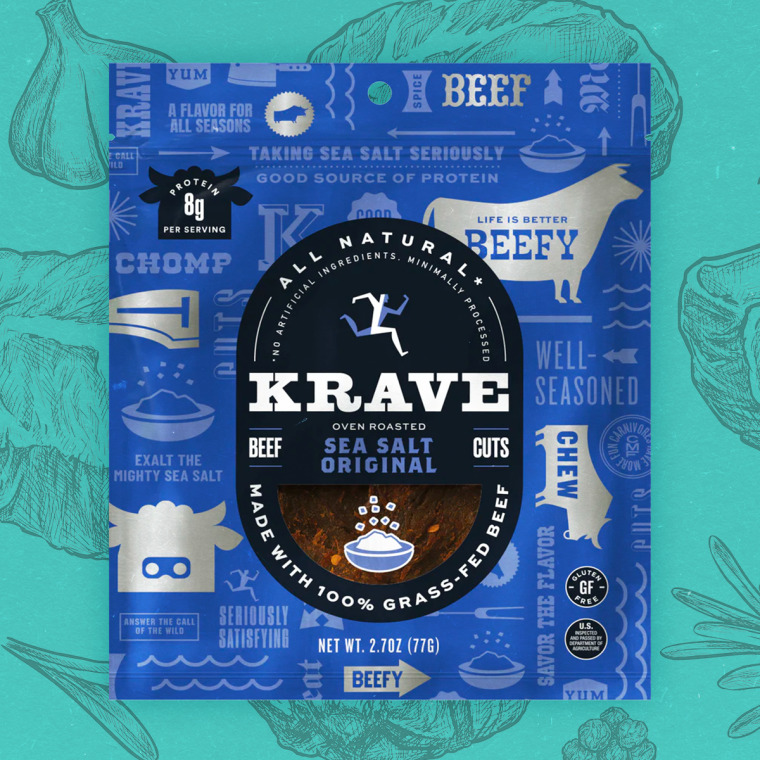 Come at me, bro. I don't know about you, but I prefer a jerky that doesn't cause my molars to loosen or my tongue to feel like it took part in an Iron Man. Krave was the softest of the bunch, making dehydrated meat-eating a joy and a pleasure and not an action that causes dentists to cringe. I unashamedly scarfed down an entire bag in one sitting and I'd do it all over again, thank you very much. (Except next time I'm going to need a flavor beyond boring and basic sea salt, which Krave offers. Yay!)