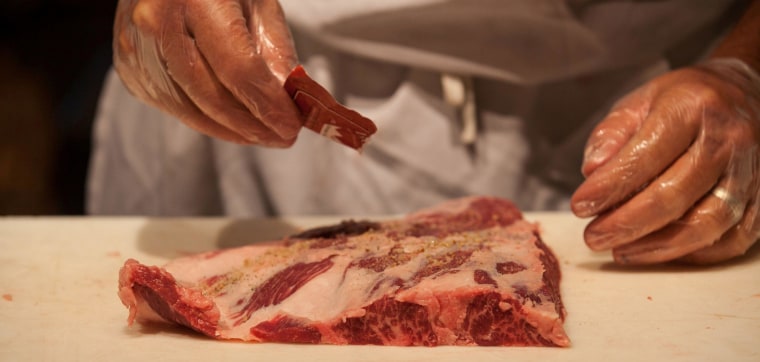 Take your cues from the experts next time you're in the mood for grilling steak. Chef Tim Byres of SMOKE restaurant in Dallas adds grounds of dark coffee to his BBQ beef rub, just like the cowboys used to do on the trail.
After trying Byres' beef rub recipe (see below) — a bold blend of dark coffee, sugar and chili peppers that boast a serious kick — I now count myself a convert to the ways of the Old West.
"I found that the coffee brings out an extra meatiness in the steak," Byres told TODAY.com. "And those sugars are going to caramelize, with the charred spices. I think the darker and more bitter the coffee, the better."
I tasted the rub over Armand Ferrante's Jersey Boneless Short Rib steak — winner of the Whole Foods 2012 Best Butcher Competition, which Byres judged and participated in. The rich texture and subtle smokiness of the rub stood up well to the thick cut of rib steak, and the sugar formed a crust full of flavor.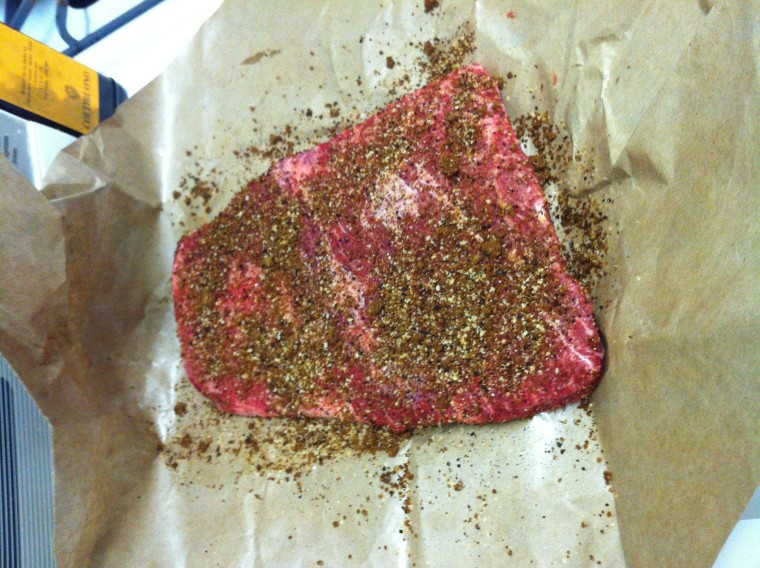 Byres suggests using a rub rather than marinade, warning that beef "doesn't really like liquid." When grilling, it's easier to create a hot sear on the outside of the steak with a buttery, rare center without additional liquids. The juices from the steak will liquefy the sugars in the rub without leaving the meat tough.
If you're looking to get creative with your rub, be open to experimenting. While he doesn't recommend throwing the entirety of your spice cabinet in the pot, Byres suggests you base your rub around three or four dominant flavors. He also advises using equal amounts of sugar, salt and spices because that combination tends to caramelize the best. Other than coffee, Byres likes playing around with freshly toasted seeds of dill, celery and coriander. His pork rub includes curry powder and mustard seed oil, which gives the meat a light, floral aroma.
"Celery seed really delivers that nostalgic celery flavor that everyone remembers as a kid," he said. "And coriander seed is great in moderation, as it has an awesome floralness to its smell."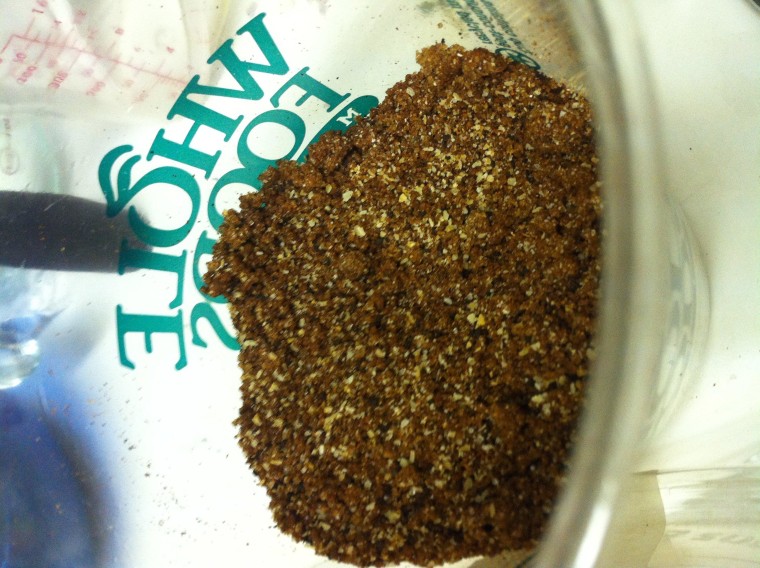 Another simple way to add depth to any rub is by roasting dried chilies. Byres suggests toasting dried ancho chilies on a tray in a 400 degree oven for about a minute, or until they puff up. Just snap the stems off the chilies and shake the toasted seeds out. Simply grind those up with a mortar and pestle, and you've made your own chili powder.
And if you're looking for a rub in which chilies really take center stage, you can rehydrate those dried peppers in a pan of hot water, allowing them to soften like tea. Cover the pan so that they steam, and puree the chilies to create a rich paste for steak. Add a few extra spices of your choice, and you've got a restaurant quality rub (and a heavenly scent wafting through your kitchen).
No matter what, Byres says the key to a great rub is fresh ingredients. Store-bought spices (especially chili powder) can be so diluted with other ingredients that you're never getting the pure, pungent flavor of the chilies, he explained.
"Try to use stuff at its rawest," he told TODAY.com. "You can make something really awesome that you're not going to be able to find on the shelf."
Byres regularly works with seven meat rubs of his own creation. His beef rub recipe is below, but you can find recipes for the others in his cookbook due out next spring, "SMOKE: New Firewood Cooking."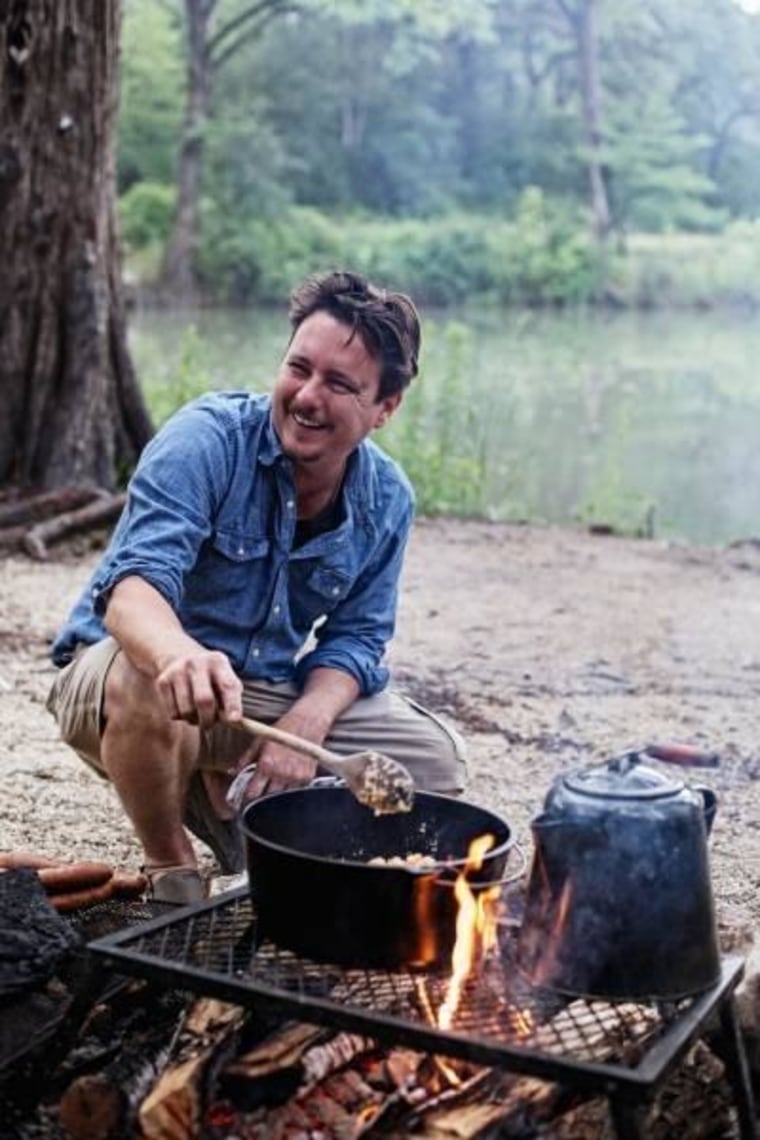 BBQ beef chili rub and coffee cure
Courtesy of Tim Byres
Makes 25 cups
6 cup dark brown sugar
5 cup kosher salt
4 cup fine-ground dark roast coffee
4 cup chili powder
4 cup smoked paprika
3 tablespoons granulated sugar
2 tablespoons granulated garlic
1 tablespoon ground cumin
1 teaspoon cayenne pepper
Place all ingredients into a medium mixing bowl. Using your hands, thoroughly mix all ingredients, breaking up any clumps with your fingers. Place in an airtight jar. Use about 2 tablespoons per pound of meat, rubbing it in and refrigerating meat 8 hours or overnight before grilling or smoking.
More:
Is there a right way to mole? Make this classic Mexican dish
A perfect union? Pizza beer brings together two obsessions
Not your granny's apple cider: Craft varieties make a comeback