Gremolata, the traditional Italian blend of chopped parsley, lemon and raw garlic, also makes a quick and pungent pasta topping. With artichoke hearts to mellow out the powerful garlic flavor, it's mega-Mediterranean.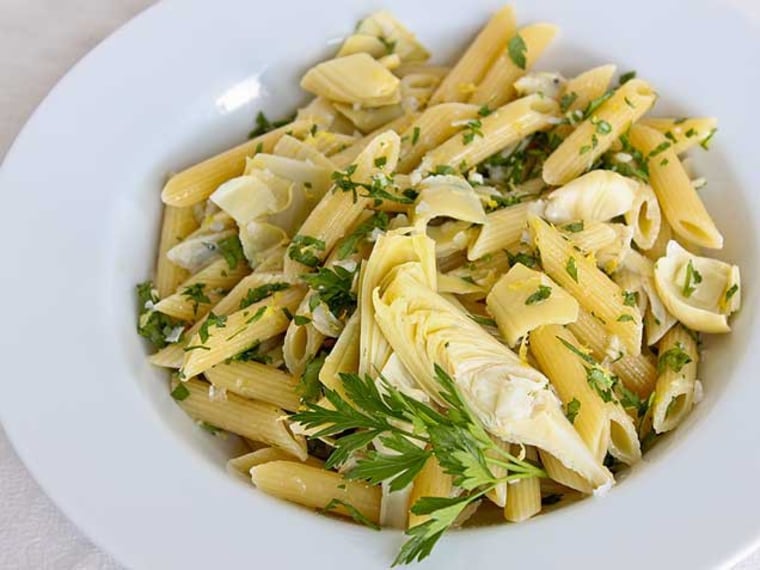 Ingredients:
1/2 lb penne or other tubular pasta

Zest of 1 large lemon Kosher salt

1 14-oz jar artichoke hearts packed in water

1 cup flat leaf parsley, leaves and small stems only

Olive oil

2 large garlic cloves

Yield: 4 Servings
Directions:
Fill a 6-quart stockpot with water and add 1 tablespoon kosher salt. Bring to a boil, then add the pasta and cook according to package instructions until al dente.
While the pasta water comes to a boil, chop the parsley and garlic, or pulse the parsley and garlic in a food processor a few times until minced. Toss the parsley and garlic with the lemon zest in a small bowl.
Drain the artichoke hearts, then slice each heart in half lengthwise before chopping into 1/2-inch thick half-rounds.
When the pasta is cooked to al dente, reserve 1/2 cup of the cooking water, then drain the pasta.
Return the pasta to the pot with the reserved cooking water and toss with the gremolata and artichoke hearts. Drizzle with olive oil to taste and top with additional salt as desired.
This recipe originally appeared on iVillage.