This salad – offering a good balance of clean freshness from the beans with the punchy complexity of the herbs and spices – works in plenty of contexts.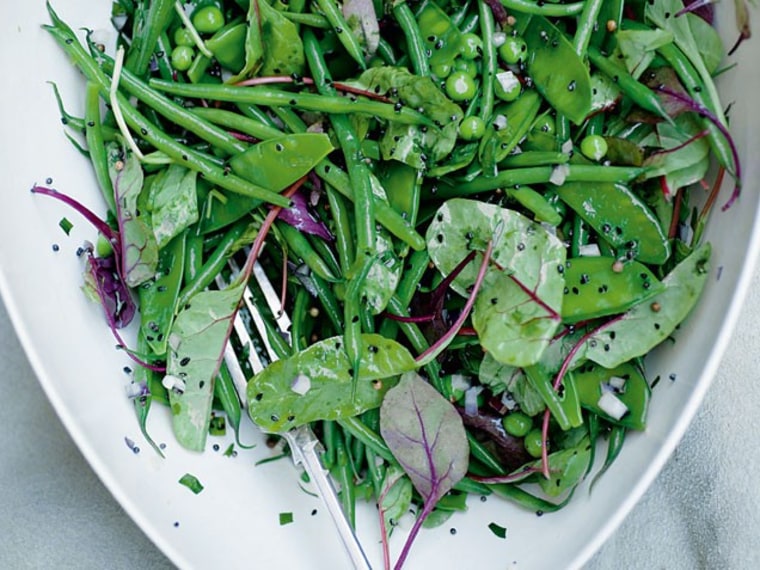 Ingredients:
1 1/4 cups green beans, trimmed

1/2 small red onion, finely chopped

2 1/4 cups snow peas, trimmed

1 mild fresh red chile, seeded and finely diced

1 3/4 cups green peas (fresh or frozen)

1 garlic clove, crushed

2 teaspoons coriander seeds, roughly crushed with a mortar and pestle

Grated zest of 1 lemon

1 teaspoon mustard seeds

2 tablespoons chopped tarragon

3 tablespoons olive oil

Coarse sea salt

1 teaspoon nigella seeds

1 cup baby chard leaves (optional)

Yield: 4 Servings
Directions:
Fill a medium saucepan with cold water and bring to the boil. Blanch the green beans for 4 minutes, then immediately lift them out of the pan and into iced water to refresh. Drain and dry.
Bring a fresh pan of water to the boil and blanch the snow peas for 1 minute only. Refresh, drain and dry. Use the same boiling water to blanch the peas for 20 seconds. Refresh, drain and dry. Combine the beans, snow peas and peas in a large mixing bowl.
Put the coriander seeds, mustard seeds and oil in a small saucepan and heat up. When the seeds begin to pop, pour the contents of the pan over the beans and peas. Toss together, then add the nigella seeds, red onion, chile, garlic, lemon zest and tarragon. Mix well and season with salt to taste.
Just before serving, gently fold the chard leaves, if using, in with the beans and peas, and spoon the salad onto plates or into bowls.
Recipe from Plenty by Yotam Ottolenghi/Chronicle Books, 2011.

This recipe originally appeared on iVillage.