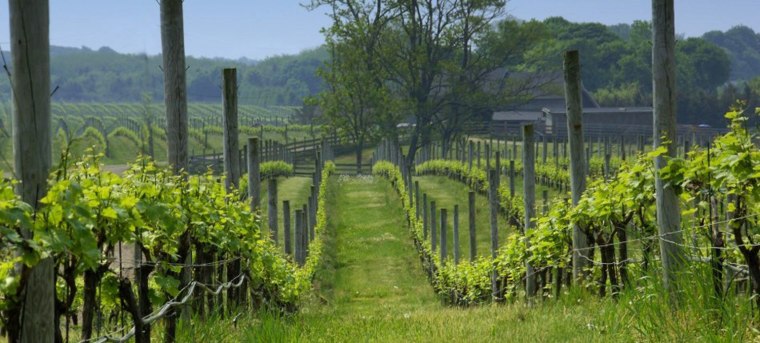 A few years or so ago, there was no rival to the Annual Chicken Barbecue put on by the fire department in the hamlet of Cutchogue on the North Fork of New York's Long Island, 90 miles east of Manhattan. Several thousand poured into the big white tent on the fire department grounds, where the chicken came with all the corn, potato salad and sliced tomatoes you could eat—and where Budweiser was the reigning adult beverage.
The barbecue is still going strong, but a couple of weekends ago there was real competition. Down the road, 1,300 more gathered under another tent at McCall Vineyards and Ranch for the fifth annual Dan's Harvest East End Wine and Food Classic, tasting more than a hundred Long Island wines.
The Long Island wine industry got its start four decades ago, and it's now offering strong competition in terms of quality, not only to California and Washington State, but also to Europe, South America and beyond. When you try the wines, which can be shipped to consumers in most states, you'll get a taste of what is arguably the country's most exciting newer wine region.
One great place to start is McCall's pinot noirs (priced at $18 and up), with their cool-climate elegance, or Macari Vineyards' 2010 Cabernet Franc ($35), balanced and refined with gorgeous red and black fruit, herbs and tobacco notes.
But in these waning days of summer, I decided to focus this most recent tasting mainly on whites and rosés, many of them excellent values in the $20 range. Macari earned its place on the wine map some years ago with its sauvignon blanc—and its 2012 "Katherine's Field" Sauvignon Blanc lives up to that reputation. It is simply delicious, high-acid sauvignon with luscious tropical fruit and subtle herb and cream notes. Also notable is Macari's 2012 Chardonnay Estate, $20.
Among the more unusual wines from the region is the aptly named 2013 "Anomaly" from Anthony Nappa Wines, a $20 white pinot noir, fresh and tangy with just a touch of red berry, a good deal of lemon and orange, and herb and cream touches.
While most of Long Island's vineyards are on the North Fork, Channing Daughters Winery is in Bridgehampton on the South Fork and has become known for expanding beyond the most familiar varieties. Its 2012 Tocai Friulano "Sylvanus Vineyard" is a $24 dry tocai (the variety is best known in Friuli in northern Italy), and it's at once refreshing and rich with beautiful stone fruit aromas and tastes of pear, white peach and citrus.
I also enjoyed a rosé from Channing Daughters, the 2013 Rosato di Sculpture Garden, a $25 blend of mainly merlot with small amounts of teroldogo and blaufrankisch with spicy cherry, raspberry, herb and floral notes. It's a serious food wine for everything from strongly flavored fish to grilled lamb. (Another exotic Channing Daughters offering was a red, the 2009 Blaufrankisch "Mudd West Vineyard" made from the spicy Austrian variety. A bit funky at first, it opened up to reveal delicate herb-infused raspberry and plum notes, supported by refreshing acidity with a texture and style that reminded me of a cru Beaujolais from France.)
Other standouts included Jamesport Vineyards' 2013 Sauvignon Blanc ($25), rich and tangy with a good deal of grapefruit; Shinn Estate Vineyards' delightful 2013 Coalescense ($16), a delightful blend of sauvignon blanc, chardonnay and riesling with pear, apple and orange notes; and Shinn's 2013 Rosé of cabernet franc and merlot ($16), with a nice tannic structure to support its red berry and spice notes.
I topped off the tasting with a glass of the lovely 2009 Blanc de Blancs from Sparkling Pointe, a $42 all-chardonnay wine from a vineyard that produces only sparkling wines. As it warmed up a bit in my glass, delicious green apple, lemon and floral notes emerged, a nice finish to an evening that showcased the strength and beauty of Long Island wines.
Edward Deitch is a James Beard Award-winning wine critic. Find many more of his wine reviews and commentary on his blog, Vint-ed.com, and follow him on Twitter.