Delaware's Dogfish Head Craft Brewery has been jammin' out on musically inspired beers for the past few years, each containing unique ingredients that reflect the music or history of a particular artist.
The brewery just announced their latest tune-tribute brew, an Imperial Pale Ale called American Beauty (named after the Dead album), crafted to pay tribute to the Grateful Dead. But just one thing is missing — the Grateful Dead-inspired "special" ingredient. 
Instead of choosing it themselves, Dogfish Head is asking beer geeks and Dead Heads what they think should be added to the beer to honor the band.
"The feedback the band got from Dead Heads was always an important factor in their shows," said Dogfish Head founder Sam Calagione, in comments posted to the brewery's website. "…So we're sending a shout out to all those Dead Heads and Dogfish Heads by making them a driving force behind this beer."
Dogfish Head has gotten pretty creative with their musically inspired brews in the past.
First it was Bitches Brew, created to celebrate the 40th anniversary of Miles Davis' groundbreaking album of the same name.  Dogfish Head's website describes the beer as "a fusion of three threads of imperial stout and one thread of honey beer with gesho root."
Next it was Hellhound on My Ale, a super hoppy brew commemorating what would have been the 100th birthday of blues legend Robert Johnson. Dried lemon peel was added to the brew to accentuate the taste of its centennial hops and in honor of Johnson's blues mentor, Blind Lemon Jefferson.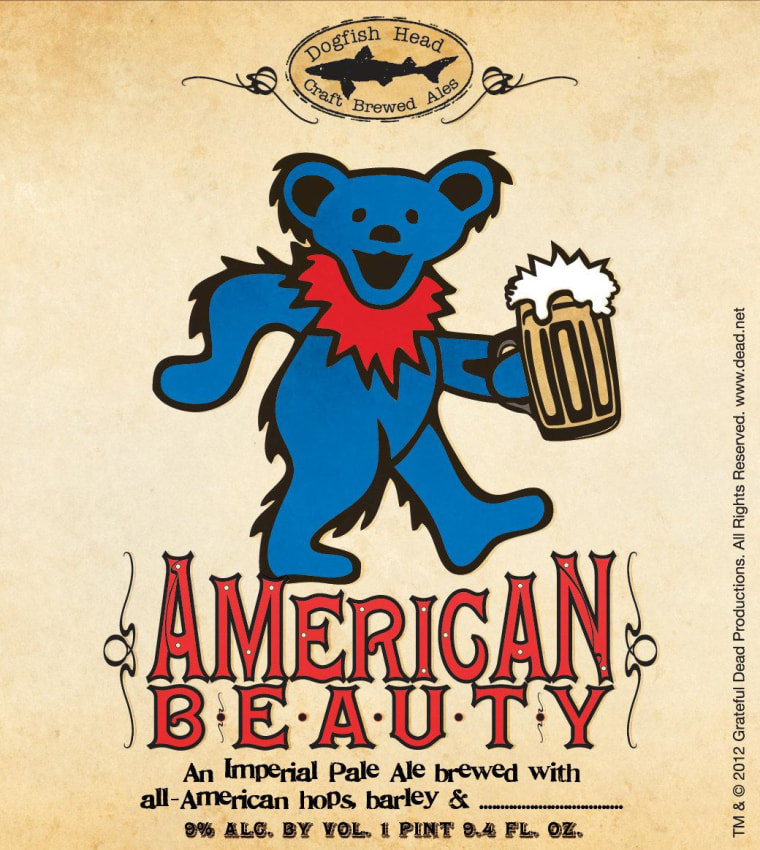 More recently, there have been brews to mark the 20th anniversary of Pearl Jam's seminal album "Ten" (brewed with ten separate infusions of black currants during the boil), and a hip-hop inspired brew called Positive Contact, which Dogfish Head describes as "a positive combination of Fuji cider, slow-roasted farro, a bit of cayenne and fresh cilantro."
You get the idea — take a band, and create a tasty beer with weird ingredients inspired by their work.
For American Beauty, Dogfish Head wants Dead Heads to dig deep and share their ideas. Here's a little inspiration from the press release announcing the beer:
"Did you trade a bushel of fresh clementines for tickets to a two-night-stand at Long Beach Arena? Or maybe your dad first laid eyes on your mom sipping a cup of green tea in the parking lot of the legendary Cornell '77 show? Jog your memory, tell the story, and suggest the ingredient at the heart of that story."
Dogfish Head says they'll start taking suggestions online in December, but I've gotten a jump-start and have some to share.
The most obvious is the patchouli herb. A fragrant member of the mint family, patchouli has been used in oils, perfumes and incense for centuries, and enjoyed its most recent popularity during the hippie movement of the 1960s and '70s, just like the Grateful Dead.  Scent memory is a powerful thing, and a little patchouli dancing in the nose of this Pale Ale might elicit memories of hippie chicks trance-dancing to the sounds of the Dead.
One of the hit songs off of the Dead's 1970 album "American Beauty" was "Sugar Magnolia."  Magnolia bark has been used for hundreds of years by the Chinese as everything from a stress-reducer, to a remedy for upset stomachs.  It's a natural fit for a Grateful Dead-inspired beer, especially one bearing the "American Beauty" name. 
Then there's word play options, like dancing-bear inspired gummy bears soaked in Grey Goose vodka (adding a "Touch of Grey" to the brew), or grapes sourced from the Dead's home turf of Northern California, making for a "grapeful" dead brew.
Of course if Dogfish Head were going for total authenticity, they'd add a hearty dose of magic mushrooms — nature's own psychedelic — to the whirlpool. 
You'll be able to make your own suggestions online come December. 
But in the mean time, share your ideas with us in the comments section.  I wonder if they can find some old "Ripple" barrels in which to age the beer…
Jim Galligan is co-founder of the Beer and Whiskey Brothers blog, where he and his brother Don cover the ever-evolving world of craft beer and distilled spirits. Follow him on Twitter. 
More from TODAY Food: