For those of us who are meat eaters, grass-fed is one of those labels we know we're "supposed" to be looking for, but don't quite know why.
Just this month, Consumer Reports' October cover story, "How Safe is Your Beef?" urged consumers to look for organic grass-fed beef, saying it's the safest choice out there.
So when we heard about a new grass-fed beef delivery service, ButcherBox, which has already surpassed its Kickstarter goal by more than 800 percent at this writing, we knew we had to check it out.
Meal-delivery services are popping up everywhere, it seems, more out of convenience. But the inspiration for ButcherBox is that it's hard in many areas to find grass-fed beef in stores, says founder Mike Salguero, a former CEO for an online marketplace.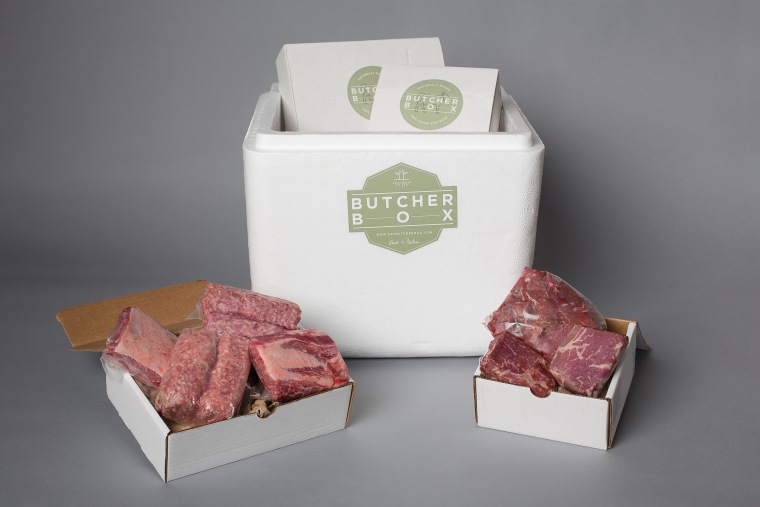 Part of what's driving demand is the increasing number of CrossFit and Paleo-diet enthusiasts, posits Salguero, a CrossFitter himself. Paleo diets call for grass-fed beef because of the need to avoid grains—and animals that were fattened by them, he explains.
No agencies really track grass-fed beef production, because it's still such so niche, but experts estimate that it still only hovers around 1 to 5 percent of the market.
According to the USDA, anything labeled grass-fed beef requires that animals only be fed grass and forage with the exception of milk prior to weaning; animals cannot be fed grain or grain byproducts and must have continuous access to pasture during the growing season.
But with all the hype, some producers are using misleading labels like "grass fed and grain-finished."
"This is something companies do a good job of hiding," Salguero says.
Consumer Reports has a handy chart breaking down what to look for on labels. Basically, at the very least, look for antibiotic-free and hormone-free, it urges. Even better: Look for "grass-fed," "American Grassfed Association," and "grass-fed organic."
The reason you have to look for "antibiotic and hormone free" in addition, is because "grass-fed" labeling under "the USDA standard does not address the use of antibiotics and hormones," Marilyn Noble, communications director for the American Grassfed Association, explained to TODAY.com.
What's the fuss about grass-fed?
So why should we be eating grass-fed beef over conventionally raised beef, fed a diet of corn and grains in food lots? Aside from the animals' own quality of life, a whole other story in itself, some experts say that grass-fed beef is safer and healthier for us.
After all, we are essentially eating what the cow ingested, says Kim Denkhaus, a registered dietitian nutritionist based in Los Angeles, told TODAY.com.
She broke down for us the big reasons we should be looking for organic, grass-fed beef, raised without unnecessary antibiotics and hormones:
1. Lower fat and cholesterol
"From my research, yes, grass-fed beef is lower in fat and cholesterol," Denkhaus says. "The cows are pasture-raised—out, roaming around, so they have a leaner body composition and are higher in omega 3s, vitamins A and E and have a higher antioxident profile in general."
2. Fewer hormones
"Everything an animal is eating and ingesting is eventually going to end up in us because we're eating the animal. [Added growth hormones from animals] in the human body can increase our risk of cancer and hormonal disruptions," Denkhaus says.
3. Unnecessary antibiotics
Cows raised in crowded conditions, on a diet of mostly soy and grains—not an ideal diet for them—are more likely to get sick. To prevent that, conventional beef producers may administer preventative antibiotics, or even higher doses when the animals do get sick.
In defense of conventionally raised cattle, "all antibiotics are used in targeted ways for the prevention and treatment of disease according to FDA-approved label directions," says Chase Adams, director of communications for the National Cattlemen's Beef Association. "We support all production methods, and represented producers that find value in all of these programs."
4. Fewer harmful bacteria
One startling revelation in the Consumer Reports article: In tests of 300 samples of raw ground beef, conventional beef was three times as likely to be contaminated with superbugs than grass-fed beef.
Price
That brings us to cost. Pasture-raised cows take up more room; they aren't fattened up with grains, so of course they will cost more. In our research, organic grass-fed ground beef in grocery stores costs about $8.99 per pound; conventional ground beef ran from $4.99 to $6.99 a pound. A monthly shipment of ButcherBox costs $129, including delivery, provides enough beef for 15 to 20 servings among two to four people; the company says it works out to an average of about $7 per meal.
ButcherBox sent us a sneak-peak shipment so that we could test it out. The beef arrived ice-cold, on dry ice, in a Stryrofoam container (a common downside of these grocery-shipping services, if you are concerned about your carbon footprint). Boxes arrive with a surprise selection, CSA-style, but will always include staples like ground beef as well as cuts you'll be excited about, Salguero says: "Our job is to keep you as a monthly subscriber." (Customers will also have the option of swapping out some beef for chicken and pork.)
Our box included 2 pounds of ground beef; four boneless short ribs; 1 pound of sirloin tips; four top sirloin steaks.
In a blind test, we tried two of the most popular varieties that Americans might eat in a given week: ground beef and sirloin steak, putting it up against conventionally raised beef from a big-box grocery store. Here are the results:
Taste test: Grass-fed beef vs. conventional feedlot beef
Ground beef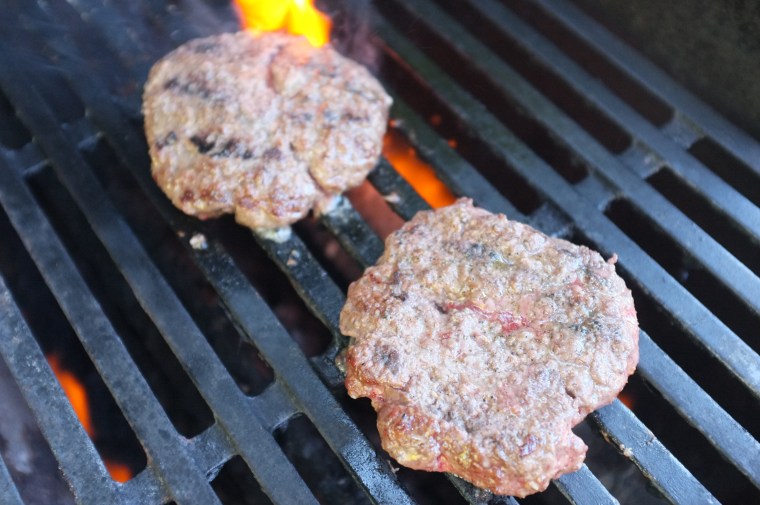 The thing about ground beef is, it's easy to mask and is rarely eaten alone. So our tasters, including an admitted "burger snob" who was candidly squeamish about trying feed-lot beef, were surprised when, upon first bite, they could not immediately detect a huge difference when trying the grass-fed burger up and conventional. "They're really indistinguishable," one said. But after a few more bites, and after trying the patties alone, without a bun or toppings, tasters were able to correctly guess which burger was grass-fed. "The grass fed is more complex-tasting," one taster said, and another noted the "earthiness" of the beef. Most tasters did note the conventional burger was a tad juicier though—but while grass-fed beef does have a rep for being tougher, most tasters found ButcherBox's grass-fed beef to be just as tender.
Verdict: Grass-fed, by a hair
Steak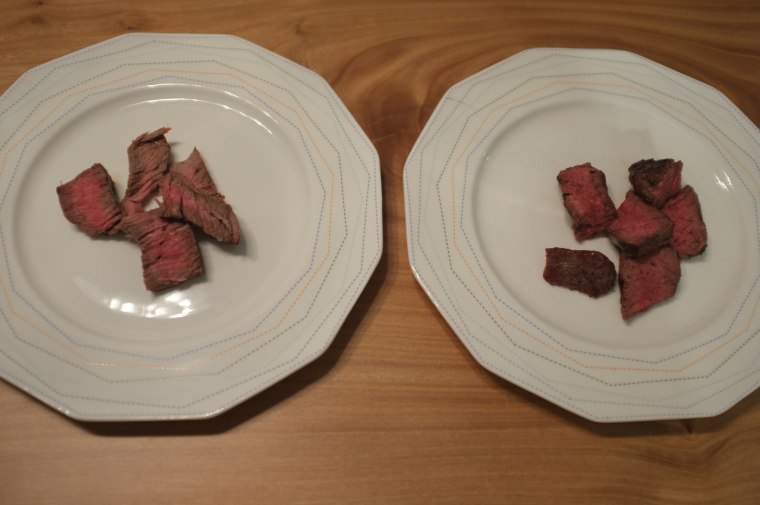 Grass-fed was the hands-down winner in the steak competition. Barely finishing the first bites, each taster, literally blindfolded, declared the grass-fed steak the winner. "It's no contest," one said. Another noted that the conventional steak was "stringy" and that the grass-fed charred up better and was juicier and more tender. Looking at the steaks rare, the conventional steak was admittedly unappetizing: pale pink, with lackluster marbling, compared to the grass-fed's deep-red meat with bright-white ribbons of fat.
Verdict: Grass-fed, no contest
So will grass-fed beef become easier to find in stores over time? Salguero hopes so, even if it means, well, less demand in the future for mail-order.
In the meantime, the demand seems to be there: ButcherBox's Kickstarter ended October 8, witg 1,155 backers who have pledged $210,203 — far above the original $25,000 goal.
"The only way to keep up with the demand is for farmers to change from sending cows to seed lots to raising them grass-fed. I think over time, we'll help drive down the price and help consumers understand why they should be trying the products," Salguero says.
"We'll be seeing it more in supermarkets, and that's an awesome impact and still OK for us—we'll always be a great gift, or for those who want the convenience."