Danielle Walker is the author and photographer of the New York Times bestselling cookbook Against All Grain. Diagnosed with a severe autoimmune disease at the age of 22, she has since removed grain and dairy from her diet, and started her blog to help others suffering from similar ailments continue to enjoy food. 
Everyone loves a delicious piece of bread, but not everyone loves how heavy it makes them feel afterwards! That's why I'm excited to share this grain-free, gluten-free sandwich bread recipe, that uses whole cashews, fiber-rich coconut flour and just a handful of other ingredients. And it's so easy to make — just put everything into a blender, blend, and bake!
Blender Bread (recipe from Against All Grain)

Yields 1 12x4.5-inch loaf
Cook time: 65 minutes

Ingredients:
ghee or coconut oil for greasing pan

8 large eggs

1/2 cup almond milk

4 teaspoons apple cider vinegar

3 cups whole raw cashews, about 17.5 ounces

7 tablespoons coconut flour
2 teaspoons baking soda
1 teaspoon sea salt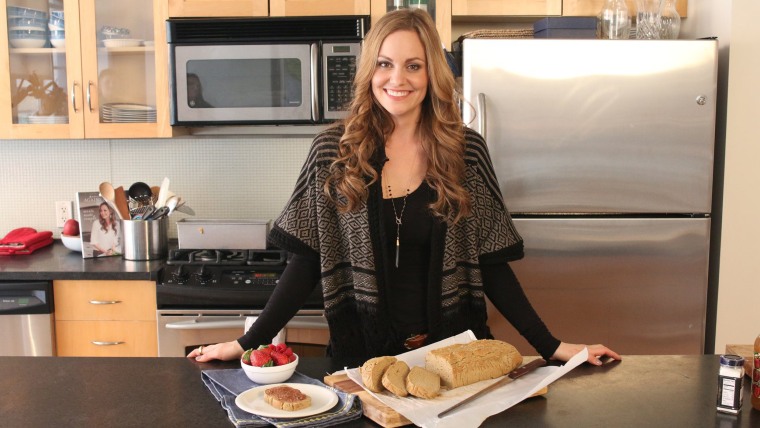 Instructions:

1. Place a heatproof dish filled with 2 inches of water on the bottom rack of the oven and preheat the oven to 325 degrees.
2. Lightly grease the inside of a large loaf pan, 12 x 4 1/2 inches, with ghee or oil and press a piece of parchment paper into the bottom with flaps that hang over the sides of the pan.
3. Place all of the ingredients in a high-speed blender and process on low for 15 seconds. Scrape down the sides and process again on high for 15 to 30 seconds, until very smooth. If batter is too thick to blend, add up to 2 tablespoons of water until it is moving easily through the blender.
4. Transfer the batter into the prepared loaf pan and bake for 60-70 minutes, until a toothpick inserted into the center returns clean.
5. Allow the bread to cool in the pan for 30 minutes, then gently remove the loaf using the parchment overhangs and allow to cool on a wire rack before serving or storing. Store the loaf tightly wrapped in the refrigerator for up to 5 days.
You can find more of Danielle Walker's writing and recipes on her blog, Against All Grain.