A steaming bowl of chili is my go-to cold weather meal, but is it the ultimate wintertime comfort food?  Considering the sold-out success of the first annual NYChilifest, all signs point to yes.  Last Sunday, New Yorkers braved the weather to attend the event, a chili competition with 24 entries from some of New York City's most lauded restaurants such as Dressler, Mile End and Blue Ribbon. The result was an ambitious display of culinary prowess that stretched the 500-foot concourse of Chelsea Market, an enclosed urban food court in Manhattan. 
"It's like a marathon," said one attendee about the stomach's capacity to hold all of the chili samples.  Publicity for the event boasted, "all the chili, Brooklyn Brewery beers, and music you can handle."  Now here's a marathon I'd happily train for! Tasters happily bounced from table to table, which were lined up on both sides of the concourse, with an occasional stop to snag another beer or to watch the bluegrass band, whose festive music resonated through the hall.  The venue was packed but I never waited more than a minute or two to refill (and refill and refill) my bowl.
Eating stamina aside, the most impressive part of this event was the uniqueness of each restaurant's recipe.  Cynics, take note: every chili had its own distinct flavor and texture with varying levels of spice and optional toppings. Take Txikito's recipe, whose chili included heavily smoked chunks of short rib bits (still on the bone) and a feisty kick of spice to boot.  Or Vinegar Hill House's guaillo and modello chili with cinnamon and cumin, which had ground beef sporting the texture of taco meat and was topped with a mound of grated cheese and pickled jalapeño onion relish.
The judges panel included Saveur's senior editor, Gabriella Gershenson, Josh Ozersky of Time Magazine, New York Times columnist Melissa Clark and other notable food critics.  They awarded the $2000 prize and Golden Chili Mug to Northern Spy Food Co.'s Texas Style Beer Braised Chili, by chef Nathan Foot.  (See the winning chili recipe below).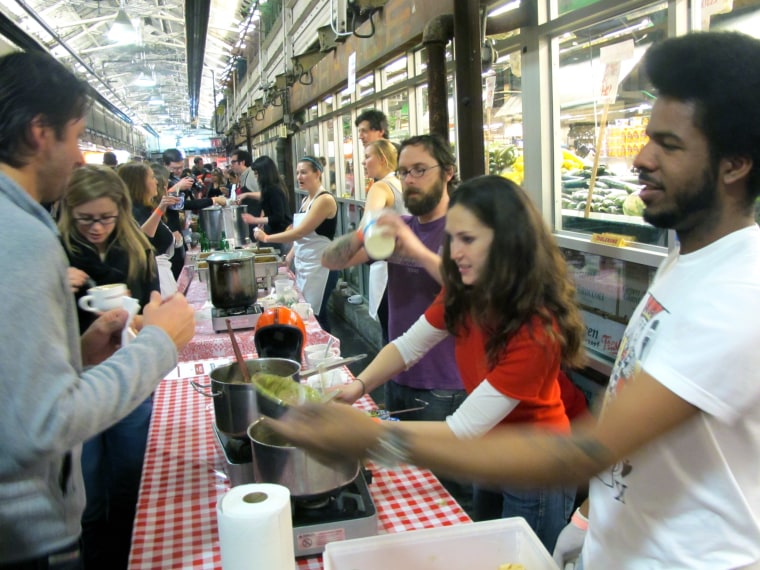 On a last-minute whim, the judges made a second-place award for the most creative chili, which they awarded to my favorite of the event: No. 7's innovative Spicy Broccoli Chili. For this delicious creation, the No. 7 employees doling out the chili sprinkled a handful of crushed white corn tortilla chips in the bottom of the taster's bowl, then in a separate bowl, they tossed a ladleful of chili with their creamy broccoli puree before they finally spooned it in the bowl, over the crunchy chips.  For creativity, taste and texture, I left the event longing for more Spicy Broccoli Chili, despite my burgeoning stomach.
Prior to NYChilifest, I had no idea how versatile chili could be.  I'm anxious to see what the contestants of TODAY's Homemade Chili Cook-Off come up with when they appear on the show this Friday to battle it out Top Chef-style for judges Adam Richman of "Man v. Food," and Food Network's Sunny Anderson.  
Northern Spy Food Co.'s Texas Style Beer Braised Chili
Chef: Nathan Foot
10 dried aji panca peppers*
10 dried cascabel peppers*
1 dried habanero pepper*
5 pounds ground chuck
2 onions, diced
4 red bell peppers, diced
3 jalepenos, seeds removed & diced
2 bottles beer, a strong American ale or porter
3 cups red wine
2  28-ounce cans peeled Italian tomatoes, crushed by hand
1 tablespoon ground aleppo pepper*
1/2 teaspoon cinnamon
 1 teaspoon ground cumin
1 teaspoon cayenne (more if you'd like it spicier)
3 teaspoon red chili flakes
1 head garlic, roasted
1 small can pickled jalepenos, diced
Salt and pepper, to taste
1 bunch scallions, thinly sliced
For the chili powder:
Toast the aji panca, cascabel, and habanero chiles in a 350 degree oven until they are fragrant and crunchy. Let them cool, then break them open and remove the seeds. Grind them in a spice grinder and set aside.
For chili:
Brown beef in a large stockpot over medium high heat. Drain off fat and remove beef from pot. Add the onion, red bell pepper, raw jalepenos, and ¼ cup of the chili powder to the pot. Cook until the vegetables are softened and the chili powder is toasted.  Deglaze with beer and red wine. Reduce by half and then add the tomatoes, Aleppo, cinnamon, cumin, cayenne and red chili flake. Simmer for at least an hour. Add roasted garlic, pickled jalepenos, and salt and pepper to taste. For spicier chili, add more aleppo and cayenne. Garnish with scallions.
*These peppers can be found at Kalustyan's or at most specialty/gourmet grocery stores.