Gordon Ramsay recently took his professional knife skills out of the kitchen and into the wilderness to help capture — and actually cook up — some Burmese python for the latest episode of his show,"The F Word with Gordon Ramsay."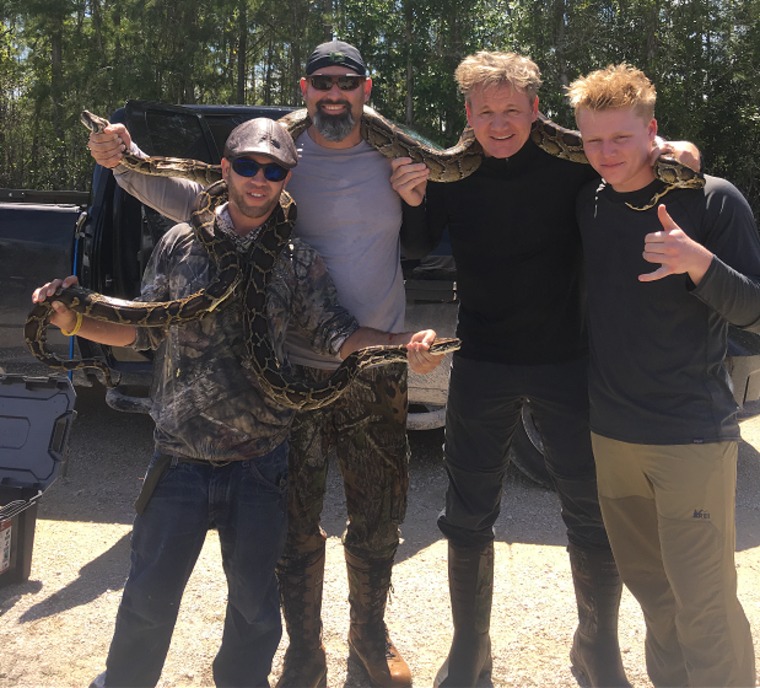 The famed hot-tempered chef and his son Jack joined python hunter Kyle Penniston near the Florida Everglades on July 15, slaying three pythons during their adventure.
"It was a blast hunting with the Ramsays, and they were very respectful of what we are doing here in the Everglades, fighting these invasive predators to save the ecosystem," Penniston said in a statement.
Burmese python are an invasive species in Florida, known for killing natural wildlife in the area, prompting the South Florida Water Management District to encourage people to hunt the reptile. Penniston has killed 30 pythons in the region, but only got his first taste of one thanks to Ramsay, who evidently turned a snake into a gourmet dish with just a portable oven.
"It tasted amazing," Penniston told TODAY. "Gordon is a great person and cook."
Penniston stayed mum on exactly what type of dish Ramsay prepared — you'll have to tune in to the show Wednesday night to find that out. But even if snake does sound appetizing to you, you may want to let any ideas about cooking some up at home slither away.
The Everglades pythons have extremely high levels of mercury, more than two and a half times what Florida deems safe in seafood. Other types snakes are safer to eat, and served up in several restaurants in the South and Southwest.
While we're all for trying something new, we'll leave Burmese pythons off of our menu!