Happy birthday to someone, happy birthday to someone, happy birthday dear someone, happy birthday to you! Birthday cake is not just reserved for that special someone's special day—make this light chocolate cake anytime the urge hits you!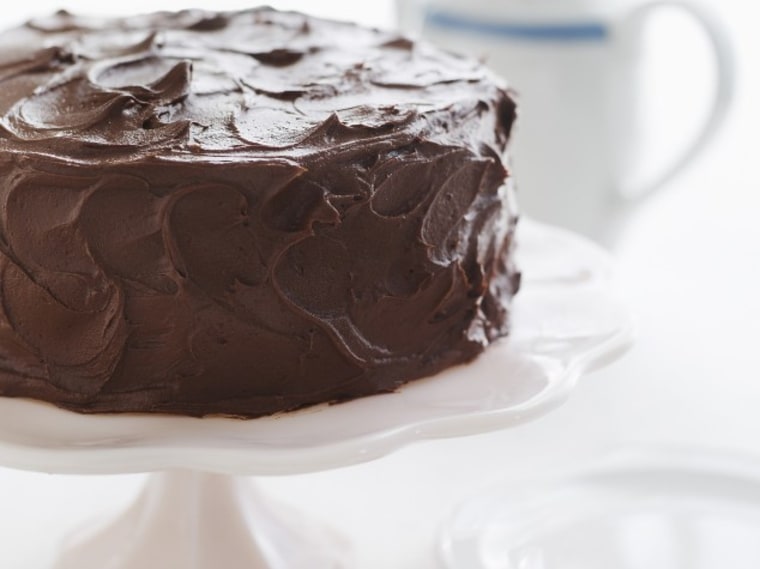 Ingredients:
3 cups gluten-free all purpose flour

2 tsp vanilla extract, gluten-free

1/4 cup powdered milk (dairy or nondairy)

1 1/4 cups chocolate milk (dairy or nondairy)

1 tbsp baking powder, gluten-free

1/2 cup butter or nondairy alternative

1/2 cup butter or nondairy alternative, softened (for chocolate frosting)

1 cup cocoa powder2 1/2 cups confectioners' sugar (for chocolate frosting)

1/4 tsp salt1 1/2 tsp vanilla extract, gluten-free (for chocolate frosting)

Up to 1/4 cup milk, dairy or non dairy (for chocolate frosting)

2 cups granulated cane sugar1/2 cup cocoa powder (for chocolate frosting)

4 large eggs

Yield: 10 Servings
Directions:
Preheat the oven to 350°F (static) or 325°F (convection). Spray two 7- or 9-inch round cake pans with nonstick cooking spray and dust the entire surface of any non-silicone pans lightly with gluten-free flour to help remove the cake after baking. For a higher crown on each cake, use the smaller 7-inch pans.

Whisk together the flour, powdered milk, baking powder, cocoa, and salt and set aside.

In a large mixing bowl, combine the butter and sugar and beat well with the paddle attachment on an electric mixer, until the mixture is very light and fluffy (approximately 3–4 minutes). Add the eggs next, one at a time, beating well after each addition. Mix in the vanilla with the last egg addition. Slowly add the milk, alternating with the flour mixture, and beating in between the additions. Beat on high speed until smooth and pour into the prepared pans.

Bake for 30 minutes, turning the pans halfway through if using a convection setting. To test the cakes for doneness, insert a cake tester or toothpick into the middle of each cake and be sure it comes out clean, with no wet crumbs attached. The cakes will also begin to pull away slightly from the sides of the pans when done. Add time if necessary to fully bake the cakes.

When done, turn off the oven and leave the oven door open to let the cakes cool slowly for 10 minutes or so, then remove the cake pans to a cooling rack. After 20–30 minutes of total cooling time, gently invert the cakes in their pans to remove them from the pans, then flip gently back onto the cooling rack until fully cooled. Frost the cakes only when fully cooled, or in the alternative, wrap the cooled cakes with wax paper or plastic wrap, then seal inside freezer bags to freeze or refrigerate until ready to use.

To make the Chocolate Frosting: Cream the butter and sugar together with an electric mixer. Add the vanilla and 2 tablespoons of milk, beating well to combine, then add cocoa powder and more milk (if and as necessary) to achieve a spreadable consistency, beating for several minutes at the end until it is light and fluffy. *MAKES 3 CUPS FROSTING.
Courtesy of "Free for All Cooking" by Jules E. Dowler Shepard. Da Capo Press-Lifelong Books.
This recipe originally appeared on iVillage.