A coffee café in India has created a new espresso beverage that's almost too pretty to drink — and it looks just like tiny, glittering disco ball.
Behold the Diamond and Gold Cappuccino. The drink is now available at Coffee By Di Bella, a coffee chain with locations throughout Mumbai. Even though it looks super fancy, a cup will run you just around 200 Indian Rupees, which is about $3 USD.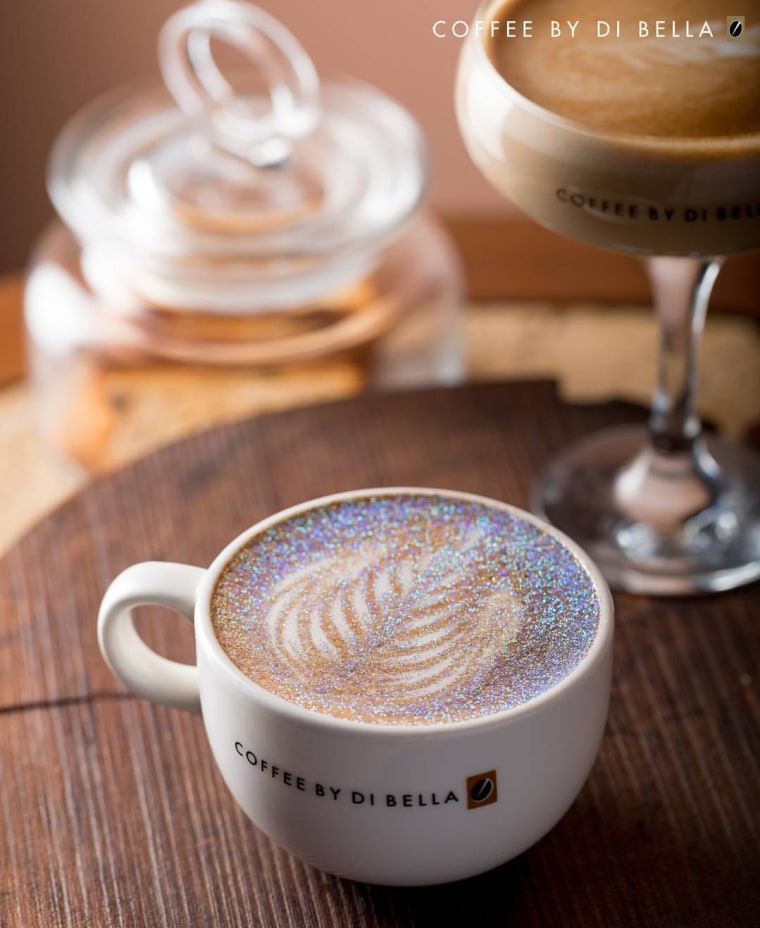 The glittery drink starts with a normal cappuccino base — a double espresso topped with decorative steamed milk foam — but then the warm concoction is finished off with small spoonful of glitter to give the drink its signature shine.
Coffee By Di Bella is an Australian specialty coffee company and the Di Bella Group serves over 5 million cups of coffee a week, according to a representative for the brand. The chain is currently expanding throughout India, opening roughly five new stores every three months. And the growing company is keenly aware about the importance of social media in building a modern food brand.
"As a brand we're constantly innovating and making sure we give our customers something new and exciting," Rahul Leekha, Coffee By Di Bella's director, told TODAY Food over email. "We understand the importance of social media and make sure our products are Insta-friendly."
Folks on Twitter are certainly excited about the new drink.
Of course, not everyone is sold.
Coffee By Di Bella has already had some success with eye-catching beverages, including its over-the-top, candy-laden Freakshakes. Leekha says Di Bella sold over 50,000 shakes in the first week when they debuted. Now the company is already replicating that success with the Diamond and Gold Cappuccino, having sold over 100,000 cups in the past two weeks.
"The idea originated form understanding that bling has never gone out of style and who wouldn't like a sparkling cup of joe?" added Leekha.
The drink might be gorgeous but is it actually safe to consume glitter?
In 2016, the Food and Drug Administration (FDA) issued a revised warning against the use of "decorative non-edible food products," advising home and commercial bakers to avoid using regular glitter in goods meant to be eaten. Home cooks and bakers "should carefully check the label of decorative products they consider for use on foods," says the FDA.
In the U.S., companies that make edible glitters and dusts are required by law to include a list of ingredients on the label. And if the label says "non-toxic" or "for decorative purposes only" (and does not include a list of ingredients) the product should not be used directly on foods. In that case, says the FDA, those decorations should be removed before the food is served and eaten.
If you happen to be traveling to Mumbai, however, Leekha says coffee-lovers shouldn't be worried about drinking their sparkly new creation. The glitter Di Bella uses is made from a combination of crystal sugar mixed with edible food coloring that's heated together to create a signature shine.
Since many people eat with their eyes first, the desire for edible glitter isn't limited to coffee, either. Ritter Sport launched a
sparkly Unicorn Sparkle Bar
last November and the chocolate treat was made with — you guessed it! — edible glitter. And of course, if you're more of a DIYer, you can always make these
sparkly candy-coated apples.
Eating glitter may be a relative new food trend but of course Instagram-worthy food concoctions are nothing new. The Unicorn Frappuccino, and the array of rainbow drinks that followed, are just some of the creations that took social media by storm this year.