Lovers of Thin Mints and Samoas, rejoice! It's finally that time of year again.
Girl Scouts are out and about selling their famous cookies, and this year, thousands of scouts are participating in programs that allow people craving cookies to send some goodwill to a local hero — or two.
This year, the San Jacinto Council of Texas, where 58,000 girls are members, instituted its first Cookies4Heroes program that will give back to first responders who aided those in need during Hurricane Harvey.
While cookie-giving programs vary by each Girls Scouts of the USA council, many offer the option to donate cookies to local organizations. In Texas, where Hurricane Harvey left thousands of families displaced, the San Jacinto Council decided to support the many men and women who saved lives and are continuing to help rebuild the community in the aftermath of the devastating storm.
"For many years, Girl Scouts in our community have been supporting police, fire and members of the military, including donating cookies," Connie Chavez, chief external affairs officer of Girl Scouts of San Jacinto, told TODAY Food. "The way our first responders rallied this year, we thought it was especially important to demonstrate how thankful we are to them. The response has been tremendous."
Customers served by the San Jacinto Council area — which includes Houston, Galveston and Beaumont — can purchase cookies through their local chapters and the troops will then donate cookies directly to Hurricane Harvey first responders, which includes the Cajun Navy in addition to local police, fire department personnel and members of the military. The local scouts have challenged the community to donate more than 120,000 boxes of cookies. To participate, you'll need to be in one of San Jacinto Council's 26 counties. The program runs through March 25.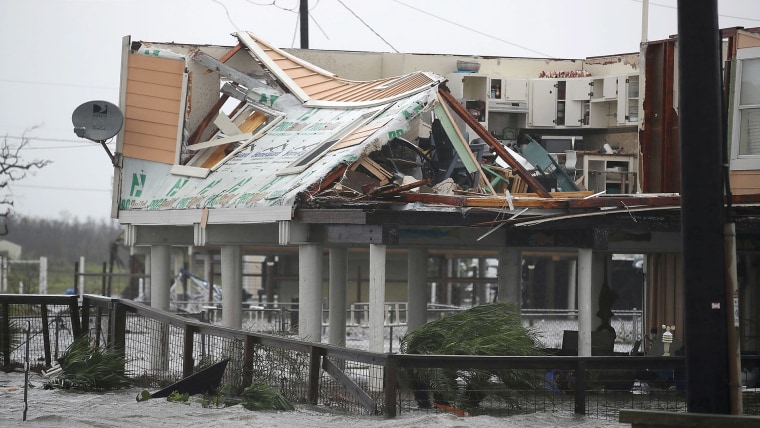 If you're not in the San Jacinto area, however, there are plenty of ways to give back while getting your cookie fix this year.
The Girls Scouts of Central Indiana Council, which has 26,000 members, offers Operation Cookie Drop, which donates cookies to local veterans' hospitals and homes, National Guard Armories and military bases. In 2017, the program donated 95,000 boxes of cookies.
In New Jersey, the Girls Scouts of the Jersey Shore Council participates in the Gift of Sharing program, where customers may donate cookies to a local military base, which distributes the treats to troops locally and overseas; a local food bank; or to a unique organization chosen by the scout herself.
So which cookies should you pick? Thankfully, this year, the new S'mores flavor will be returning. But of course, the classic standbys like Tagalongs, Thin Mints and those irresistible Samoas (or Caramel deLites, depending on where you live in the country) are always a beloved favorite.
If you want to donate to a local charity supported by the Girl Scouts (or just buy some cookies), you can find the nearest place troops are selling them through the Girl Scouts' official website. Order forms will have a box which you can check to donate additional boxes and, since it is 2018, many girls now have their own Digital Cookie website, where you can buy or donate boxes. Cookie sales run now through mid-March.