Do you find yourself reaching for junk food in the middle of the afternoon to combat that midday slump? If you're trying to lighten up your snack game, Giada De Laurentiis may have a healthier cure for any savory cravings.
The Food Network star has teamed up with Simply7 (a GMO-free food brand) to launch her first snack: popcorn. The collaboration features three flavors inspired by her Italian heritage: Sea Salt & Olive Oil, Parmesan Cheese, and Butter.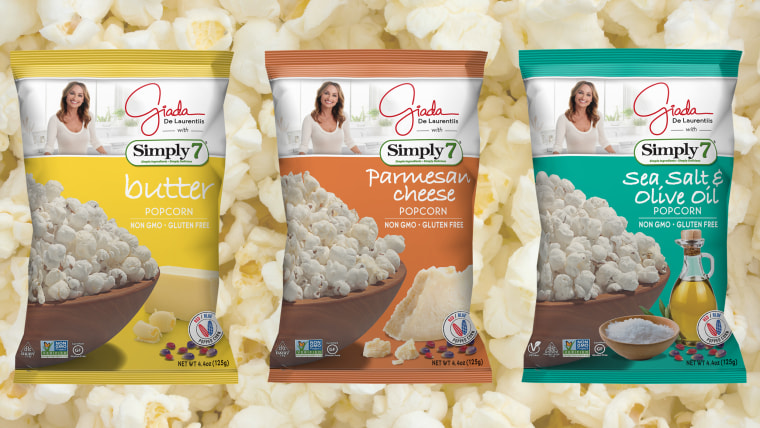 According to Simply7, the line was created because De Laurentiis was "looking for a snack she felt good about giving her daughter, Jade (a popcorn fan), but didn't like the options on shelves."
Gourmet, lower-calorie popcorn isn't exactly new to any savvy snacker. Brands such as Skinny Pop, Smartfood and Angie's Boom Chicka Pop have been major players in the healthy snack industry for years.
However, unlike many popcorns on the market that are made from the typical yellow and white corns, De Laurentiis' is made with only non-GMO blue and red heritage corn. This type of corn also makes for a nuttier flavor profile in the popcorn and has a higher protein content than many other corn varieties.
But De Laurentiis says her popcorn doesn't have to be enjoyed all by itself
"I use it in a lot of different ways," De Laurentiis told TODAY Food, "like in trail mix, on top of soups and in salads in lieu of bread or croutons."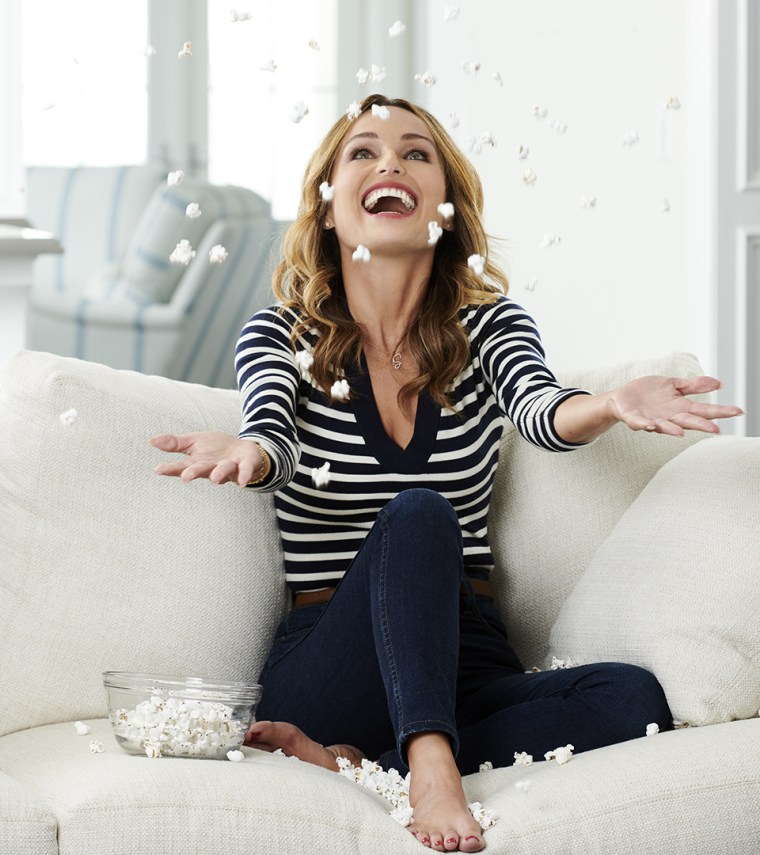 But how does the taste of Simply7 with Giada stack up against other popcorns? TODAY staffers conducted a taste test to find out.
One taster said that the Sea Salt & Olive Oil was only "medium flavorful," while another added that "it doesn't taste very salty."
The Butter had taste testers firmly divided, with some calling it "really good" and even "addicting." But another taster wasn't fond of the texture, and noted that "it leaves a sticky feeling on the roof of your mouth." Others felt the butter tasted very artificial.
And the Parmesan? That, too, had tasters divided but one snack lover said that it had "just the right amount of cheesy flavor," and said that, unlike Smartfood, the Simply7 cheese popcorn "doesn't really leave too much cheesy residue on your hands, which is a major plus for those of us who like to snack on-the-go."
Another TODAY staffer added, "I've been known to down [an entire] bag of cheddar popcorn on my own, but I would gladly swap it for Giada's parmesan flavor if it's really healthier. It's good and not too strong!"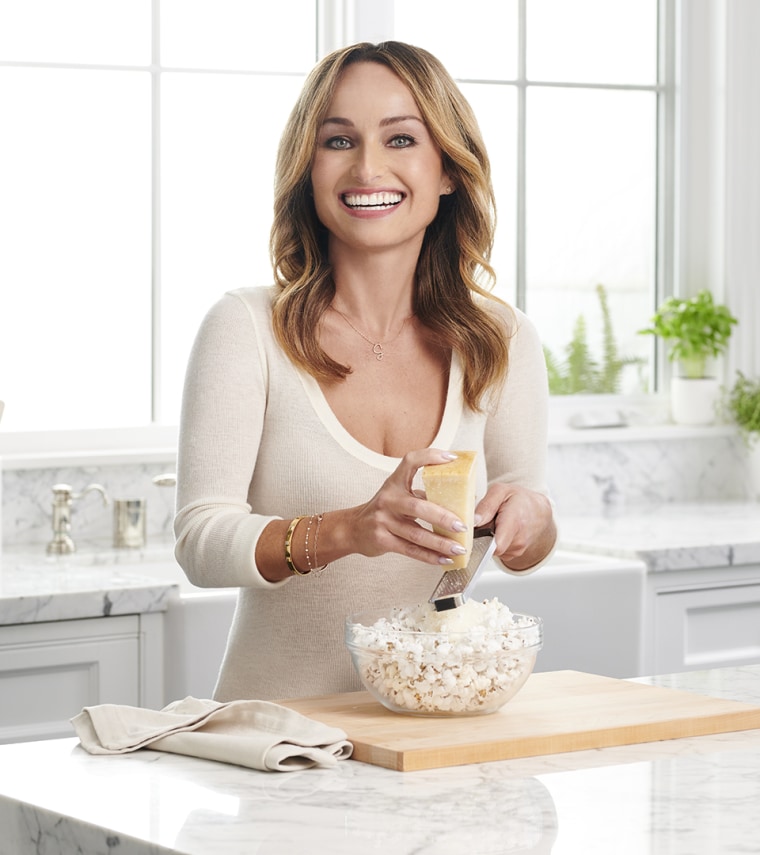 Each serving (about 2 cups) of the Simply7 popcorn has 140-150 calories, depending on the flavor. The snack also contains 2 to 3 grams of protein, 2 grams of fiber and 8 grams of fat per serving. Simply7 also prides itself on being mostly preservative free: the Sea Salt & Olive Oil flavor lives up to that idea with just popcorn, extra virgin olive oil and Sicilian sea salt listed as ingredients.
By comparison, the original flavor of SkinnyPop popcorn has the same amount of calories as Simply7 with Giada per serving. But with SkinnyPop, you get almost four cups of popcorn to nosh in a serving, not just two. It has a similar nutrition profile with 3 grams of fiber, 2 grams of protein and 10 grams of fat.
Arguably one of the most popular popcorns on the market, Smartfood's White Cheddar Cheese Popcorn compares pretty favorably (from a nutritional and ingredient standpoint) to De Laurentiis' line, but less than two cups of Smartfood will set you back about 160 calories.
De Laurentiis popcorn may be tasty but there's another reason she teamed up with Simply7 to make her debut in the snack world: she's hoping that her products will help benefit female farmers around the country through their Fund Her Farm initiative.
"When I started talking with Simply7 about our popcorn, I knew that I wanted this partnership and product to make an impact beyond just creating a snack. It was a natural fit to bring my passion for empowering women to this product by working with female farmers," De Laurentiis told TODAY via email.
Though Fund Her Farm is still in its early stages of development, De Laurentiis says her team is working to find more female farmers trying to break into the industry and offer support. The ultimate goal of the program is to have female farmers in the U.S. be the sole source for the red and blue corn used in Simply7 with Giada.