Always wanted to perfect the art of Italian cooking but just couldn't master the vibe of those amazing Italian nonnas?
Giada De Laurentiis let TODAY Food in on some of her secret tips for authentic Italian dishes, including how to master the perfect red sauce, a staple of everything from spaghetti to lasagna to meatballs.
As part of a 10-week series, De Laurentiis is sharing 10 dishes every home cook should master to be considered an Italian food expert with readers of her Giadzy blog. She described it as her Italian food 101 course with instructions on how to make the essential Italian dishes she believes every cook should know.
"For each iconic dish, I'm breaking down exactly what it is, why it's important and how to make it perfectly every time," she wrote on her blog.
Not surprisingly, many classic Italian recipes require her signature tomato sauce, which she uses to make Parmesan pomodoro pasta, this week's recipe.
It's the "building-block sauce of Italian cuisine," she wrote.
A perfect sauce starts with the right tomatoes, according to De Laurentiis. Fresh is best, and she said her favorites are the San Marzano variety, which come from outside Naples (we're betting they also go in Naples' World Heritage-status pizzas).
"I always hand-crush them, because it puts the love into the sauce," De Laurentiis told TODAY Food by email.
Next comes a surprising ingredient. Instead of putting grated Parmesan cheese into her sauce, she uses Parmigiano-Reggiano cheese rinds to add flavor.
"American Parmesan doesn't have the same nutty umami," she said. "I add it to all my soups and sauces for an extra punch of flavor."
Finally, when it comes to the tomato sauce, she said it should be bright and light.
"No need to simmer on the stove for hours," she told TODAY Food. "Thirty minutes is all it takes."
Cooks will know it's done when the carrots are cooked through.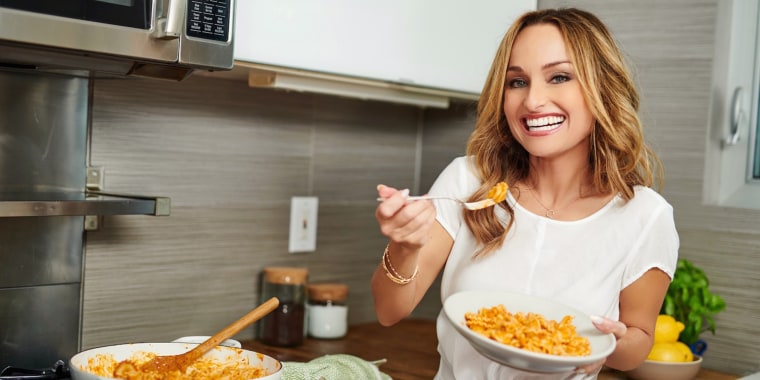 De Laurentiis has already released her recipe for chicken cacciatore in her 10-week series. Also on the agenda are pizza dough, chicken piccata, tiramisu and a Bolognese sauce. A new recipe will be released every Thursday.
Can't wait 30 minutes to have De Laurentiis' red sauce? Try her amazing eight-minute no-cook tomato sauce instead.