Chicken is one of the most popular foods to toss onto the grill, but it's notorious for turning out dry. For juicier results, try these grilled chicken recipes inspired by Asian, Mexican and Italian flavors and beyond. Bonus: None of these recipes involve bottled barbecue sauce.
By Stacy Adimando
Grilled chicken wings with wasabi and lime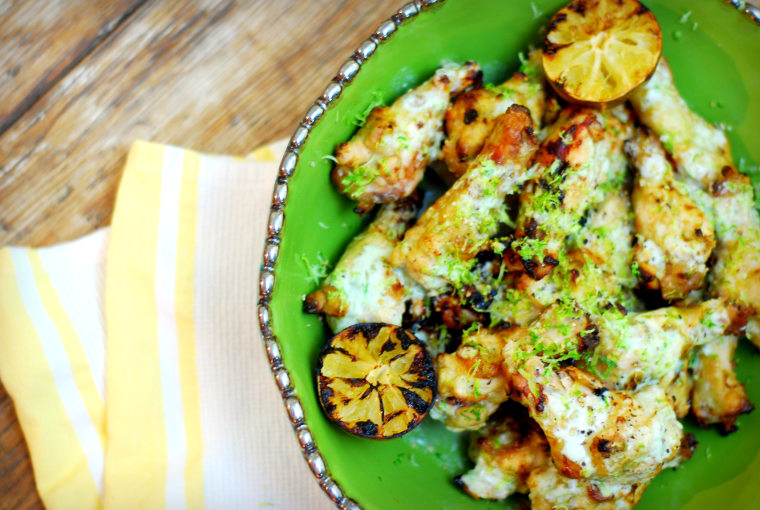 Love hot wings, but ready to try a different spin? In this grilled chicken recipe, the drummettes are glazed with a spicy mixture of wasabi paste and creamy, nutty coconut milk.

Yakitori (Japanese grilled-chicken skewers)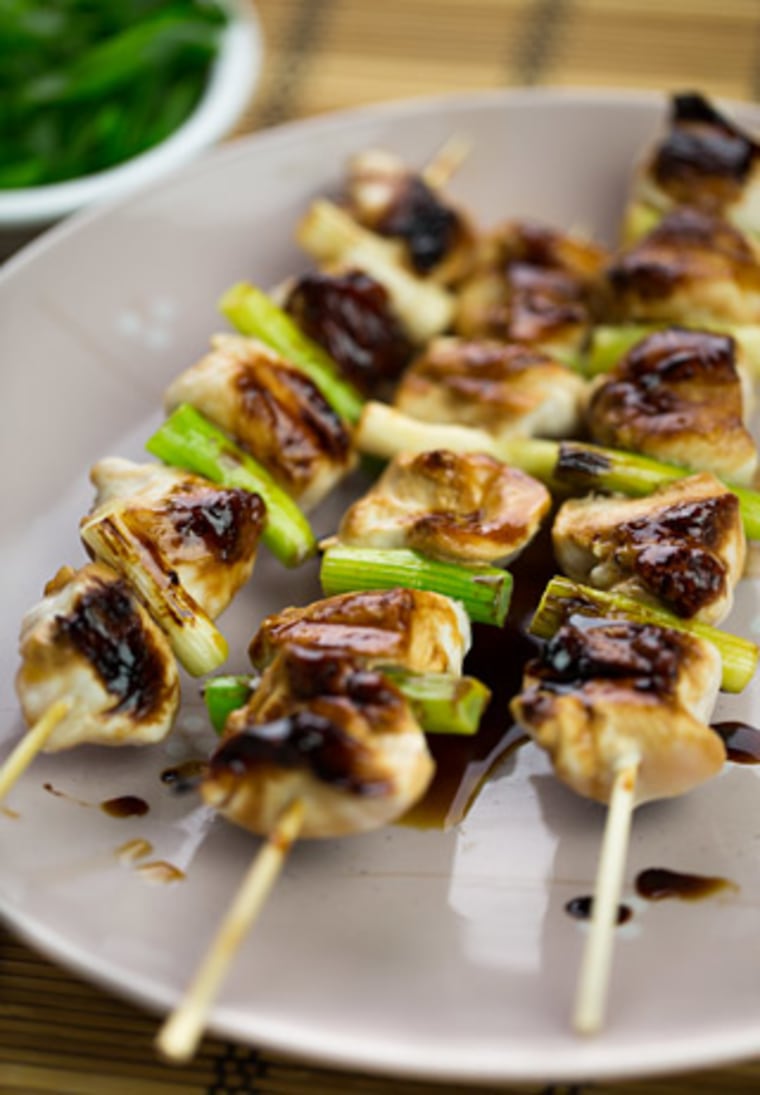 Skewering bite-sized pieces of chicken before grilling makes for faster cooking and keeps the meat tender. A sweet and savory vinegar-based sauce adds a flavorful finishing touch to this recipe. Feel free add in your favorite vegetable, like eggplant, green pepper or mushrooms.
Spice-rubbed grilled chicken tacos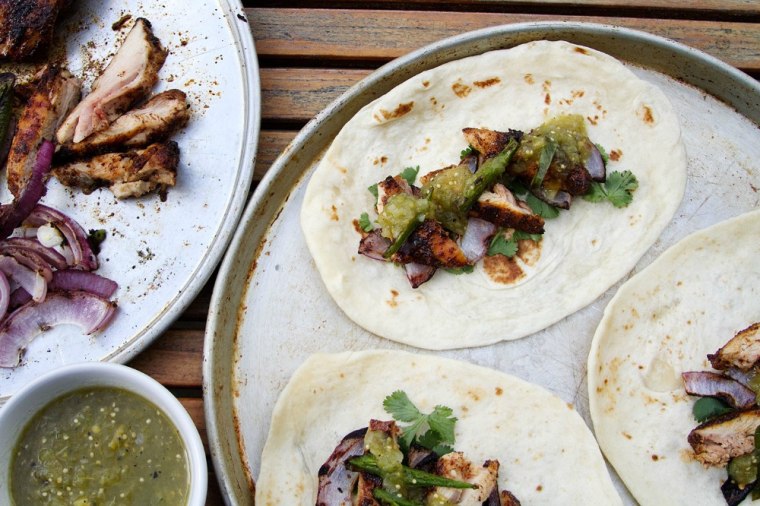 Slather chicken with the spicy-sweet blend of cumin, paprika, chili powder and brown sugar in this recipe, and watch the pieces caramelize to perfection on the grill. Serve the juicy, chargrilled chicken on tortillas with cooling salsa verde and avocado.
Grilled chicken with barley corn salad
Keep boneless, skinless chicken breasts moist by marinating them in a sweet and tangy cherry tomato vinaigrette before tossing them on the grate. Later, use the leftover sauce from the recipe to dress a summer corn and avocado side salad.
Grilled chicken with lemon, capers and oregano
Garlic, caper juice and dried oregano intensify the flavors of a lemony chicken marinade in this recipe. Serve the finished chicken with your favorite slaw or salad.
Grilled chicken with black bean and mango salsa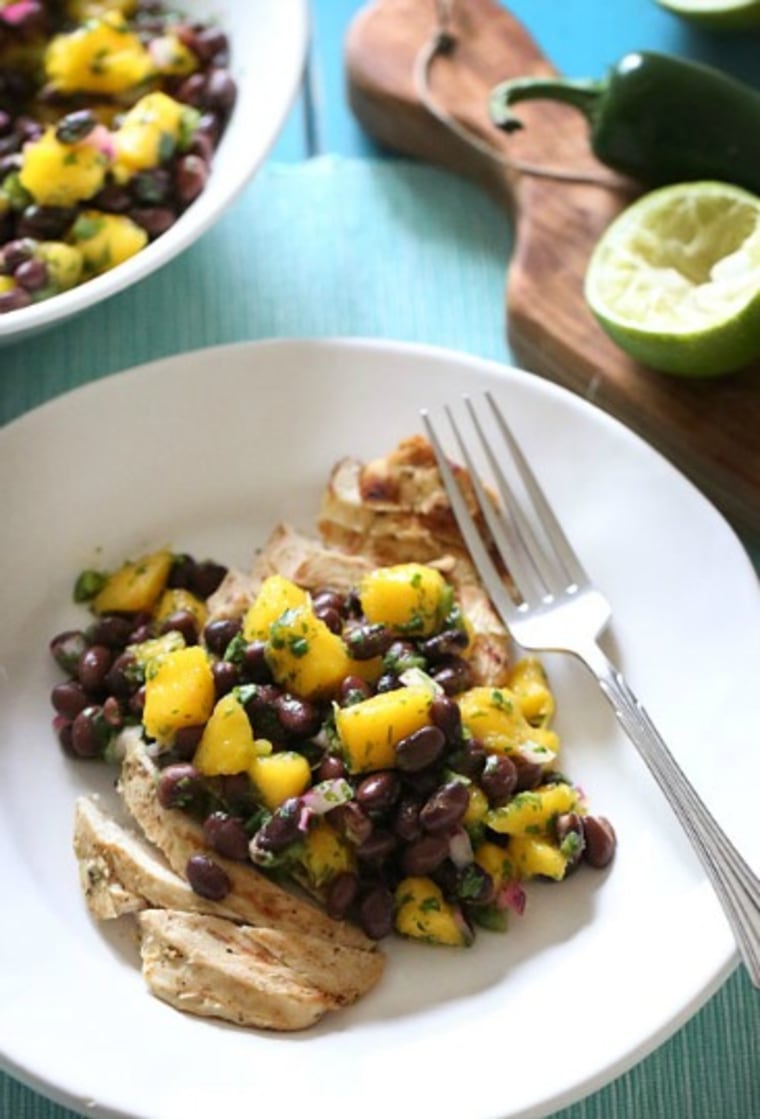 Spoon a colorful tropical salsa made with black bean and mango—and spiked with lime juice and jalapeño—on the spice-rubbed chicken breasts in this recipe. Or serve it as a dip with tortilla chips at your next fiesta.
Hawaiian grilled chicken thighs with coconut rice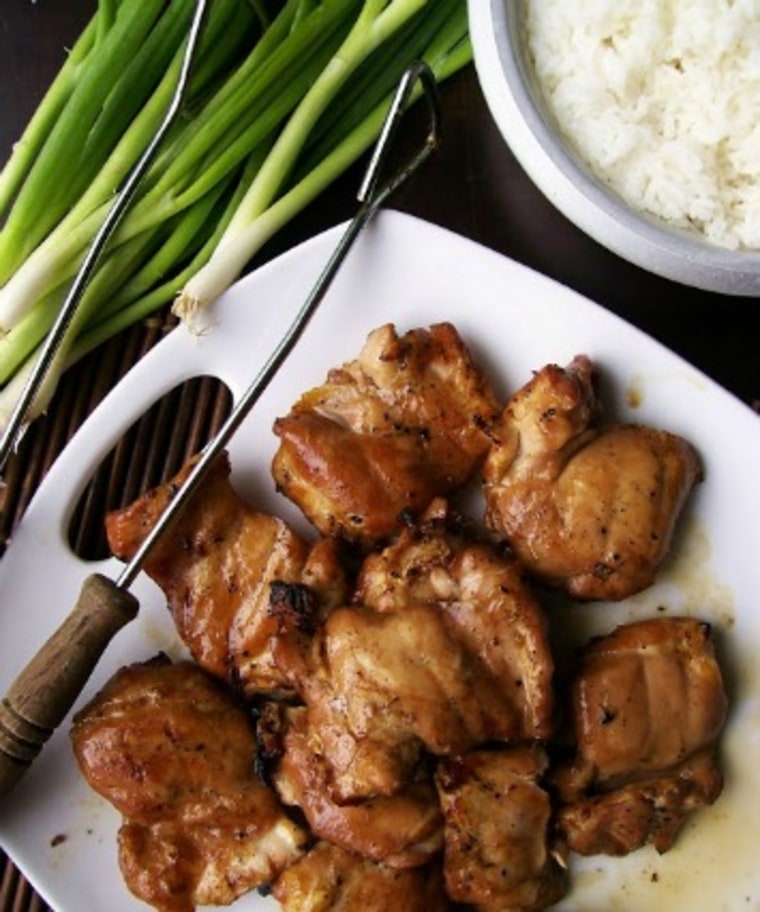 The dark-meat thighs in this recipe are a delicious alternative when you need a break from chicken breasts, plus they stay succulent on the fire. Slather them in a Hawaiian-inspired marinade made with coconut milk, green onions and sesame oil for a powerful flavor and an irresistible golden-brown shine.  
Strawberry and grilled chicken salad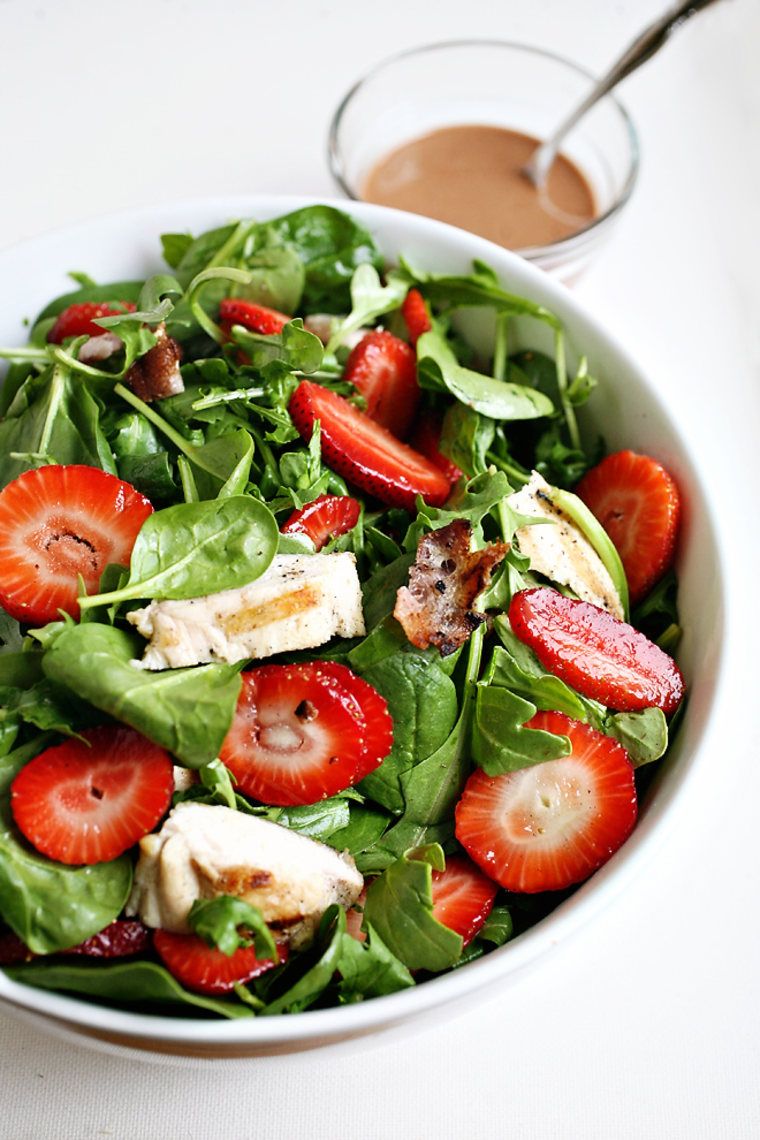 Loaded with crispy bacon, fresh strawberries, candied walnuts and two types of greens, this summery salad looks stunning on the table. But the chunks of grilled salt-and-pepper chicken play the starring role, and add a satisfying dose of protein.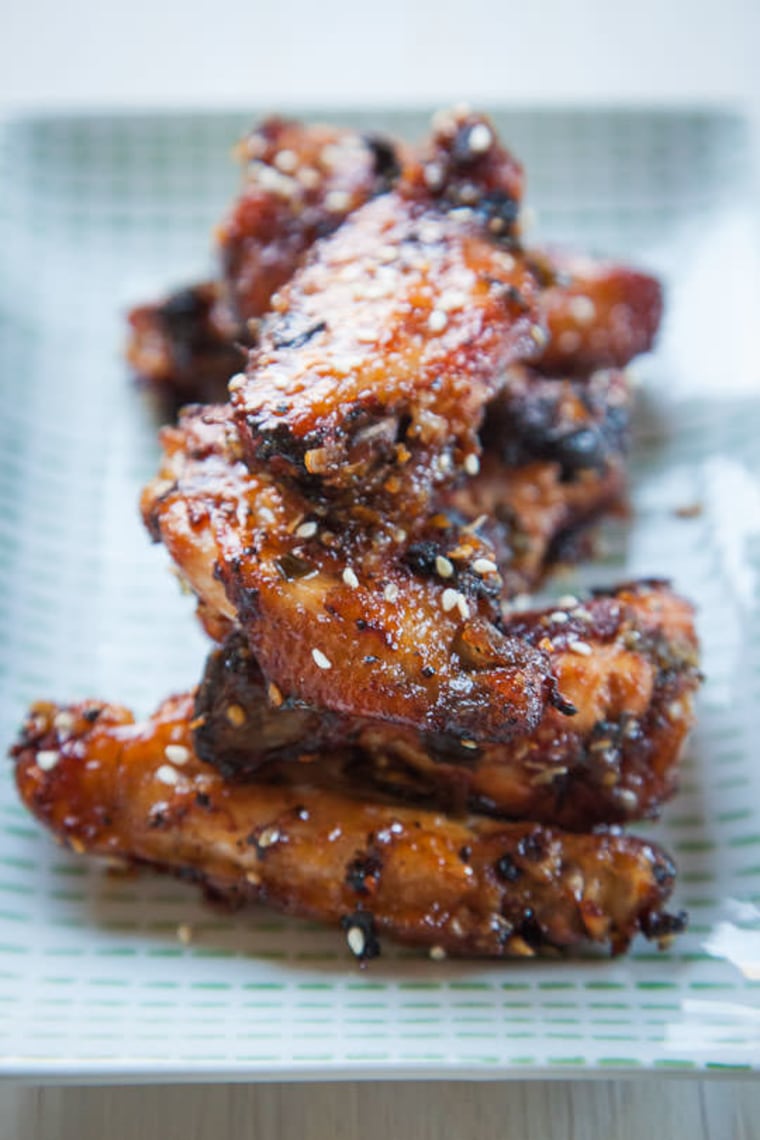 These Korean-inspired grilled chicken wings have a gingery-sweet flavor reminiscent of teriyaki sauce, but the seasoning is all homemade. Sprinkle the wings with nutty sesame seeds, then watch them disappear.
Caprese grilled chicken with balsamic reduction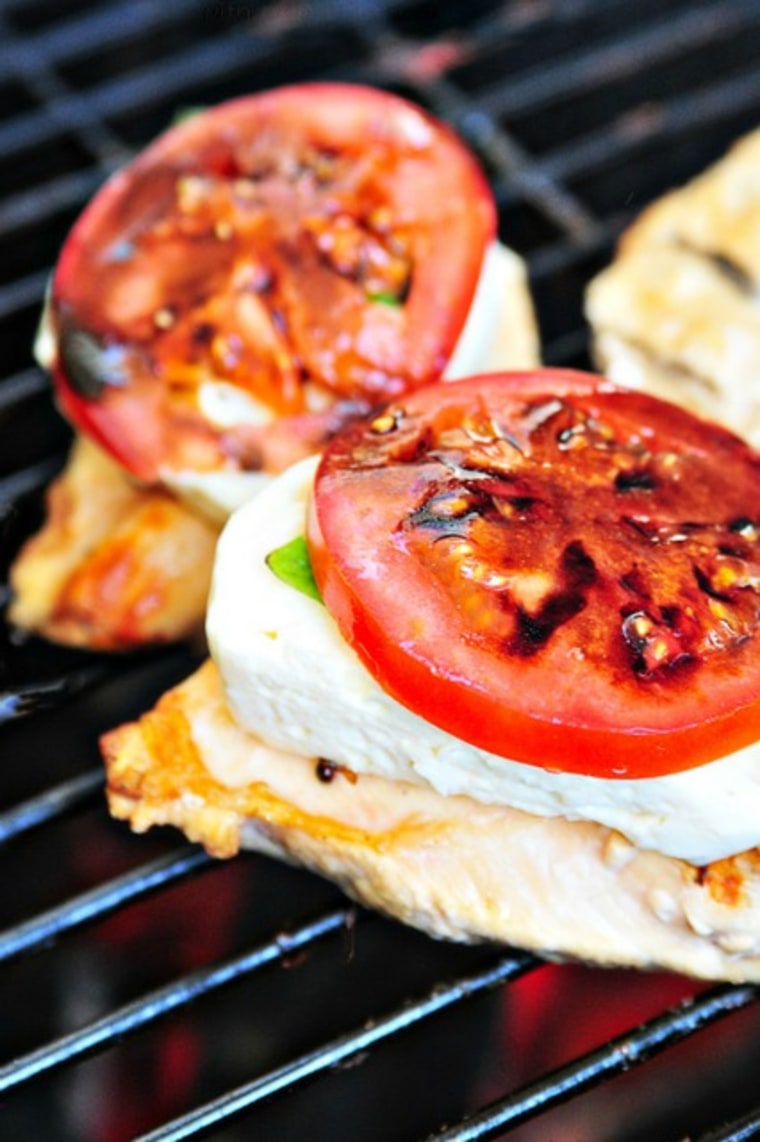 This main-course riff on the classic tomato salad couldn't be easier to make. Stack grilled chicken breasts with layers of mozzarella, basil and fresh tomato, then glaze with a syrupy balsamic reduction. Done!