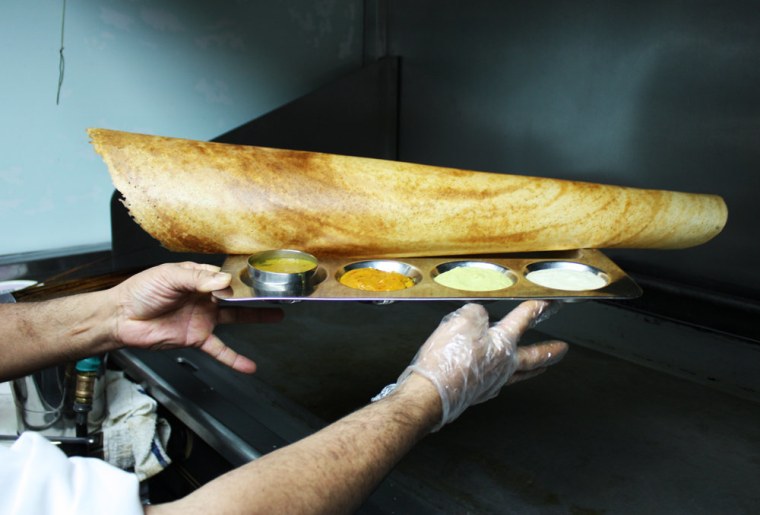 Crispy, savory and slightly sour, dosa is the South Indian counterpart to crepes. Made with rice flour and black lentils, it can go from the size of a typical pancake to being up to a foot and a half in diameter. Either way, the result is a delicious, filling and authentic dish that comes rich in protein and vitamin B and C, is free of sugar and gluten and low in sodium and saturated fat.
Chefs use a tava, or large griddle, and ghee (clarified butter) to cook the dosa. It's then stuffed, usually with a mixture of potatoes and spices, and served with a variety of chutneys including coconut, coconut-coriander, tomato and classic vegetable stew called sambar, which acts as a dip for the dosa.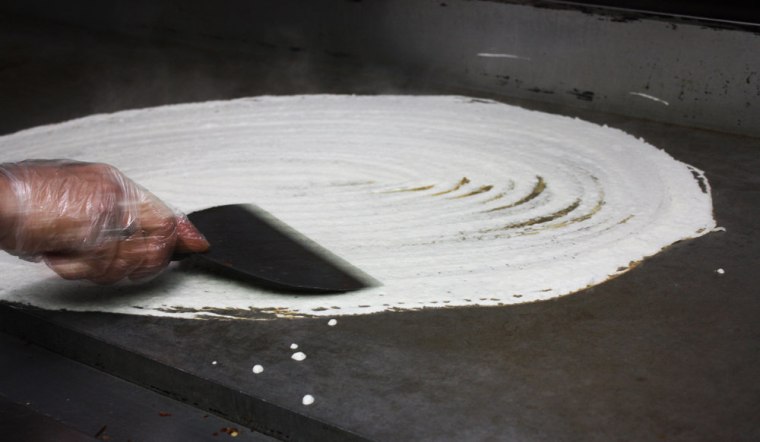 Preparing a giant dosa is difficult for home chefs without a large griddle. Instead, aim to make yours the size of a dinner plate by using your basic pancake pan or by heating a well greased baking tray over two burners—just make sure they both are set to medium heat. The key is to have patience.
We went to the newly opened Upper West Side location of the popular South Indian restaurant Saravanaa Bhavan to get the chef's recipe for a scrumptious dosa. Although it takes a while to make, it's worth it. Of course, if you don't have the patience for the process, the instant rava dosa packages by Gits also prove tasty.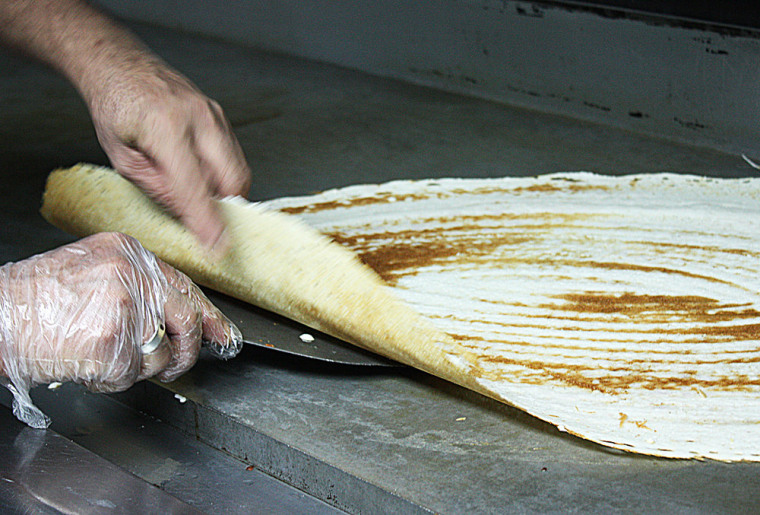 Ingredients: 
3 cups parboiled rice (washed and soaked overnight)
1 cup urad dal, also referred to as black gram or black lentils (washed and soaked overnight)
1/2 tsp baking soda
Salt to taste 
Ghee or olive oil 
Preparation:
Having soaked both the rice and dal separately, wash well with plenty of water. Using a wet grinder or food processor, grind dal to a very fine paste. Grind rice until some fine grains are left (like very fine semolina). Mix both rice and dal together.
Add baking soda and salt and beat well. The batter should be fairly thick, but add a little water if it's too gummy.
Cover and keep aside for 7-8 hours, undisturbed and preferably in a warm place.
After you let it sit, beat the mixture well. The consistency of the batter should be thick enough to coat a spoon when dipped.  If it's too thick and gummy, add more water a little at a time. Heat a very lightly greased griddle or non-stick tava well.
Once the pan is hot, pour (depending on the size of your pan) about up to ¾ of a ladle of the mixture onto the pan, evenly distributing a thin layer into a circular shape with the back of a spoon. Pour 1 tsp of ghee or olive oil over it. It takes about three to five minutes to cook. You'll see the edges turn darker and like a pancake, small bubbles will form. When the dosa is completely covered in bubbles, take your spatula and peel up the edge. The bottom should be a nice golden brown and come up easily. Flip with spatula when crisp, and cook for an additional 1 minute.
Serve it stuffed with this potato masala or your favorite chutney.
Linnea Covington is a freelance writer and eater who will try any drink, dish, or sweet at least once, especially if it involves chili or bourbon.