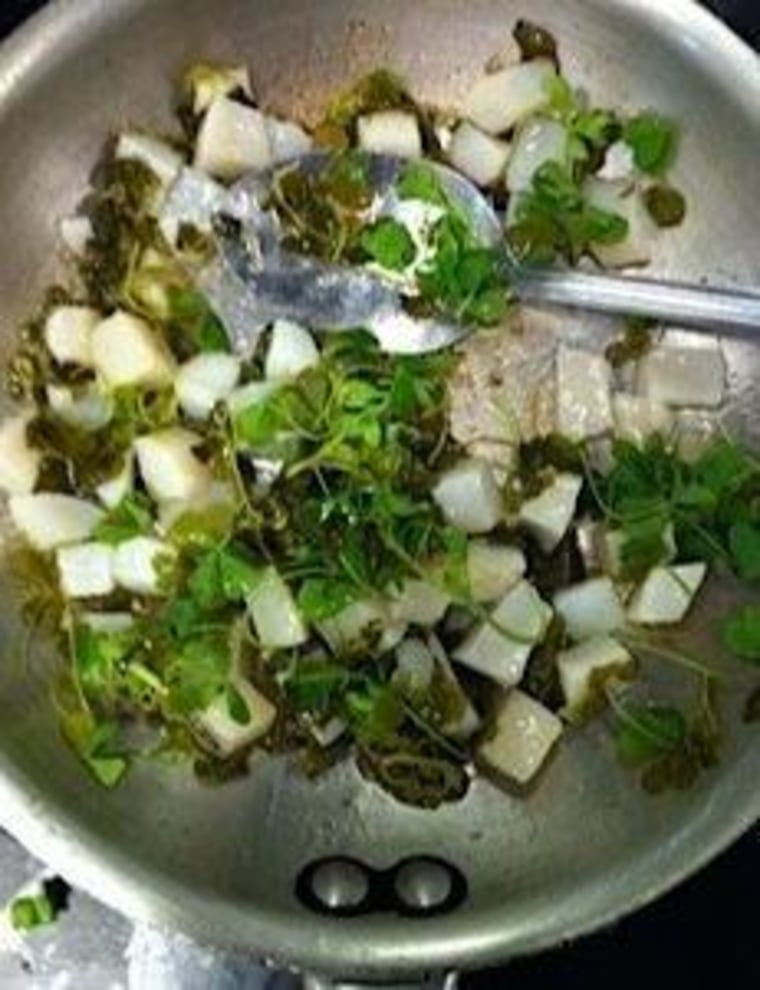 I've always had a hard time trying to maintain a manicured lawn or properly staking tomato plants in a vegetable bin. And the weeds never stop growing.
But rather than thinking of them as a nuisance, I've learned to enjoy these lush, healthy (yet unwanted) plants, because they are a perfect nutritious boost to a meal.
Even though foraging, or the practice of gathering wild plants, is an ancient tradition,  it seems to have caught the modern world's attention since chef Rene Redzepi of the Copenhagen restaurant Noma brought it into the limelight. Noma has been named World's Best Restaurant for the past three years. There';s no doubt foraging is hot right now. This month, the James Beard Foundation's newsletter comes out with their "foraging issue" and every day there are news alerts spanning San Francisco, Portland, Brooklyn, Charleston, Kansas City and Tulsa as well as the UK, Australia, Japan, France and Italy about turning wild plants into culinary delicacies, as revered ingredients.
For the past several years, I have been working closely with Eddy Leroux, chef de cuisine at Daniel in New York City, to decode foraging and researching which plants taste the best. The key, as with any other vegetable or fruit, is WHEN to pick them (is anyone eating peaches yet?) and HOW to prepare them (cooked or raw can make a world of difference in taste and digestibility).
Chefs around the world are interested in wild plants because they have great flavor and texture that is hard to find on store-shelf produce. Plus, they are organic and local — "free range" plants that grow where they want and move around to suit themselves. How's that for buzzwords?
If you want to start foraging on your own, check out this site to help you identify which plants you've found.
Now, at the start of summer, you can find yellow wood sorrel, which has leaves like a shamrock. Clip the tops off, using mostly the leaves, tender stems and flowers.
You can use raw yellow wood sorrel in cucumber-style tea sandwiches, or layered on a piece of crusty cranberry walnut bread with goat cheese. It adds a lemony kick!
At Daniel, Eddy has it on the menu with abalone, avocado and jalapeño.
I recently partook in a beach festival where people were lining up to enjoy scallops and wood sorrel with white wine shallot sauce, and now you can too, with the recipe below!
Scallops and Wood Sorrel with White Wine Shallot Sauce (from "Foraged Flavor")
This dish has a beautiful light yellow color, and the tartness of the wood sorrel complements the scallops and shallots.
Serves 4
3 small shallots, chopped
1 cup dry white wine
8 ounces (1 cup) creme fraiche
1 ½ tablespoons unsalted butter
10 large sea scallops, muscle removed, cut into 1⁄2-inch pieces
1 ounce (2 ¼ cups) wood sorrel leaves
½ teaspoon fresh lemon juice
Salt and freshly ground black pepper
In a large shallow saucepan, cook the shallots and white wine over medium heat until the liquid reduces to about 2 tablespoons. Add the creme fraiche and simmer until the mixture reduces to about 1⁄ 3 cup.
Heat a large skillet over medium-high heat. Add the butter and scallops and sear for 1 minute. Pour in the shallot sauce and add the wood sorrel. Cook for 30 seconds, stirring gently. Remove from the heat and season with the lemon juice and salt and pepper. Serve immediately.
Tama Matsuoka is a forager, weed eater, meadow doctor, lawyer, mother of three and the author of "Foraged Flavor," which features tips and recipes for finding great ingredients in your own back yard. 
More from TODAY Food: