For years, fair food seemed to be all about deep-fried gimmicks—an annual game of one-upmanship about who could fry up the craziest concoction. Don't get us wrong, there are still plenty of fun, new deep-fried foods, but somehow this year's offerings just seem more creative than just throwing random things in hot oil. Keep an eye out for these new offerings at your local fair and tell us about your favorite new finds in the comments.
Gut-busting breakfasts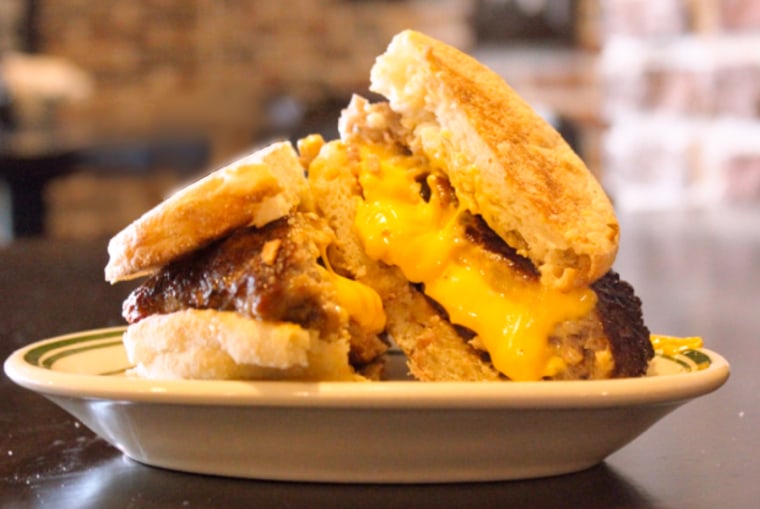 Most major fairs open early—as early as 6 or 7 a.m. in some places—but the breakfasts just finally seem to be catching up to other offerings. At the Minnesota State Fair, which runs August 21 to September 1, early birds can find the Breakfast Juicy LuLu, a take on the Juicy Lucy Midwestern burger: an English muffin, topped with two cheese-stuffed sausage patties. And over at the Iowa State Fair, which runs August 7 to 17, a morning version of loaded potato skins, called the Three Buck Bowl, is already generating buzz: Two crispy potato skins come filled with scrambled eggs, fresh salsa and shredded cheddar cheese.
Chicken skin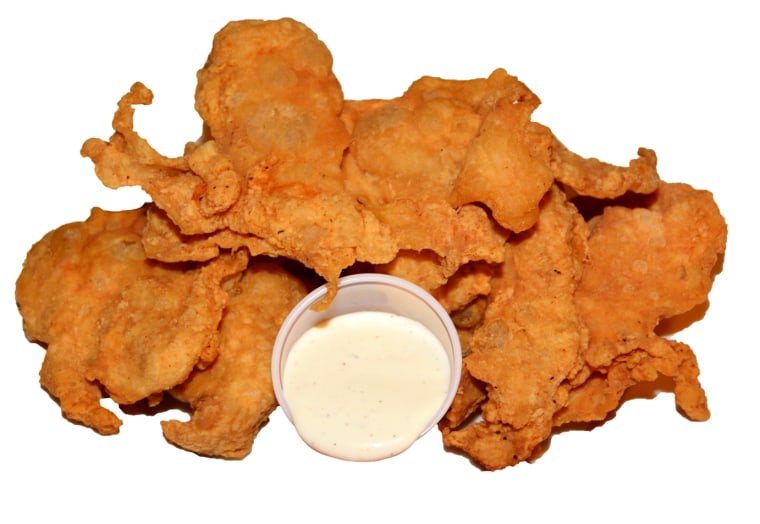 Before you wrinkle your nose at the thought of ordering deep-fried chicken skin, consider this: "It's the best part of fried chicken," says Linda Zweig, spokesperson for the San Diego County Fair, where the nearly 1.5 million guests went through 5,000 pounds of Fried Chicken Skin, a new offering this year—and a trending restaurant ingredient. "It's like a cross between a pork rind and a potato chip," Zweig told TODAY.com. Sold. 

Whiskey-infused, bacon-wrapped churro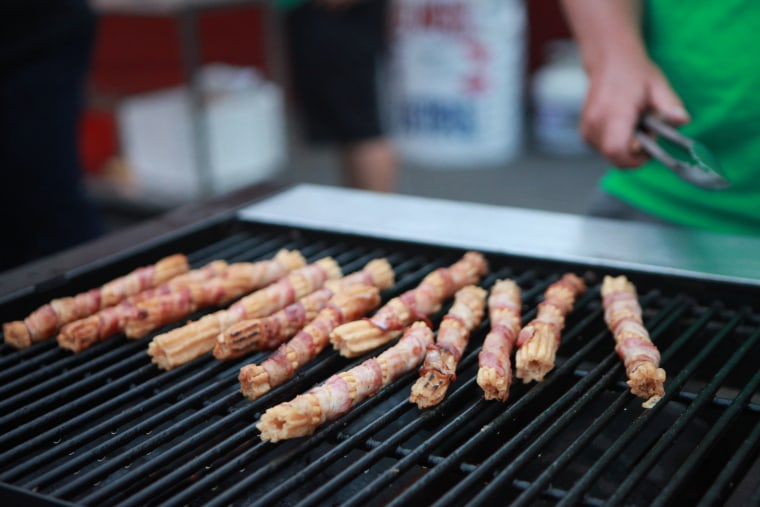 Churros—those sticks of fried dough that taste similar to funnel cake—are nothing new at fairgrounds, but this other new mind-blowing item from the food-obsessed San Diego fair is: a churro that comes infused with Jack Daniels, smoked and wrapped in bacon. Worth nothing: The booth that sells it also debuted a chocolate peanut butter and bacon–covered banana as well as bacon-wrapped zucchini and bacon-wrapped dates, you know, for the health nuts.

PB&J french toast and gelato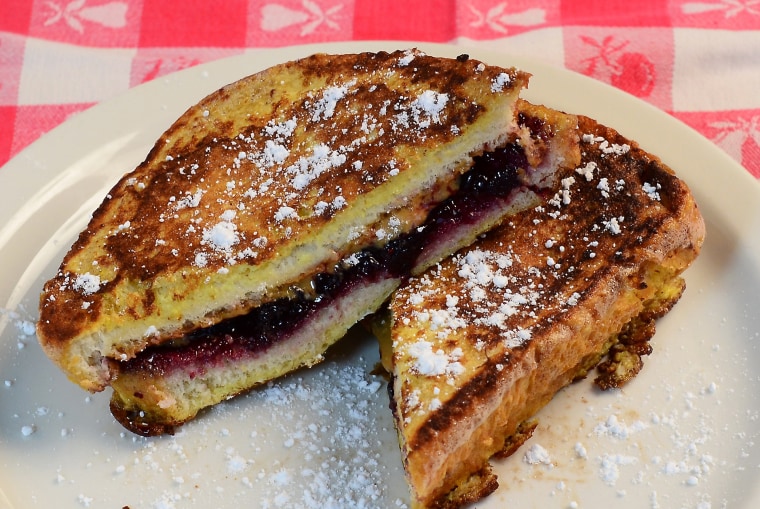 Yes, you can make peanut butter and jelly at home, but you probably can't make a PB&J gelato sandwich, which you can find at the Wisconsin State Fair, which runs through August 10. Crunchy peanut butter gelato and grape sorbet come together, sandwiched between vanilla cake and topped with peanut-laced frosting. And back at the Minnesota State Fair, you can find a PB&J-stuffed french toast, which comes with a salty kick on the side: choice of ham, bacon or sausage.

Story: 8 wacky foods you can eat at the Minnesota State Fair
Gluten-free fair fare?
Good news for the gluten-free crowd! You can enjoy yourselves at the fair this year, too. Celiac support groups in Iowa banded together and put together a virtual spreadsheet for fair-goers to sort through gluten-free offerings (pointers include hitting up the new Jumbo Marshmallow on a Stick). And in Minnesota, there's a locally made gluten-free beer-battered brat, in all its golden gluten-free breaded glory.