Instead of frying your skin in the sun on the last day of the Fourth of July weekend, you may want to fry something else—like a chicken wing. July 6 is National Fried Chicken Day, as perfect a time as any to indulge in this ultimate finger-licking dish. But why stick to the same old recipe when there are so many mouthwatering styles to choose from? We picked three delicious contenders: Harlem-style fried yardbird, Nashville hot chicken, and spicy-sweet Korean-style chicken. Try them all, pick your favorite—and don't forget the napkins!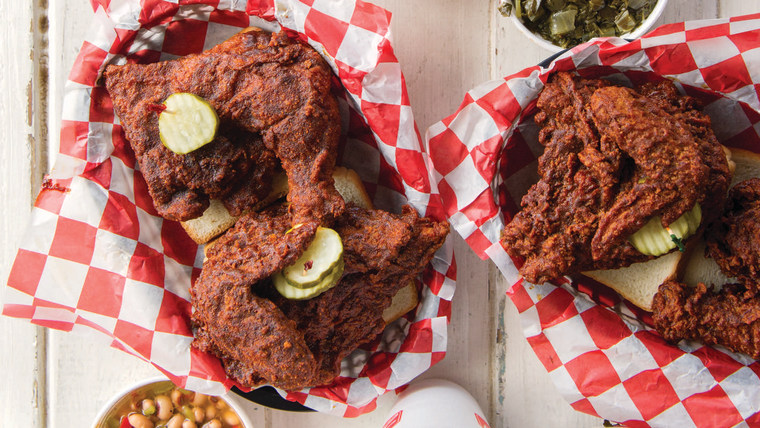 Harlem fried chicken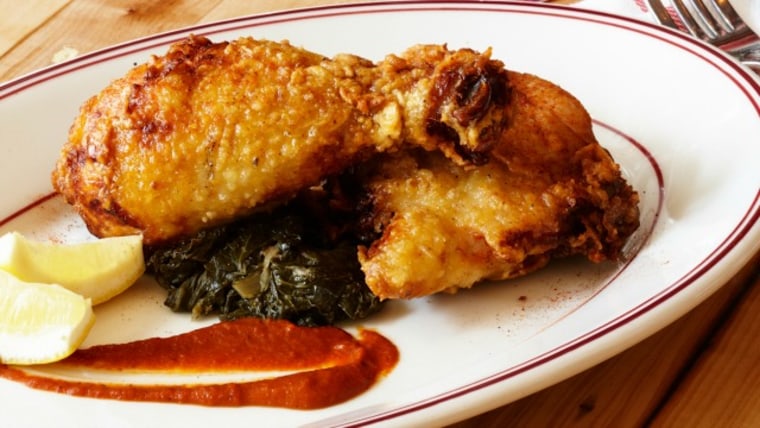 Most people assume Harlem-style fried chicken refers to chicken and waffles—the sweet, salty, syrupy breakfast dish that first became popular in the 1920s. Chef Marcus Samuelsson serves it at his Harlem restaurant, Ginny's Supper Club, but the Ethiopian-born, Swedish-raised, James Beard Award-winning chef is also known for another deliciously decadent chicken dish: fried yardbird, one of the most popular menu items at his other Harlem restaurant, Red Rooster. The chicken isn't just perfectly crunchy, juicy and addictive; it's made with a unique blend of spices that give it added layers of flavor.
To prepare the chicken, Samuelsson marinates it overnight in buttermilk, coconut milk and what he calls a "chicken shake" mixture, made with Ethiopian berbere spice, smoky paprika, garlic, cumin and celery salt. "Berbere is my favorite spice," says Samuelsson of the chili pepper-based blend, available at spice shops and specialty food stores. 
Samuelsson's tip for nailing the recipe: "Let the chicken rest for 10 minutes after frying, and then reheat the oil and fry a second time for just one more minute," so the breading turns super-crunchy and gets a deep, gorgeous golden-brown color.
See below for his fried yardbird recipe, and tune in to TODAY on Wednesday, July 9, to watch chef Samuelsson demonstrate the recipe live.
Nashville hot chicken
The iconic Nashville-style fried chicken can be summed up in one word: hot! Legend has it that the recipe for this extra-spicy pan-fried chicken, seasoned with cayenne pepper and coated with lard, was created back in the 1930s by a woman who wanted to scorn her cheating lover. So if burning lips and watery eyes are your thing, you're in for a scorcher of a meal.
According to Lee Brian Schrager, author of Fried & True: More Than 50 Recipes for America's Best Fried Chicken and Sides and founder of the Food Network South Beach and New York City Wine & Food Festivals, Hattie B's Hot Chicken in Nashville is the place to go for an intense fried-chicken experience. "Nashville is known as the epicenter of hot fried chicken," he says. "Hattie B's version is unique, as it can be ordered at six different degrees of 'hotness,' with the last one at 'Shut the cluck up' level!"
Schrager's tip for making hot fried chicken at home: "Know your guests and be wary of the spice. I always like to serve this with a slice of classic white Wonder Bread and a shot of buttermilk to help cut the heat."
See below for Hattie B's chef John Lasater's hot chicken recipe.
Korean-style spicy-sweet chicken
Otherwise known as yangnyeom chikin, Korean-style fried chicken is traditionally made with a light batter. It follows an Asian frying technique that cooks off the fat from the skin, resulting in a thinner but crisper coating. The cooking process tends to be slower than for American-style fried chicken recipes. The end result is usually topped with a garlic soy-based or hot red pepper sauce and served with pickled radish—and a refreshing glass of cold beer or soju (Korean vodka).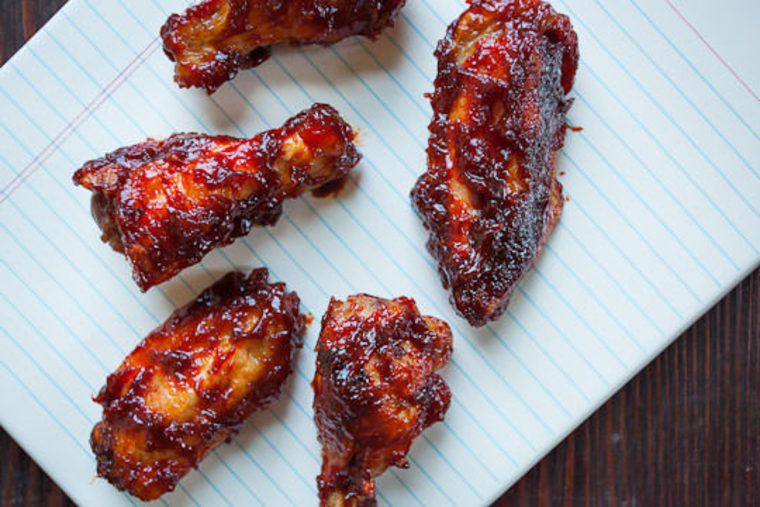 Now that Korean-style fried chicken is becoming more popular stateside, fans are coming up with their own spins on the recipe, making it easier and in some cases healthier. Irvin Lin, a San Francisco-based recipe developer, forgoes the deep-frying oil and instead "fries" his chicken in the oven. Lin advises chicken-lovers not to shy away from the lesser-known ingredients in the recipe, such as gochujang, which can be easily found online or in the Asian aisle of many grocery stores
Lin's tip for last-minute planners: "The recipe requires you to coat the wings with the egg white mixture a day beforehand, and let them dry in the refrigerator, so plan ahead. In other words, you can't make these wings on a whim. But because they're baked in the oven and the sauce comes together pretty fast, the wings aren't difficult to make at all."
He promises it will be the worth the effort. "If you've never had Korean Fried Chicken—the other KFC—you're in for an addictive treat."
See Lin's blog, EatTheLove.com, for the recipe.
Marcus Samuelsson's fried yardbird recipe
Serves 4
1 cup salt

8 cups water

4 chicken thighs, skin-on

4 chicken drumsticks, skin-on

1 quart buttermilk

3/4 cup coconut milk

2 garlic cloves, minced

1 tablespoon chicken shake (recipe below)

1/2 pound all-purpose flour

2 ounces semolina flour

1 ounce cornstarch

1/2 ounce ground white pepper

5 quarts frying oil

Mix salt in water until dissolved. Place chicken in brine and let sit for 1 1/2 hours.

Combine buttermilk, coconut milk, garlic and chicken shake, then place chicken in marinade overnight in refrigerator.
Combine all-purpose flour, semolina flour, cornstarch and white pepper to make breading.
Remove marinated chicken from fridge and allow excess marinade to drip off.
Roll chicken in breading, shaking off excess.
Fill an 8-quart pot with oil and bring to 300 F. Once oil is hot, carefully drop chicken into the oil and let fry for about 15 minutes (inner temperature should be at least 165 F).
Remove chicken from oil and place on paper towel. Season chicken with chicken shake mixture to taste.
Chicken shake
Makes 4 cups
1/8 cup ground garlic

1/2 cup celery salt

1/2 cup ground cumin

1 cup berbere

1 cup smoked spicy paprika

1/8 cup kosher salt

1/2 cup ground white pepper

Combine in a mixing bowl and stir until blended.
John Lasater's recipe for Hattie B's hot chicken
Serves 4
For the dry brine:
1 whole chicken (3 pounds), washed, patted dry, and cut into quarters

1 tablespoon kosher salt

1 1/2 teaspoons freshly ground black pepper

For the dip:
1 cup whole milk

2 large eggs

1 tablespoon Louisiana-style hot sauce

For the dredge:
2 cups all-purpose flour

2 teaspoons sea salt

Vegetable oil, for frying

For the spicy coating:
1/2 cup lard, melted and heated (or hot frying oil)

3 tablespoons cayenne pepper

1 tablespoon (packed) light brown sugar

1 teaspoon freshly ground black pepper

3/4 teaspoon sea salt

1/2 teaspoon paprika

1/2 teaspoon garlic powder

Dry-brine the chicken: In a bowl, toss the chicken pieces with salt and pepper, cover and refrigerate overnight or up to 24 hours.
Make the dip and dredge: In a bowl, whisk together the milk, eggs, and hot sauce. In a separate bowl, whisk together the flour and salt.
Dredge the chicken: Dip the chicken in the flour mixture, then in the milk mixture, then in the flour mixture again, shaking off the excess after each step.
Fry the chicken: Fill a 6- to 8-quart pot halfway with oil and bring to 325°F. Set a wire rack on top of a rimmed baking sheet and set aside. Working in batches, lower the chicken into the fryer and fry until crisp, 15 to 17 minutes for breast quarters and 18 to 20 minutes for leg quarters. Remove the chicken and let drain on the rack.
Make the spicy coating: Carefully ladle the lard or frying oil into a medium heatproof bowl and whisk in the cayenne pepper, brown sugar, black pepper, salt, paprika, and garlic powder. Baste the spice mixture over the hot fried chicken and serve immediately.
Recipe is reprinted from Fried & True by Lee Brian Schrager with Adeena Sussman. Copyright (c) 2014 by Lee Schrager. Published by Clarkson Potter/Publishers, a division of Random House, LLC.