Nothing quite says summer like firing up the grill and cooking skewers lined with vegetables, fruits and meats. Bren Herrera of Flamboyant Eats shared some of her top skewer recipes through a live stream on TODAY.com for the Fresh Cooks Live: Summer Sizzle series.
Check out the full demo so you can see how to make her favorites like vegetable, fruit skewers and a Latin grilled chicken from beginning to end.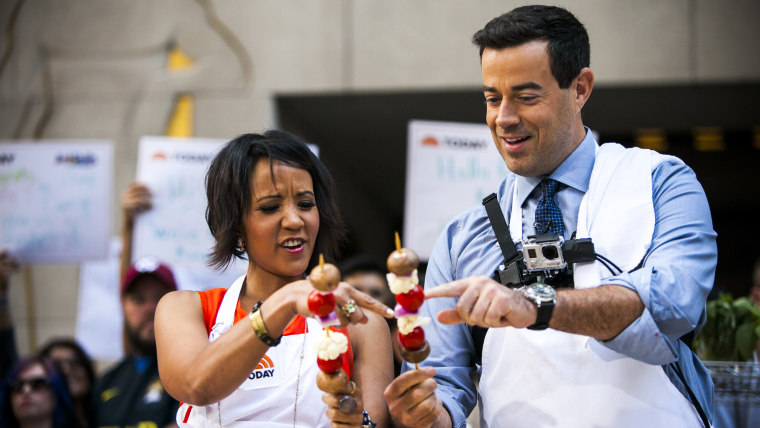 Grilled mushroom & cauliflower skewers
Serves 6
10 oz. cremini mushrooms
4 Roma tomatoes (or large cherry tomatoes), chunked
4 cups cauliflower, cut into 1-inch florets
1 red onion, cut into 1-inch chunks
1 stick unsalted butter, melted 
1 packet of Sazon Goya or dry adobo seasoning
Juice from 1 lime
Sea salt (to taste)
Pepper (to taste)
Soak bamboo skewers in water for 30 minutes. Preheat the grill to high. In a large mixing bowl, add the vegetables and season with salt, pepper and Sazon Goya seasoning. Pour the melted butter over the vegetables, covering evenly. 
Using a rubber or wooden spoon, mix well, ensuring that all the vegetables are covered. Skewer each stick with the vegetables, alternating between the different types (there should be 3 to 4 of each vegetable on a skewer). 
Grill the skewers for 15 to 20 minutes, or until the cauliflower is charred but not burned. Squeeze lime juice over all skewers five minutes before they're finished grilling. 
Corn and squash skewers
Serves 6

2 corn cobs, cut into 1/2-inch rounds 
1 chayote, cut into 1/2-inch chunks (or okra, cut into 2-inch pieces)  
2 yellow zucchinis, cut into chunks 
6 large asparagus spears, cut 
2 sticks unsalted butter, melted
1/4 cup honey balsamic vinegar
3 tbsp. whiskey
2 tsp. agave
1 1/2 tsp. crushed red pepper flakes
1 tsp. smoked paprika
Salt (to taste)
Cilantro (for garnish) 
Red pepper, cut into 1/2-inch pieces
In a large pot, bring corn and chayote to a boil and cook for 15 minutes. Preheat the grill to high. 
While the vegetables are cooking, make the butter sauce. In a medium mixing bowl, add melted butter and all wet and dry ingredients, except for the vegetables. Stir well. Remove the corn and chayote from heat and drain. 
Skewer each vegetable, alternating them (there should be 3 to 4 of each vegetable). In a deep Pyrex baking dish, line up the skewers and pour butter sauce over all of them, covering them all. 
Grill skewers for 15 minutes, turning once. Using a pastry brush, baste skewers with remaining butter sauce.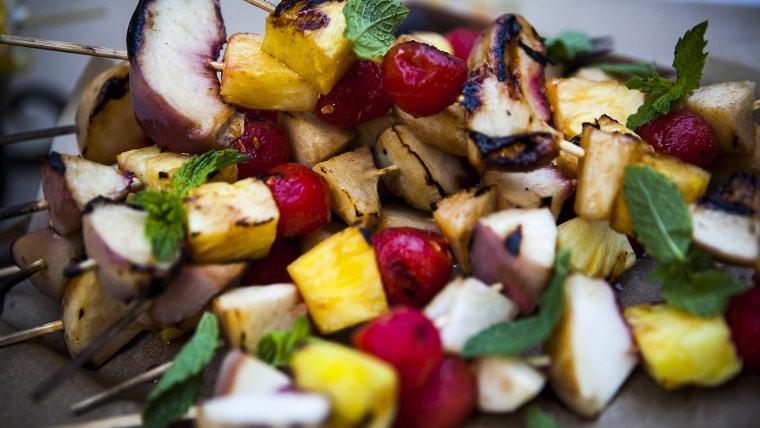 Grilled watermelon and pineapple skewers
Serves 6

5 cups watermelon, cut into 1/2-inch chunks
5 cups pineapple, cut into 1/2-inch chunks or squares
4 white peaches, halved and skin on
3 cups Bosc pears, peeled and cut into 1/2-inch chunks
1/4 cup chipotle sauce or chipotle Tabasco sauce 
1/2 cup maple syrup 
1/2 cup orange juice
Mint (for garnish)
Soak bamboo skewers for 20 to 30 minutes. Preheat the grill to high. In a small mixing bowl, whisk chipotle sauce, maple syrup and orange juice. Skewer fruits, alternating between each type (there should be about 3 to 4 pieces of each fruit on a skewer). 
Grill for 15 minutes, until pineapple is browned but not burned. Serve on a tray and drizzle the skewers with the chipotle-maple sauce.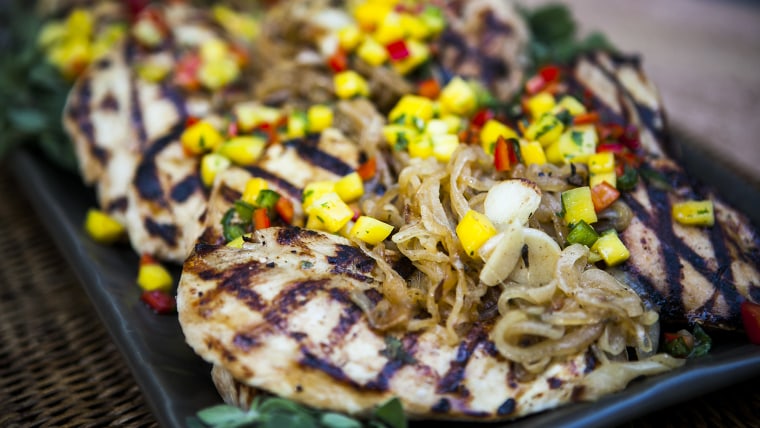 Latin grilled chicken
2 lbs. of chicken (preferably breasts and thighs), boneless and skinless 
1 white onion, sliced 
5 cloves garlic, pressed 
1 tbsp. oregano
Juice from 3 lemons
Juice from 1/2 of a medium orange
Salt (to taste)
Pepper (to taste) 
Pound chicken to equal-sized pieces, if not already (each piece should be approximately 3/4-inch thick). Place chicken on a large platter, and season with salt, pepper and oregano. Rub garlic on each piece of chicken, covering evenly. Squeeze the lemon and orange over the chicken evenly and top with onions. 
Cover the chicken with plastic wrap and refrigerate for at least 30 minutes (an hour is preferable). Remove from the fridge and let sit for 5 minutes before cooking, but be sure to fire up the grill 30 minutes before ready to cook the chicken. 
When ready to cook, make sure the grill rack is oiled. Once the grill temperature is about 350 degrees, transfer chicken to the grill using tongs. Cook on each side for approximately 3 to 4 minutes or until slightly charred and cooked in center. Pouring some of the marinate on will keep the chicken juicy as it's cooking.  
Transfer to serving dish or platter. Top with desired sauce. 
Mango and jalapeño relish
3 mangos, cored and cubed
1 red pepper, diced
1 bunch cilantro, finely chopped
1 jalapeño pepper, seeded and minced
1 lemon
1 tsp. nutmeg
1/4 cup orange juice
Pinch of salt (to taste)
In a large mixing bowl, combine all of the ingredients except for the orange juice. Once mixed, gently stir in the orange juice. Chill or serve at room temperature