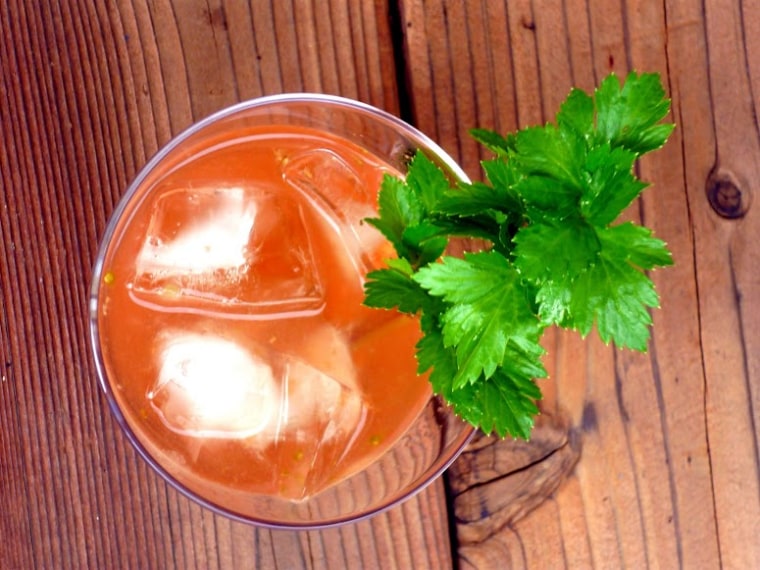 Ever wondered what's in your gin? Hint: Artificial ingredients have nothing to do with the alcohol's bitter, piney taste. That's the work of juniper berries, and without them gin would taste little different than vodka.

A conversation about gin and its herbaceous roots provoked author Amy Stewart to start investigating how botany and booze collide. In the name of research, she chatted (and drank) with distillers, botanists and bartenders around the world, and many of her illuminating experiences, discoveries and recipes appear in her recently-published book, "The Drunken Botanist."
"I wrote a book about earth worms, and no one offered to help me with the research, but I write a book about booze and everyone wants to carry my suitcase," she laughed.
As the first week of May is National Herb Week, TODAY.com chatted with Amy Stewart about the role plants and herbs play in alcohols and cocktails — and how you can work that relationship to your taste buds' advantage. Start by thinking about the liquor store as a greenhouse.
Turns out we owe all of our favorite spirits to plants, from bourbon, which is made from corn, to absinthe, which owes its flavor to a combination of Mediterranean herbs. And that's just the standard stuff. American colonists experimented with fermented parsnips back in the day, and Ugandans have developed their own beer made from bananas.
"These are places we don't think about drinks, but the global traditions are amazing," Stewart told TODAY.com. "People will make a drink out of whatever."
Of course, Stewart also delved into the cocktail scene, her timing impeccable since drinks featuring flavors from the produce section have recently become very in vogue. Urging drinkers to stay away from distillery-infused alcohols like "cucumber vodka," Stewart encourages cocktail connoisseurs to pair fresh ingredients with their liquor: cucumbers with gin, tequila with sage ("magical together"), and herbs like basil and cilantro with just about anything.
But at the end of the day, Stewart prefers her drinks more stripped down.
"Even though I've been tasting amazing cocktails from all over the world, at home I have stayed pretty simple," she said.
She suggests trying out two items that might be collecting dust on your liquor cabinet: Lillet and vermouth. Stewart sips these fruit-and-herb infused wines on their own, sans all the alcohols and sweeteners Americans usually associate them with.
"It's something that hasn't made its way to the American palate yet, but there are a lot of wonderful plants that get added to those wines," she said. "And they're intended to stimulate the appetite."
Take a look at more great ways to infuse your drinks with herbs in the recipes from "The Drunken Botanist" below, and start drinking your way towards your daily allowance of fruits and veggies.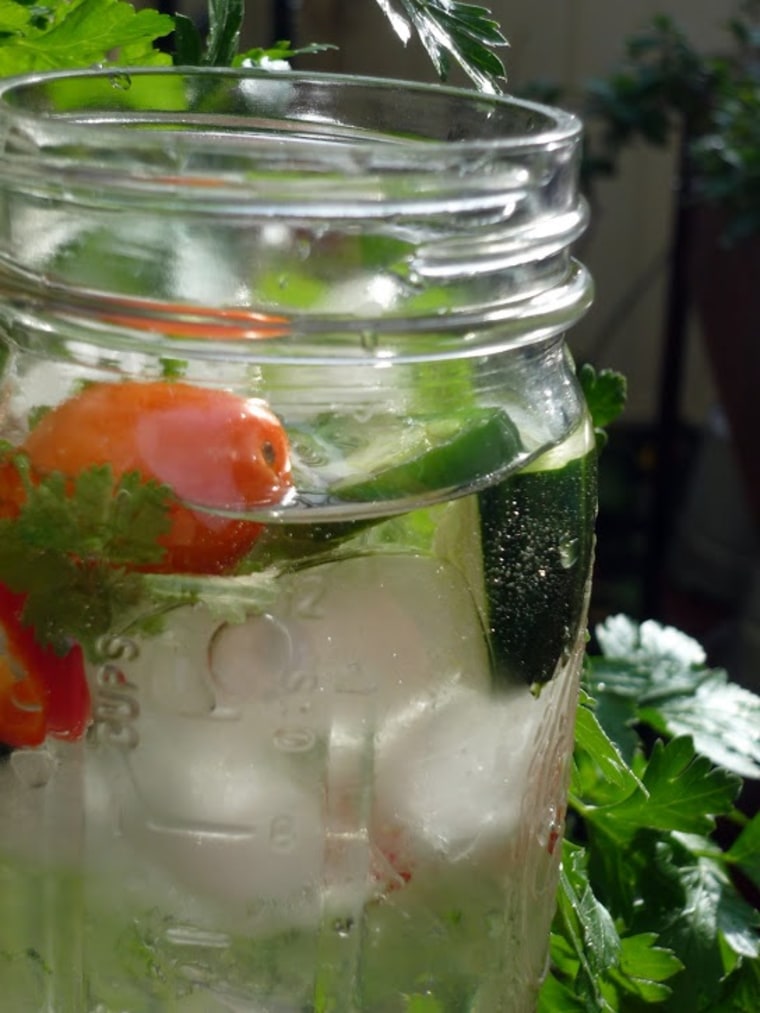 Mamani Gin and Tonic
Good gin is the secret to a great gin and tonic, Stewart says. She cautions against buying the store-bought stuff in favor of tonic syrups that don't contain high fructose corn syrup. Just mix your syrup with club soda and enjoy!

1.5 oz gin
2-3 fresh jalapeño slices (or, if you prefer, a milder pepper), seeds removed
2-3 sprigs cilantro or basil
2-3 chunks cucumber
1 chunk celery stalk
4 oz high-quality tonic water (Fever Tree or Q Tonic)
1-2 cherry tomatoes, along with a basil or cilantro leaf, on a pick for garnish
Ice

Fill a mason jar, Collins glass, or short tumbler with ice. In between the ice cubes, layer a slice or two of pepper, a sprig of cilantro or basil, and a cherry tomato.
In a cocktail shaker, combine the first five ingredients. Use a muddler or wooden spoon to gently crush the vegetables and herbs. Then add ice and shake well.
Strain the gin and pour over ice. Fill the glass with tonic water. Garnish with a cherry tomato and basil or cilantro leaf on a pick.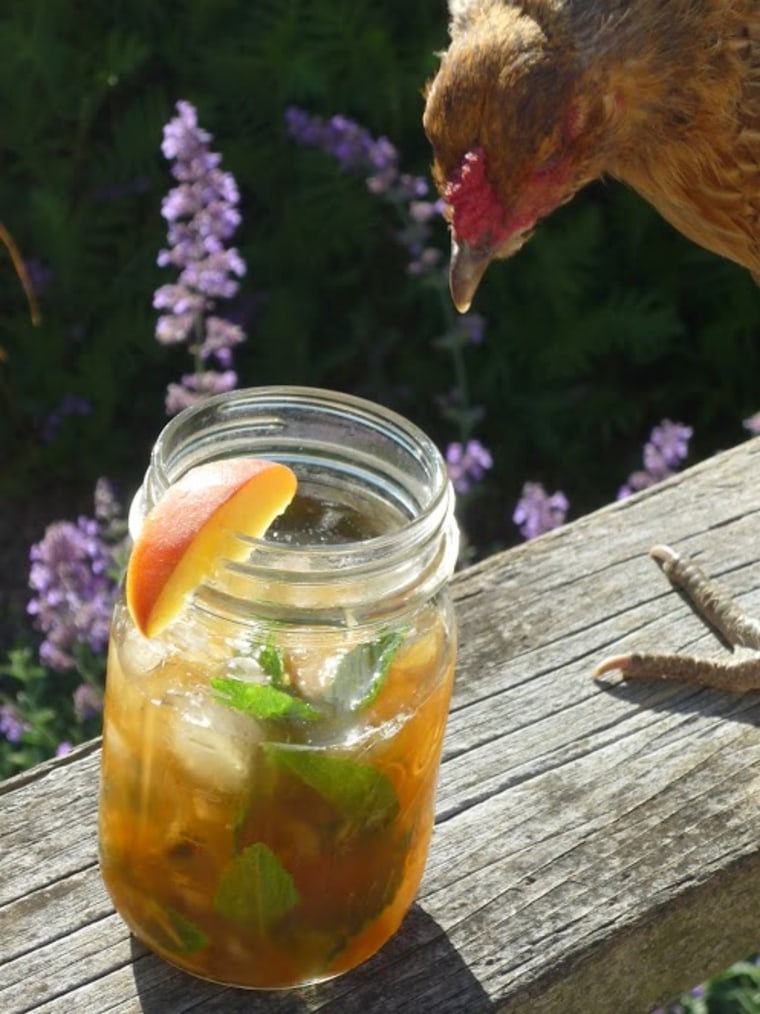 Peach Mint Julep

2 oz bourbon
1 peach, quartered
1 sprig mint
1 tsp sugar or simple syrup

A splash (let's call it .5 oz) Domaine de Canton, or one slice fresh ginger (optional).
In a cocktail shaker (or a mason jar, or any large, sturdy glass), combine a quarter to a half of the peach, most of the mint (save a few leaves for garnish), sugar, and the ginger liqueur or ginger slice. Gently crush them with a muddler or wooden spoon.
At this point, you have a decision to make. I like to mix this up in a mason jar, top it with crushed ice, fill it up with bourbon, and just drink the whole mess. I consider it a waste to toss out a booze-soaked, crushed-up peach. Isn't that a fruit serving? But you might not like a bunch of mashed produce at the bottom of your drink, in which case you ought to add the bourbon, shake well with ice, and strain it into a glass over crushed ice at this point.
The crushed ice is really important. If you don't have an ice crusher (What? No ice crusher?) wrap some ice in a dishtowel and whack it with a hammer.
In any case, taste it and adjust the proportions to your liking. I generally add a little more bourbon at this stage, and would have written the recipe that way, but a serving of hard liquor is a paltry 1.5 ounces and I feel obligated to give you a recipe that doesn't veer too far from that sanctimonious standard.
Run a slice of peach around the rim of the glass, garnish with mint and/or another slice of peach, and you're good to go.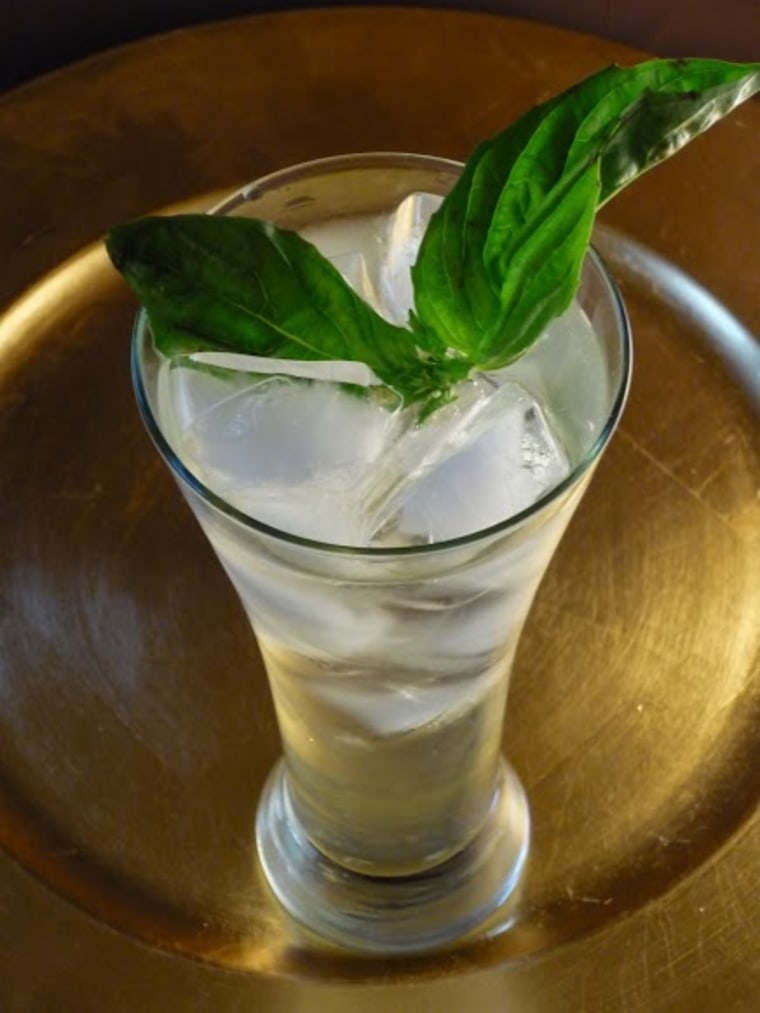 The Herbarium Cocktail

1.5 oz Hendrick's Gin
.5 oz St-Germain elderflower liqueur
3-4 chunks lemon cucumber
2-3 sprigs basil
¼ lemon
Club soda
Borage blossom or basil leaf for garnish

Squeeze lemon into cocktail shaker and combine all ingredients except the club soda. Muddle cucumber and basil, then add ice, shake, and strain into a tall, skinny Collins glass filled with ice. Top with club soda and add garnish. Like this: