Barbecue is a summer-must, and "spice king" Keith Lorren loves adding a variety of flavors to his ribs. For TODAY's weeklong Fresh Cooks Live: Summer Sizzle series, Lorren shows us how to whip up barbecue ribs two ways, from beginning to end — watch the full demo!
Prep your ingredients and stay tuned to watch the delicious demo of Lorren making the dishes step by step - you won't be disappointed.

Vietnamese grilling marinade and slaw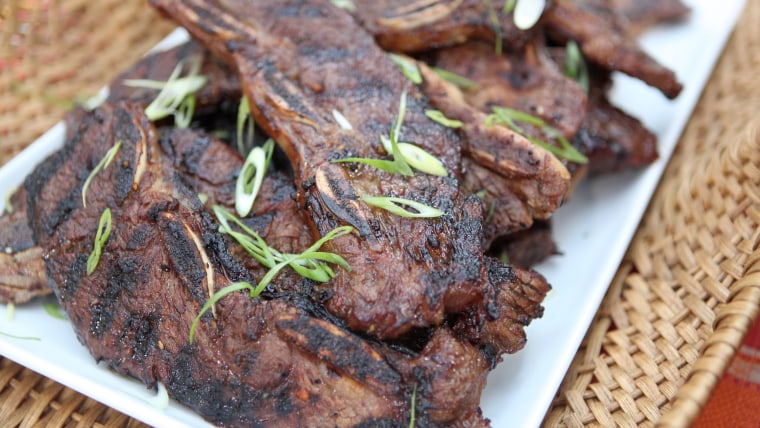 For the ribs:

3 lbs. of beef ribs (ask your butcher to cut the ribs flanken style)
For the marinade (or sauce): 

1/2 cup soy sauce

2 tbsp. fish sauce

6 tbsp. sugar

2 garlic cloves, finely minced

1 1/2 tsp. minced ginger

1 tsp. freshly ground black pepper

1 tsp. sesame seeds

1/2 tsp. red pepper flakes

2 tsp. fresh lime juice

1/4 tsp. Chinese salt

1 green scallion, minced
For the slaw: 
1 heaping cup bean sprouts
3 scallions, thinly cut at a bias
4 large basil leaves, cut chiffonade-style
6 mint leaves, cut chiffonade-style 
2 tbsp. watercress leaves
1/4 cup of multi-colored peppers (green, red and yellow), julienned 
1 tbsp. of marinade
2 tsp. peanut oil
Chopped, roasted peanuts (for garnish) 
Lime wedge (for garnish) 
To make the marinade:
Combine all ingredients. Reserve 3 tbsp. of the marinade (1 tbsp. for the slaw and 2 tbsp. for drizzling over cooked meat). 
To make the slaw:
Mix all ingredients together.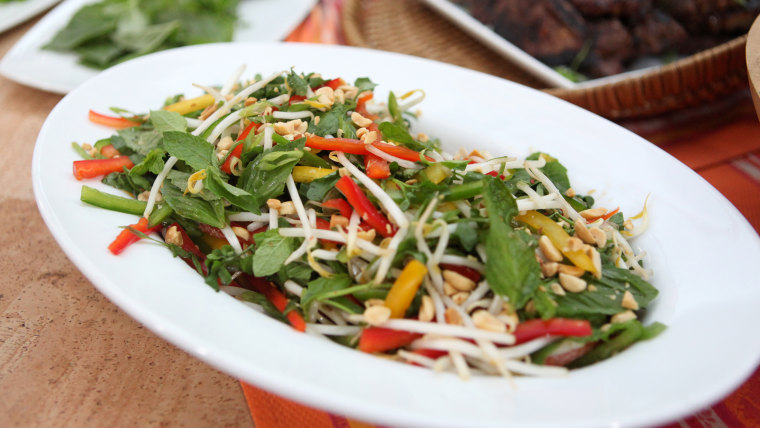 To make the ribs:

Poke holes in the meat with a fork to tenderize and to allow the flavors to penetrate meat. Pour remaining marinade over meat and marinade overnight,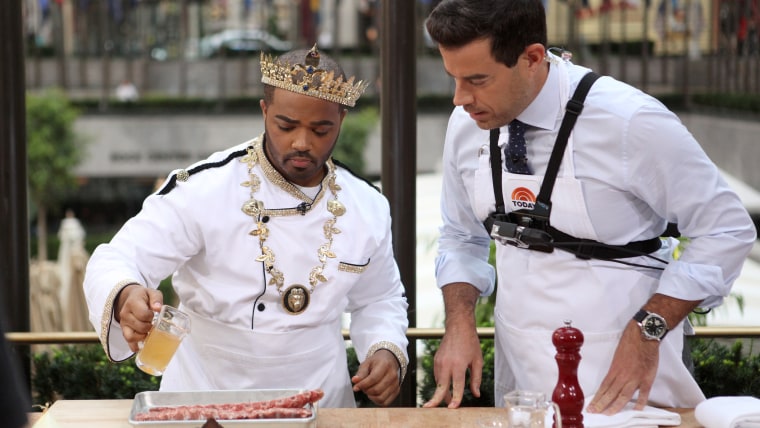 Heat grill to medium high. Lightly sprinkle marinated meat with additional sesame seeds and lightly drizzle with peanut oil. Grill for about 3 minutes on each side or until medium rare.

Barbecue ribs 

For the ribs:

2 slabs baby back ribs
Barbecue sauce
Barbecue rub
Natural meat tenderizer (optional)
4 tbsp. apple cider vinegar
4 tbsp. olive oil
Barbecue grill
Coal Briquettes
Oak wood, cinnamon sticks and onion (for smoking)
For the sauce:
3 lbs. ketchup

3/4 cup apple cider vinegar

1/2 bell pepper, chopped finely

1/2 onion, chopped finely

3-inch piece of celery, chopped finely

1 bay leaf

1 tbsp. barbecue rub

1/4 cup brown sugar

2 tbsp. molasses

1 tbsp. tomato paste

1/4 cup juice from baked ribs

2 tsp. liquid smoke or 1 tbsp. Worcestershire sauce
1/4 cup melted butter
2 tsp. black pepper
1 tsp. celery seed
1 tbsp. yellow mustard
1/4 tsp. chili paste
Juice of 1 lemon
1 tsp. accent or Chinese salt
To make the ribs:
Remove the tough membrane from the ribs and poke holes in the ribs with a knife or fork, so that seasoning will penetrate through. 
In a baking pan, moisten ribs with a little olive oil and 2 tbsp. of apple cider vinegar for each slab. Lightly sprinkle ribs with meat tenderizer or salt.
Generously massage barbecue rub on both sides and allow ribs to marinate overnight, if possible. The next day, wrap them in foil and slow bake at 350 degrees for about 2 1/2 to 3 hours or until tender.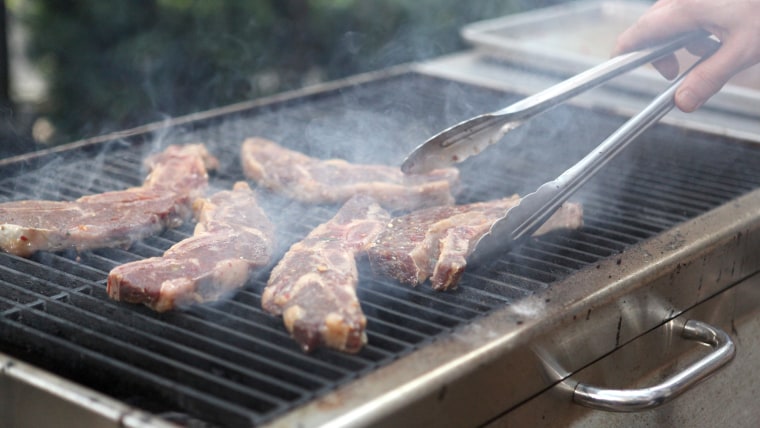 To grill, place the coals on one side of the grill and a shallow pan of water on the other. Arrange the coals in a pyramid shape. With a light splash of odorless lighter fluid, ignite the coals, allowing them to turn white and ash over.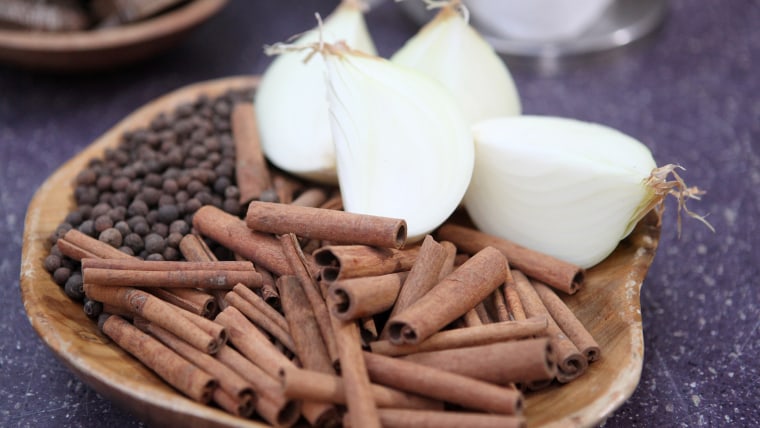 Once they've ashed over, make a mini-smoker by folding the aluminum foil into a boat shape. Place items for smoking in the foil boat, like onions, hickory, cinnamon sticks, oak wood and whole allspice and place the boat directly on top of the smoldering coals to smoke. 
Once it begins to smoke, place the ribs on the side with the water. 
Smoke the ribs for 1 to 2 hours with the lid closed. When it's done, the meat should be very tender and at the point of falling off the bone. Move ribs to the direct heat and allow the exterior to crisp up a bit on both sides without burning. 
Remove from heat and allow to rest for 10 minutes. Serve with barbecue sauce lightly drizzled over the ribs. 
To make the sauce:
Mix ingredients together.