While the name of this sandwich — Frenchy's Fantasy — might sound like something right out of a Victoria's Secret catalog, there is absolutely nothing about this gigantic sandwich that would remind you of the slim, sexy models — except for the occasional model actually indulging in the mounds of rare roast beef, Swiss cheese, sugar-cured bacon, lettuce, tomato and Russian dressing!
Perry's Deli is one of the finds of Chicago — low-key and packed with hungry people, this joint is all business. In fact, they are so serious about food that a large sign warns not to use your cell phone inside the restaurant. If you ignore it and try to anyway, an electronic jammer not only prevents your call from going through, but a loud siren goes off to remind (and embarrass) you.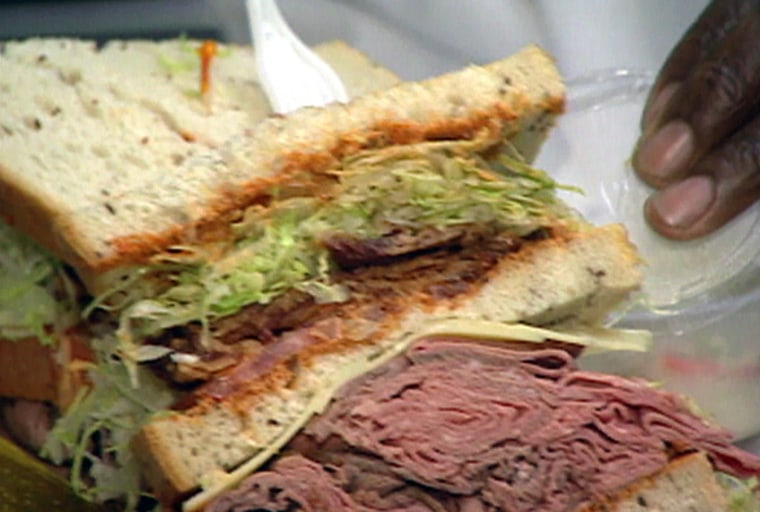 Frenchy's Fantasy is a triple-decker that I couldn't even fit in my mouth, so my first bite was more roast beef than bacon, but afterward I was able to maneuver around the sandwich so I got the full experience — and what an experience! My taste buds were jumping for joy … however, there was no way I could ever finish the entire sandwich. In fact, many customers actually order the sandwich with half wrapped to go and half on a plate to eat there.
As always … there are exceptions. One such customer was a 6-foot-something young exec football-player type who shared with me that he sees the sandwich as "just an appetizer." And when I looked over my shoulder, there was Dan (my ever adventurous producer) sitting in a booth with his Frenchy's Fantasy, proving once again that there is no hunger like the hunger of a guy from Jersey.
Could Frenchy's Fantasy be the Best Sandwich in America?
Phil Lempert is food editor of the TODAY show. He welcomes questions and comments, which can be sent to phil.lempert@nbc.com or by using the mail box below. For more about the latest trends on the supermarket shelves, visit Phil's Web site at .