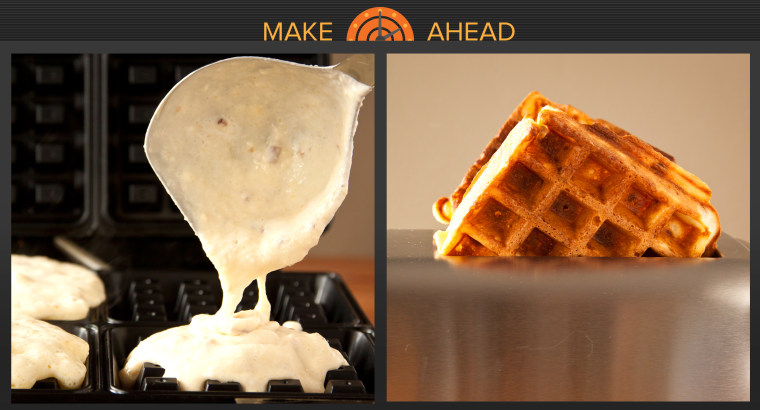 What's better than waffles for breakfast? Sweet-and-savory waffles with crispy bacon inside for breakfast! And what's even better than that? Bacon waffles that you can make in advance, freeze and serve steaming hot the next day (or even weeks later). When you're ready to feed your hungry crowd, just reheat the waffles right in the toaster — no extra prep needed. This is what you call a win-win-win, yum-yum-yum situation. 
Make-Ahead Bacon Waffles
Yield: 10-12 waffles
Active Time: 50 minutes
Total Time: 50 minutes

Ingredients:

8 thick slices center-cut bacon
2 cups (8 1/2 ounces) all purpose flour

2 tablespoons granulated sugar

1 tablespoon baking powder

1/4 teaspoon kosher salt

8 tablespoons (1 stick; 4 ounces) unsalted butter, melted

1 cup buttermilk

1 cup whole or reduced fat milk

2 large eggs, whites and yolks separated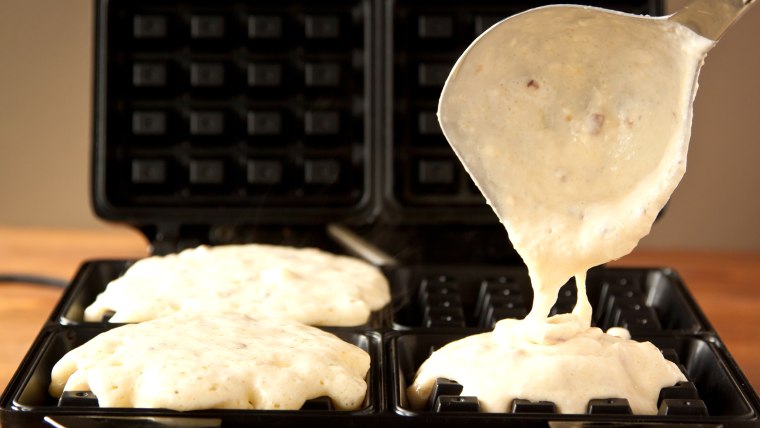 Do ahead: Make the waffles
Zap the bacon: Line a microwave-safe plate with a double layer of paper towels. Lay as many bacon slices as will fit in a single layer on the plate. Cover the bacon with another double layer of paper towels and top with the remaining bacon. Microwave the bacon on high power for 5 minutes, then check for doneness. Microwave 2-3 minutes more, until the bacon is just done and crispy. Transfer the bacon to a cutting board to cool. Cool the bacon to room temperature and chop coarsely. You should have about 1 heaping cup chopped bacon.
Prepare the batter: Whisk the flour, sugar, baking powder and salt together in a large bowl. In a separate bowl, whisk the butter, buttermilk, milk and egg yolks together. With an electric hand mixer or stand mixer fitted with the whisk attachment, whip the egg whites on medium speed until soft peaks form. (If you don't have a mixer, you can whisk the egg whites vigorously by hand in a clean, non-reactive stainless steel or glass bowl until soft peaks form.) Pour the whisked butter, milk and egg yolks into the flour and stir until just incorporated; some lumps of flour may remain. Gently stir the chopped bacon into the batter, then gently fold in the whipped egg whites. 
Cook the waffles: Cook in a preheated waffle maker according to manufacturer's instructions. Cool the waffles to room temperature on a wire rack to prevent sogginess. 
Freeze the waffles: Line a rimmed baking sheet with waxed paper or parchment paper. Place the waffles on the baking sheets in a single layer, then top with another layer of waxed paper and place the remaining waffles on top. Freeze until the waffles are completely frozen, at least 2 hours. If the waffles will be served the next day, they can remain on the baking sheets until you're ready to serve. If you're making the waffles more than a day in advance, once the waffles are completely frozen, wrap each waffle individually in waxed paper, then stack in servings of 3 or 4 and wrap the stack in foil for easy grab-and-go reheating. Alternatively, you can store them unwrapped in airtight freezer bags. Either way, they'll remain fresh for up to 3 months.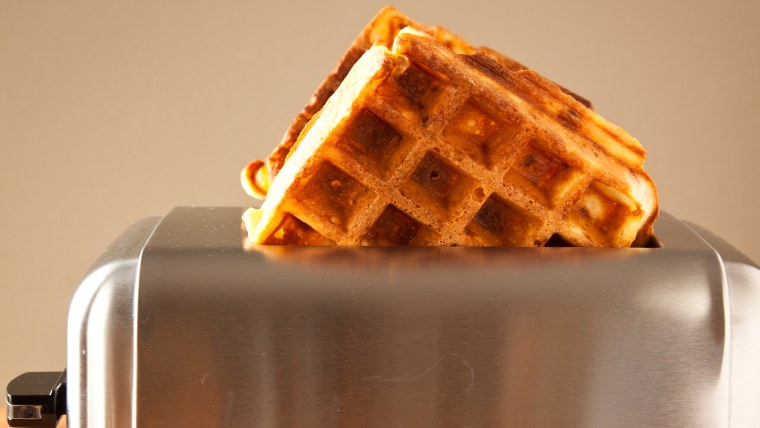 Chow time: Reheat and serve
Heat the waffles: The waffles can be reheated directly from their frozen state. Toast them in a pop-up toaster or toaster oven for 5-7 minutes, until warm and crispy. Or preheat the oven to 350˚F and line a rimmed baking sheet with parchment paper or foil. Transfer the frozen waffles to the baking sheet and reheat for 7-10 minutes.
Eat up: Serve with butter, powdered sugar, maple syrup or fruit, or plain. Or use the waffles as the "bread" in a grab-and-go breakfast sandwich: Spread a waffle with your favorite nut butter or jam — or both! — and top with another waffle.