/ Source: TODAY Contributor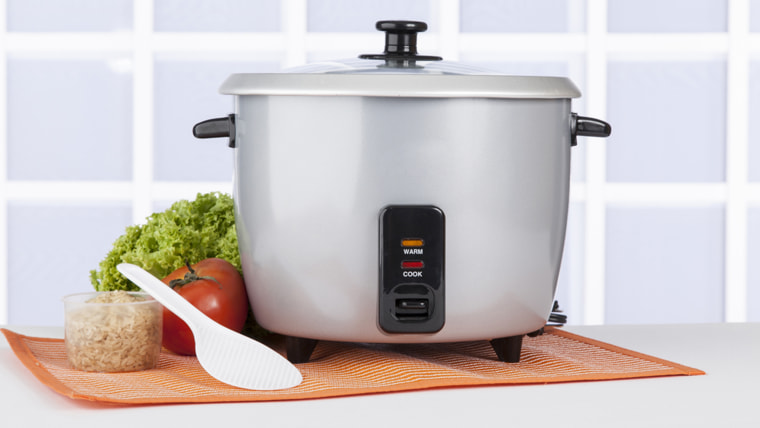 Only in America is the rice cooker considered a single-purpose gadget, used to make the starchy accompaniment to our main course. Having a spacious kitchen may be partly to blame for sacrificing so much cabinet real estate to this odd little uni-tasker, but all over China and Japan, where kitchens are small, rice cookers are ever-present and do double, triple or even quadruple duty. Now is the time to join the ranks of millions around the world who use their rice cookers to prepare entire meals—not just side dishes.
The construction of these cookers couldn't be simpler—a nonstick pan housed in an electric heating element. The basic ones have two settings—cook and keep warm. Smart machines (those that are programmable) have quite specific settings—porridge, cake, steam, and slow cook—and can differentiate between types of rice.
Related: 10 tips for using your slow cooker to get the best results
From gooey mac and cheese to perfect cheesecake, here are 16 unexpected ways to use a rice cooker.
1. Mac and Cheese: One pot, no mess. Everything goes into the cooker in at the same time. After the cycle is over, let the pasta sit for a few minutes to absorb the liquid. How easy is that?
2. Frittatas: Perfect for rice cookers, the best part is that you don't have to flip them, as they cook uniformly, top and bottom. On the cook setting, heat olive oil and sauté vegetables like onions, roasted peppers, mushrooms, zucchini or spinach. Then add beaten eggs seasoned with salt and pepper. Cover, reset the cook setting and let the cycle run.
3. Spanish tortilla: Another egg dish that you don't have to watch over. Sauté roasted potatoes or even thawed frozen French fries in olive oil before adding the eggs.
4. Egg custards: These can be steamed in the rice cooker. Some machines come with steamer baskets. If yours doesn't, a few well place balls of crumpled aluminum foil work well.
Now on to desserts!
5. Rice pudding or tapioca pudding: Both work great in the rice cooker because you don't have to stand over the pot, stirring constantly—every 15 minutes or so is plenty) Try using almond milk for an interesting twist.
6. Steamed pudding or sticky toffee pudding: Set the metal cake pan into the rice cooker to steam.
7. Cheesecake, 8. Banana bread, 9. brownies: "Bake" these directly in the rice cooker insert, but be sure to butter the pan well! Or better yet, line the bottom with buttered parchment.
10. Paella: Any rice dish you make on the stove top can be done in a rice cooker. On the cook setting, heat olive oil and sauté 4 ounces chorizo, 1 minced onion, and 1 minced garlic clove. Add 1 cup Valencia rice, ½ cup roasted peppers and ½ cup sliced olives and cook a bit longer. You may have to hit the cook setting again. Then add 2 cups water, hit the cook cycle and let it happen. Just before the machine hits the warm setting, add ½ pound small clean shrimp. Cover and reset the cook cycle. Cook until the shrimp are pink, which may be before the cycle ends—it's okay to peek. Stir everything together before serving.
11. Seafood Bibimbop (Korean Rice Bowl): You can do jambalaya, pilaf, dirty rice using a similar technique too. On the cook setting, sauté 2 chopped scallions and 2 shredded carrots. Add 1 ½ cups sushi rice and ¼ cup chopped kimchi and cook a minute or so. Add 2 cups of water, hit the cook cycle and let the machine run. Add 2 tablespoons Korean pepper paste and ½ pound small clean shrimp. Cover and reset the cook cycle and cook until the shrimp are pink. Stir everything together and serve with a fried egg on top. Oats and Other Grains
12. Steel cut oats: The easiest way to prepare this hearty breakfast staple is to presoak the oats over night in the rice cooker, allowing the grains to soften and absorb some liquid, then run the cook cycle in the morning. In 30 minutes, or so, it's ready. The best part is that you don't need to hover over the stove, stirring constantly. Add some dried fruit before the cycle ends to cook it into the oats.
Related: 10 slow-cooker breakfasts you'll dream about all night
13. Quinoa: Since it cooks at the same rate and with the same proportions as long grain white rice, it's a perfect candidate for the rice cooker. Try making a simple pilaf in the cooker with equal parts quinoa, jasmine rice, orzo, and sautéed onions.
14. Barley/wheat berries/farro: These take considerably longer than white rice and require more liquid, so you'll have to run the cook cycle twice. Or if you have a brown rice setting on your programmable machine, that will do the trick.
15. Polenta or grits: All you need is about 1 cup to 3 cups water (or a 1:1 ratio mixture of water and milk). Again, there's no need for constant stirring. Phew! Stir in cheese and butter at the end, that's all.
Grace Parisi is a New York City-based food writer, cookbook author and food stylist. Her book, Get Saucy, was nominated for a James Beard award. Her latest book, Quick Pickles comes out in Spring 2016. Follow her on Instagram and Twitter.