We're all bombarding our sweethearts with delicious, decadent chocolates this time of year. But if your love is a discriminating chocolate connoisseur, don't show up at the door with a box of cocoa-flavored sugar from the drugstore. Here are our favorite outside-the-box confections that scream "I love you" – even if you eat them all yourself (and yes, we took on the arduous task of testing them out). All these brands ship, so you can click, drool and buy from the comfort of your couch. Note: Prices listed are for boxes of varying sizes.
JoMart: This Brooklyn-based, family-owned chocolate shop churns out all sorts of scrumptious treats. Try JoMart's handmade, chocolate dipped marshmallows in flavors including s'mores, coffee and maple nut ($13.50 for 1/2 pound). The fluffy sweetness proves a nice break from all those heavy chocolate candies one usually finds around Valentine's Day.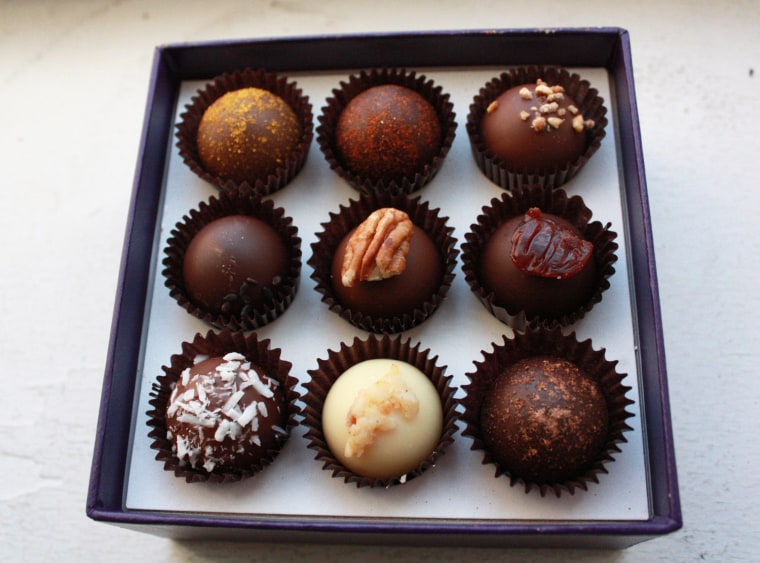 Vosges Haut-Chocolat: Owner Katrina Markoff has created a luscious collection of exotic truffles in flavors like Indian curry and coconut naga, ginger and wasabi black pearl and a white chocolate with Cointreau and macadamia nut ambrosia ($8 to $75). The high-end shop also offers a hand-sized chocolate pig, stuffed with flecks of hickory-smoked bacon.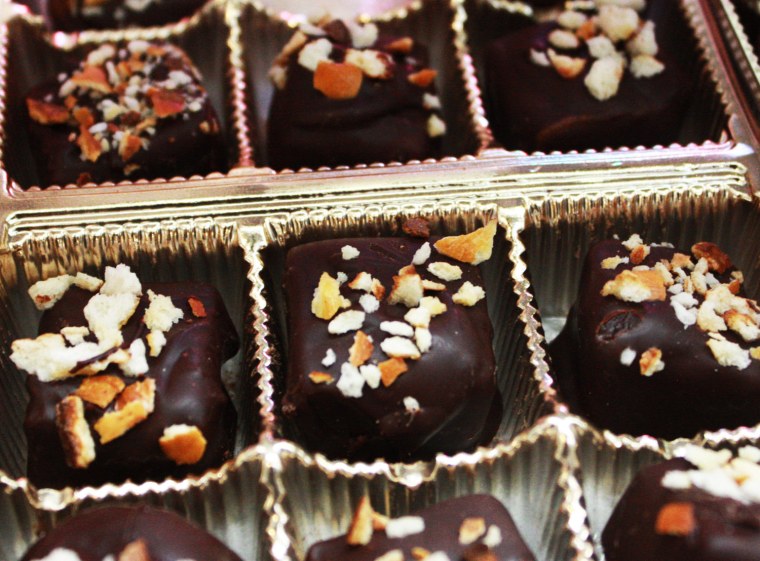 Roni-Sue: Booze and chocolate are a natural fit and Rhonda Kave, also known as Roni-Sue, has tapped into this combo at her Manhattan chocolate shop. Liquor-filled creations including a sweet, crunchy and malty beer-pretzel caramel, a margarita truffle that tastes just like its frozen counterpart and a pungent dark-and-stormy, made the proper way with Goslings dark rum ($13.50 to $28). 
Martine's Chocolates: Truly give your heart away with a chocolate rendition of the human organ from Martine's Chocolate. The hand-made heart is painted by confectioners at the shop, preservative-free and made with superb Belgian chocolate ($28).  
Kee's Chocolates: Sometimes you meet a truffle you can really have a relationship with. One bite into Kee Ling Tong's luscious passion-fruit chocolate and you will never want to stray. Each truffle is handmade daily and the 48 flavors (think refreshing fennel, cool lemon-basil, and savory-sweet black sesame, $15-$40) are inspired by Tong's dining-out adventures. Don't be afraid to experiment with ones that sound unusual; each piece is a rich experience. 
Marie Bell: Chocolate is sexy, especially when wrapped in foil and labeled with classic pin-up girls. An array of .22-ounce dark and milk-chocolate bars are hand-glittered and decorated with vintage photos, from a half-naked girl in a forest to an underwear-clad beauty ($17).  
La Maison du Chocolat: Only someone with a true love for chocolate could have created such an elegant menu of candies. Try the French-based confectioner's yoko, a ganache with tea and orange peel, or the canelle, which has Indonesian cinnamon folded in ($22 to $88). 
Linnea Covington is a freelance writer and eater who will try any drink, dish, or sweet at least once, especially if it involves chili or bourbon. 
More from Bites: