Whether you're planning on hosting a formal English tea to toast the royals or staying in your pajamas and watching Harry wed Meghan with your own family, entertaining expert Maureen Petrosky has everything you'll need to host a viewing party in royal style.
And if you're looking to buy royal supplies online, check out our royal wedding viewing party guide.
Illustrious Invitations
First things first: Send out the invites or announcements. Just download these Harry and Meghan printable invites and customize with your details to get everyone in the mood for your viewing party.
British Bites
Traditional English high tea includes tasty bites like scones and tea sandwiches. Every royal wedding must have the queen's blessing so, in her honor, we're serving my family's favorite coronation chicken tea sandwiches that we fell in love with at London's famous Savoy hotel. This is a chicken salad with Indian-infused flavors of curry and chopped apricots. Other classic fillings include cucumber and cream cheese, smoked salmon and cucumber, ham and cheese, tuna salad, chicken salad and egg salad and watercress.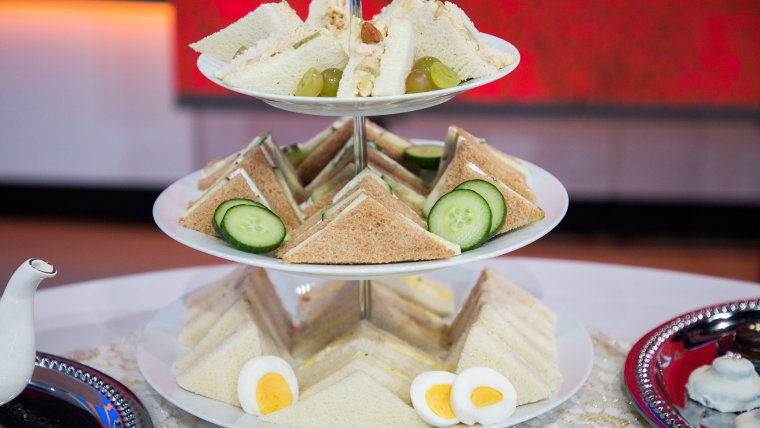 There are lots of options for your tea sandwich fillings, but be sure to follow these rules when preparing:
1. Use sliced sandwich bread.
2. Always cut off the crusts.
3. Don't overfill.
4. Cut the sandwiches into a size that can be eaten in two to three bites.
Along with your finger sandwiches, serve up serve a platter of scones with lemon-infused clotted cream, a variety of jams and fresh berries.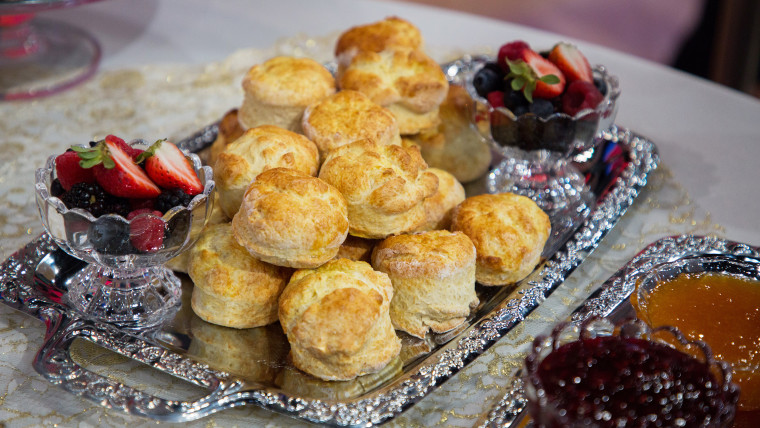 Sweet Treats
Make your own miniature wedding cakes with just four ingredients for a fun and easy dessert. Kids will love assembling them, too!
Mini Oreo Wedding Cakes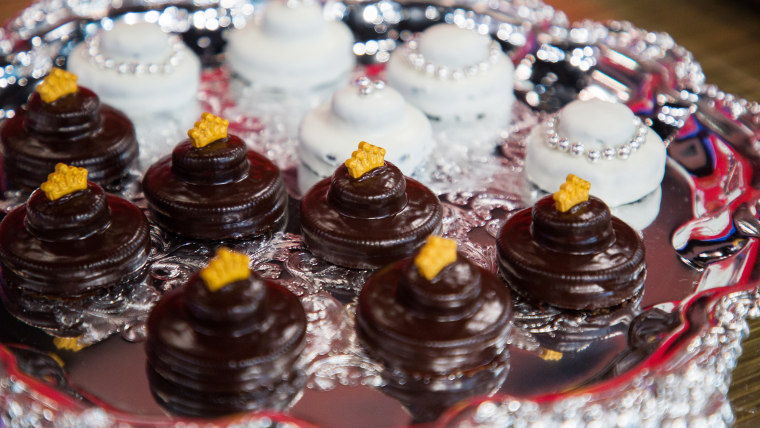 Ingredients:
1 dozen standard size Double Stuf Oreos
1 dozen mini Oreos
1/4 pound melted milk chocolate
1/4 pound melted white chocolate
1/2 cup frosting
Decorations of choice, such as gold and silver dragées and little gold crowns.
Method:
1. Stack 1 mini Oreo on top of the regular sized Oreo using frosting or melted chocolate as the "glue." Place on a rack over a half sheet pan.
2. Spoon the chocolate onto each cookie to fully coat. Tap off any excess chocolate and let dry.
3. Decorate as desired.
Sovereign Sips
Toast the newlyweds with an elderflower spritzer. This is a nod to the flavors of their wedding cake. The couple has chosen to serve an elderflower and lemon cake with buttercream and fresh flowers. So we're toasting with a suitable cocktail. Simply pour 1 ounce of St. Germain Elderflower Liquor into a Champagne flute and top with chilled Champagne.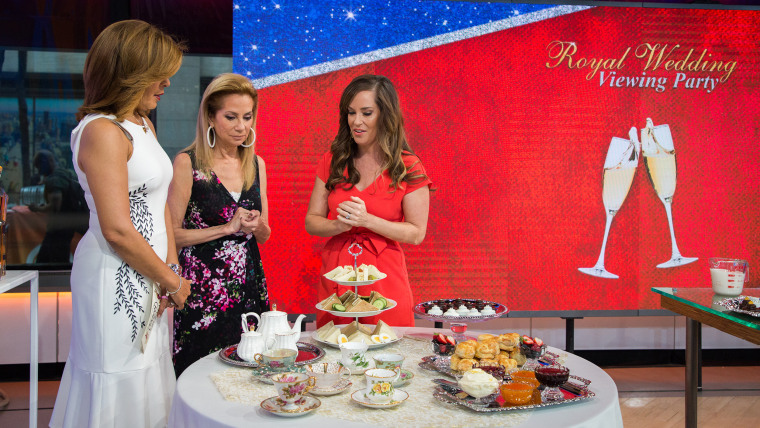 In English tradition, serve tea. This is the perfect time to use your tea set or wedding china. If you haven't gotten any, hit up a thrift store and serve tea in mismatched vintage teacups and saucers.
Dignified Décor
In keeping with tradition the bride's wedding dress, decorate your table in white lace. Break out your grandma's doilies and fancy tablecloth for the frilly effect.
Queenly Quiz
Do some Internet searching to find fun facts and create some trivia questions to test your knowledge of all things royal.
Kid-Friendly Fun
Let the little ones get in on the fun and celebrate the royal wedding with festive games, treats and activities too.
Play Dress-Up
A royal wedding viewing party the perfect time to play dress up! Put out a tray of plastic tiaras, crowns and strands of pearls for everyone to wear.
DIY Flower Crown and Fascinator Station
In royal tradition the wedding party always has children. When Will and Kate wed, the darling flower girls donned floral crowns. They are so festive and easy to make on your own and will keep the kiddos busy while you watch the ceremony. Set up a station with plain headbands, fake flowers and glue and let the little ones get to work.
Self-Serve Snacks
Set up a kids' table complete with union jack decor and child-friendly royal punch of ruby red grapefruit juice, club soda and lemon slices and a perfect early morning treat like bowls of berries with a dollop of whipped cream. Set out British flag cups, bowls and color coordinated spoons and straws to set the scene.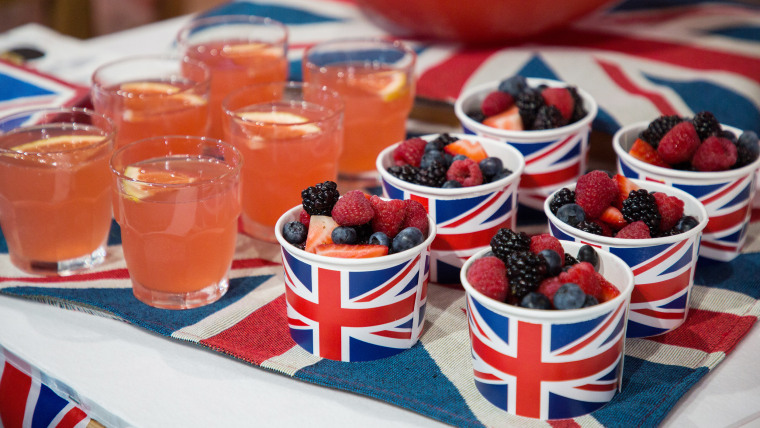 Great Games
Make the festivities a teachable moment with an "across the pond" game. Set up bowls of goldfish or Swedish fish and a map on the tabletop to teach the kids where all the hoopla is taking place. This is a perfect moment for them to learn about geography and British royal culture. Have a map showing both the U.S. and England and move the fish across the pond.
Don't forget to have the television tuned in to NBC at 7 a.m. EST on Saturday, May 19th to catch the entire royal wedding celebration.