It's creamy, it's tangy, it's wonderfully decadent — but as much as everyone loves eating a good cheesecake, making it strikes fear even in the most skilled baker's heart. There are so many things that can go wrong: the interior's too dense, the crust gets soggy or — gasp — the top cracks. Which is why we're turning to the experts at Eli's Cheesecake for advice.

The bakers at the Chicago institution have been turning out their namesake dessert since 1978, when owner Eli Schulman added it to the menu. With a bit of of trial and error, Schulman and pastry chef Jolene Washington perfected the base of their Chicago-style cheesecake and spun it into dozens of variations ranging from honey ricotta to the best-selling salted caramel. The recipes are now available in "The Eli's Cheesecake Cookbook," which reveals some trade secrets that home bakers can use to their advantage.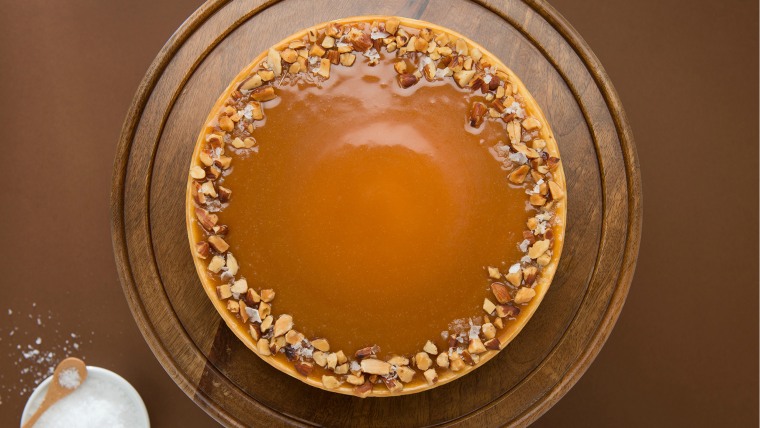 Follow these few easy tips and tricks and you'll be digging into a golden, custardy cheesecake come party time.
1. Use room temperature ingredients
Make sure your eggs, cream cheese and sour cream are warmed to room temperature.
2. Scraping is key
During the mixing process, scrape the sides and bottom of the bowl after you add each ingredient.
3. Combine the dry ingredients separately
Always mix the sugar and flour together before adding it to the cream cheese mixture.
4. Make this secret mixture
At Eli's, our trade secret is blending flour and vegetable oil to ensure an easy pan release. The addition of flour also created a caramelization and golden color on the sides of your cheesecake. Simply whisk three tablespoons vegetable oil to one tablespoon all-purpose flour and generously brush the sides of the pan with a pastry brush or a paper towel.
5. Change the temperature
Start baking at a very high temperature and then reduce the temperature as the baking process continues.
6. Know when to take it out of the oven
Eli's expert bakers always remove cheesecakes while they're still very soft, jiggle a bit in the center, and appear not quite yet done.
7. Don't touch it!
Allow the cheesecake to sit undisturbed in its pan for about an hour after it comes out of oven.
Love this cheesecake? Add it to your Pinterest board!