Even if you love meat so much you wake up dreaming about dishes like red burgers and hot dog pizza, every successful barbecue host needs a killer veggie burger recipe in his or her apron pocket. Don't believe it? The number of vegetarians in the U.S. has been steadily growing in the last several decades, and was recently estimated at a whopping 16 million — so at some point you're guaranteed to have a guest who doesn't go for meat.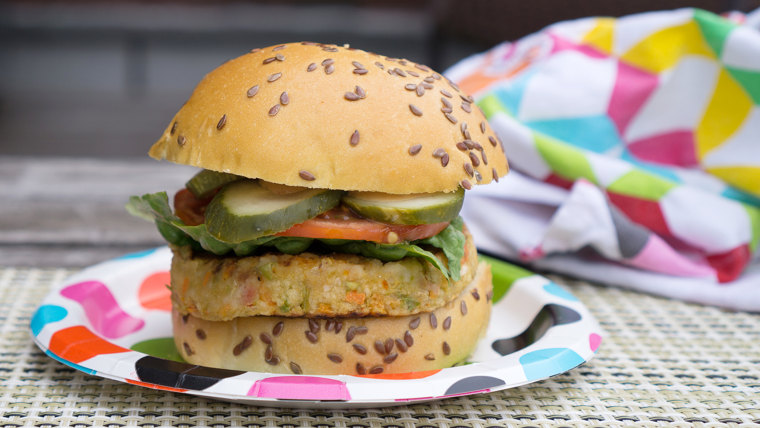 While you could take the easy way out with boxed veggie burgers, many of them are so dull and tasteless that no amount of special sauce can rescue them. Instead, try our Multigrain Veggie Burger, adapted for the home cook from the nutritious and delicious Farmers Quinoa vegan patty from Bareburger, an organic restaurant chain that started in New York and has been slowly expanding. The main ingredients are super grains quinoa and freekeh (a green wheat product that can be found online and at many grocery stores), which combine to give it a nutty flavor and satisfying texture, as well as lightly sauteéd vegetables and golden raisins, the latter providing a surprising pop of sweetness.
Related: Make the best grilled vegetables
Try TODAY's adaptation of Bareburger's veggie burger, below — it's delicious enough to be the star of your barbecue party rather than simply a sidekick or stand-in.
3 veggie burger tips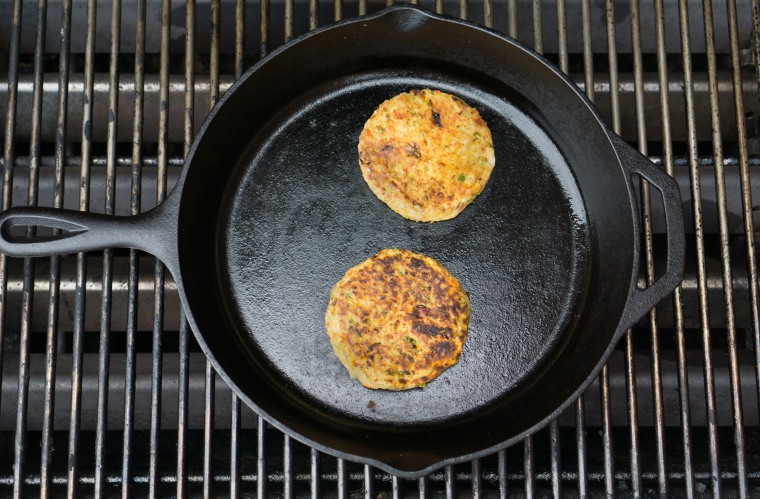 Bareburger's executive chef Andrew Sarda gave TODAY these smart tips for elevating a meatless patty from drab to fab.
Related: Must-try healthy grilling tips and recipes
Bind it right: Although you need some kind of binding ingredient to ensure the patties will hold together during cooking, Sarda says that home cooks tend to overshoot it. "Many people make the mistake of using too much flour, trying to add some body to the vegetable ingredients. This usually ends up just making it cakey and dry," he said. Instead, Sarda prefers the consistency of ground oatmeal, which also has more nutrients and fiber than white flour.
Put a pan on it: Although Bareburger chefs use a flame-top griddle for their patties, Sarda says that you can get a similar effect by placing a cast-iron skillet on top of a hot grill, which will also keep crumbs contained and prevent flare-ups. A skillet also protects the veggie burger from meat juices that might be running rampant on the rest of the grill, which is a more reliable method than simply designating a certain section of the grate meat-free.
Put a lid on it: If you're cooking over charcoal, keeping the grill covered during cooking will help give your burgers a smoky flavor. With a gas grill, Sarda also suggests closing the lid and experimenting with chips such as hickory or applewood for a similar effect.