Self-described "ice cream mixmasters" of Southern California have thrown a crunchy heat wave on top of a typical creamy cold front
Drill'd, which opened Jan. 20 in Fountain Valley, California, has just released a "Hot as Hell" flavor, a blend of vanilla ice cream, swirled with crushed Flamin' Hot Cheetos, topped with more crushed hot Cheetos.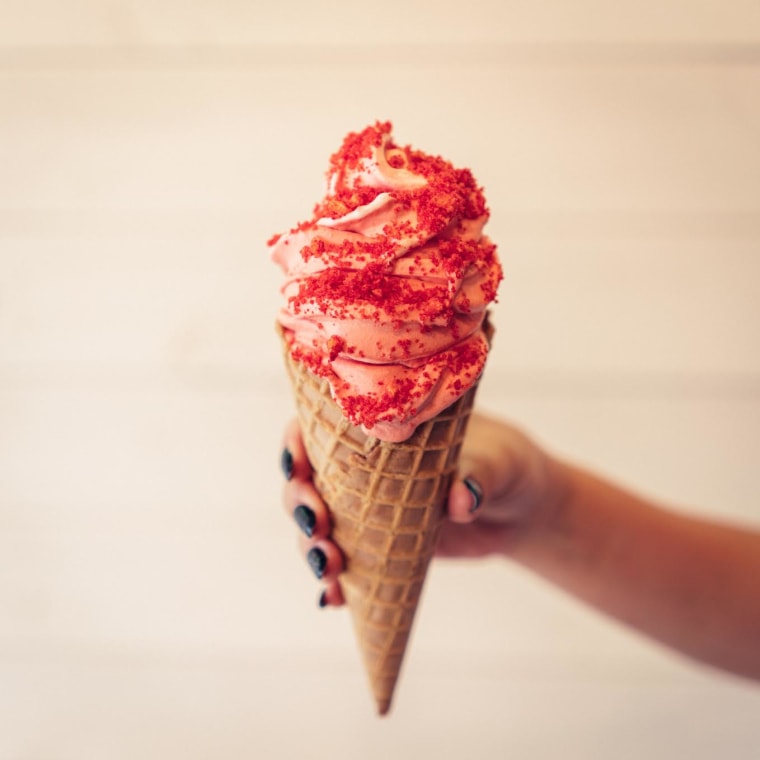 Many of the ice cream shop's flavors contain crunchy cereal mix-ins like Cinnamon Toast Crunch and Cocoa Puffs. Drill'd co-founders Steve Kim and Eugene Inose said they wanted to create other mashups besides cereal-themed flavors and think "outside the box." They noticed the almost universal appeal of hot Cheetos — not to mention the amazing color potential — and took a sweet leap of faith.
After just a few weeks in business, the shop says Hot as Hell is its most popular flavor, second only to the banana split.
"People are really hesitant at first about it but the adventurous ones that tag along — no one really eats ice-cream by themselves — usually has it, someone tries it, and gets addicted," Kim told TODAY Food. "It's confusing to the palate but it's so good you can't really stop. "
So what does it really taste like?
"First you get the vanilla ice cream and at the end, you really get a kick to your throat," explained Kim. "A lot of times when someone has a spicy tongue, they drink dairy to calm the heat. This is really confusing. It's crazy."
Drill'd isn't the first eatery to put this flamin' flavor on the menu. Flamin' Hot Cheetos have been making appearances in unexpected foods all over the country and are catching on like wildfire (pun intended).
Burger King dusted their Mac n' Cheetos with Flamin' Cheetos dust back in November.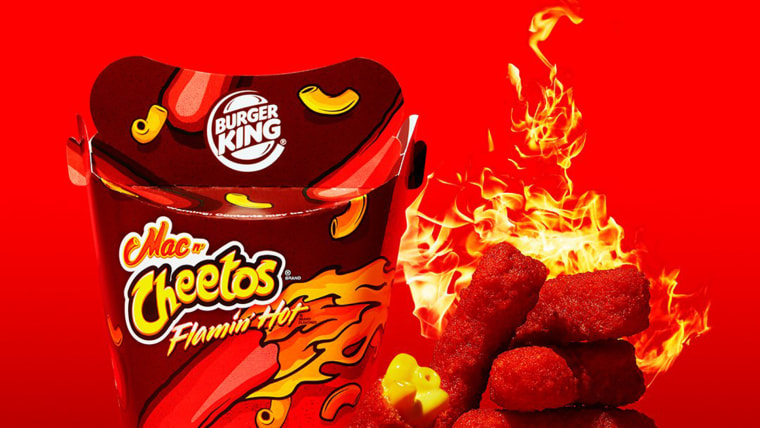 And Chuck E. Cheese's used Cheetos to crunch up their pizza for a limited-time, because what's better than tokens, hot cheese, and Cheetos? Regal Cinemas even launched Cheetos popcorn, a 32-ounce container of Cheetos-dusted kernels with little pieces of Cheetos in December.
Whether you're a tried and true Cheetos fan, or just looking to take this taste on a test drive, Hot as Hell is ready for you.
Can't get to California soon? Here's an insider's tip if you want to try to replicate the experience at home: Since dairy tempers heat, Kim uses the Flamin' Hot Cheetos black label XXtra Flamin' Hot version to make the spicy flavor really stand out.