Take a guess — which burger chain came in on top in a recent nationwide study?
Interestingly, all three of the top-contender burger joints from the recent 2017 Harris Poll EquiTrend study have some things in common: They all use relatively thin, seared patties, made of beef that's ground fresh daily, as well as soft-style buns.
There are no colossally thick, charcoal numbers with crazy toppings or overly bread-y brioche buns at the top of this list.
Closer? OK, here are the top three in descending order:
3. Shake Shack
2. In-N-Out Burger
1. Five Guys
Here's the classic Five Guys order above, shown for National Hamburger Month: a cheeseburger with chain's fresh-cut fries.
Five Guys, which now has about 1,500 locations worldwide, started in 1986 in the Washington, D.C., metro area as a single, family-owned burger joint, though an excellent one at that. (Founder Jerry Murrell's mother would always tell him, "If you can give a good haircut or if you can serve a good drink at a bar or if you can serve a good hamburger, you can always make money in America," according to lore on the company's site.)
The restaurant has always used fresh, hand-formed patties, and likes to brag that locations "no freezers, just coolers."
Apparently, there's something to that, as all three chains are famous for their perfectly juicy, loosely packed patties that get a little crispy on the edges.
(Poll runner-up Shake Shack just revealed its technique in its new cookbook.)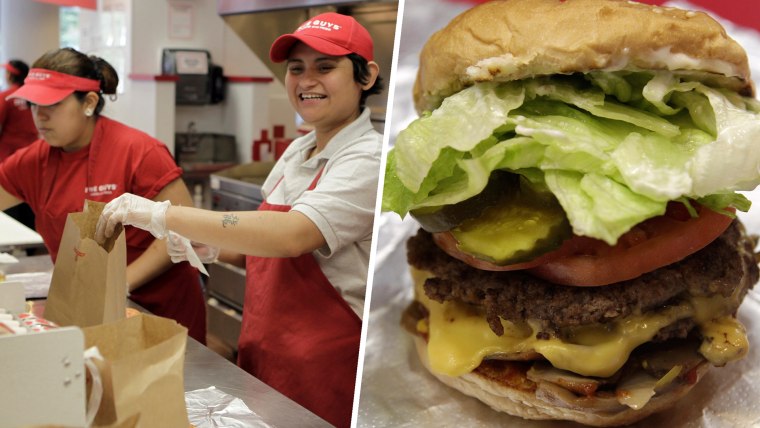 And burger joints weren't the only restaurants the Harris poll looked at. Here's a look at the other top "brands of the year," according to the survey.
Casual dining: The Cheesecake Factory
Chicken restaurant: Chick-fil-A
Coffee and quick service: Starbucks coffee shops
Fast casual: Moe's Southwest Grill
Ice cream and Fro-yo: Ben & Jerry's Ice Cream Shop
Pizza chain: Papa John's Pizza
Sandwich: Subway
Harris says it uses an "academically vetted" model, taking into account elements like familiarity, quality and consideration, to evaluate the brands' connections with consumers.
Check out the full list of findings here.
RELATED