Plenty of people across the Midwest and East Coast are in a deep freeze right now, but a new cold treat is giving us plenty to smile about in subzero temperatures.
On Jan. 24, Fiona the hippo will turn 1! To celebrate, Graeter's Ice Cream (which is headquartered in the adorable baby hippo's hometown of Cincinnati) is re-releasing the limited edition ice cream she originally inspired: Chunky Chunky Hippo.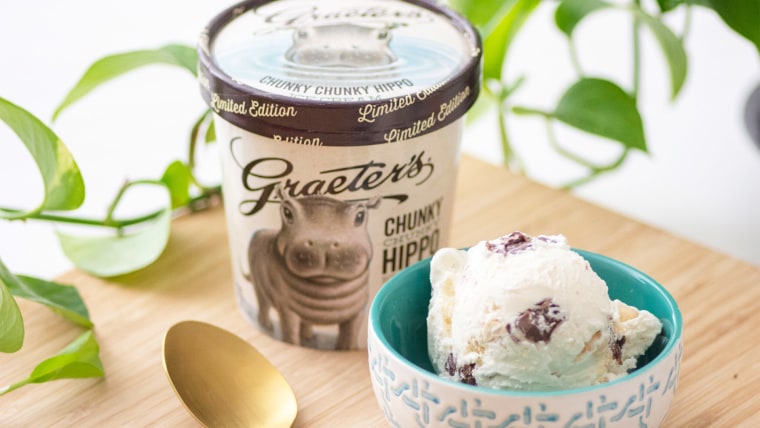 The ice cream, which features a toffee base filled with salted roasted peanuts and milk chocolate caramel truffles, doesn't just look delicious — it also helps supports a sweet cause: A portion of proceeds from every pint sale go to the Cincinnati Zoo & Botanical Garden. The new pint will also include a new illustration of Fiona by Cincinnati artist Loren Long.
The new treat will be available online beginning Jan. 14 at Graeters.com. Starting on Jan. 17, you'll also be able to pick up the flavor at Kroger, Whole Foods, Fresh Market as well as all of Graeter's 53 scoop shops in the Midwest.
Fiona became a viral sensation last year after she was born prematurely at the Cincinnati Zoo and weighed just 29 pounds at birth (hey, she's a hippo!). The normal birth weight for a baby hippo is between 50 to 120 pounds — but thanks to the caring zoo staff, it all ended up great in the end.
After she was born, Fiona was hand-nursed by zoo staff, while millions watched her progress on Facebook. Her journey turned her into a bona fide social media star and the Fiona Christmas Special was viewed by more than 17 million people!
Almost a year (and hundreds of pounds) later, Fiona is healthy and happy — and that's reason enough for all of us to celebrate.
Chunky Chunky Hippo was originally launched in July 2017 to honor the hippo's birth. "Fiona continues to bring people together from all over the world in so many ways," Chad Yelton, vice president of marketing at the zoo, said in a statement to media at that time. "We appreciate the support of Graeter's and are excited to share this Fiona-inspired ice cream flavor with the community that has rallied around her for the past six months."
So how will Fiona will be celebrating her big milestone? Unfortunately, hippos can't even eat ice cream, a representative for the Cincinnati Zoo told TODAY Food over email. But the zoo will be throwing Fiona a party on Jan. 20, where human guests can enjoy cake, ice cream and talk to the team that helped nurse Fiona back to health. The representative added that sales from the ice cream's original release led to a $10,000 donation to the zoo.
Happy birthday, Fiona! We're sorry you can't try your own ice cream, but we'll enjoy it in your honor!