Everyone knows that great cheese pairs perfectly with wine. Oh, and also beer. Honestly, cheese can't choose between the two of them — and neither should you.
Which is why Finlandia Cheese has created wine and beer "glasses" made out of cheese. Now, you can drink from your cup and eat it, too.
You might be chuckling to yourself, but this "Commemorative Cheeseware" is no laughing matter. The vessels are painstakingly sculpted by hand — and each cup takes at least four hours to craft, so the company can only make three or four of them per day.
So, naturally, Finlandia is charging $5,000 a set. You've gotta break out the cheddar to be able to afford this cheese.
The stemless wine glass is carved from Gouda and can hold 8 ounces of booze. It pairs best with red wines like merlot.
And the beer glass is carved from Gruyère and can hold an impressive 16 ounces. The company recommends filling it with stout, bock, wheat beer or Hefeweizen. Choose wisely, though, because you're dropping five G's to drink from something once — unless you save it for another time, which ... yeah, don't do that.
As for how it tastes, our resident wine expert Kathie Lee tried the cheesy cup rather hesitantly Wednesday and literally shrieked with delight.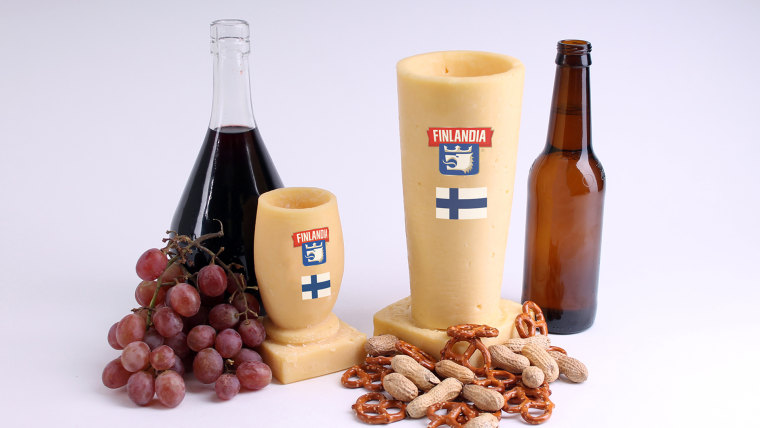 "Oooooo! Yes!" she said as she bit into the cup. "I love it! I love it!"
So, there you have it.
We know what you're thinking: What happens to all that excess cheese? Don't worry — it doesn't go to waste!
"We create biofuel out of the excess cheese," a spokesperson for the company told TODAY Food. Which is great and all but maybe they should consider sending a portion our way!
The cheesy drink set will be available only on Dec. 6 until 11:59 p.m. EST and can be ordered through the Finlandia Cheese Facebook page. Each set will be made to order, so be prepared to wait because, well, two glasses a day isn't exactly speedy.
But hopefully it'll be worth it to drink a $7 beer out of a $5,000. Hopefully.