Wine expert Leslie Sbrocco stops by TODAY to give us the rundown on the best affordable wines to enjoy at your end-of-summer events. Squeeze in every opportunity to celebrate the waning days of summer with these creative party ideas — and the perfect wines to serve for each occasion.
Backyard Barbecue "R&R"
Riesling and rosé are sexy sippers and they are two of the best options for al fresco pairing. Go for riesling with seared salmon and mango salsa but think pink with burgers hot off the grill.
2015 Eroica Riesling, Columbia Valley, Washington, $22
The Eroica (named after a Beethoven Symphony) from Washington State is one of the country's best examples of riesling. With a whisper of sweetness, it's a refreshingly succulent white. This joint project of Chateau Ste. Michelle and Germany's Dr. Loosen is an ideal way to celebrate Washington Wine Month in August.
2016 Saved "Magic Maker" Rosé, California, $20
Saved is a wine label from tattoo artist Scott Campbell, and it celebrates following your passions in life. This crisp, orange-peel scented, Grenache-based wine is a magical pink to drink year-round as it saddles up to summer fare as easily as it does with cool-weather foods like roast pork with chutney.
Tip: Slushy-style "frosé" may be all the rage, but it's easy to recreate at home. Just leave the cork (or screwcap) off and put the bottle standing upright in the freezer overnight.
Eclipse Night In
The most talked about event of the summer is on Aug. 21: a full solar eclipse. Throw a backyard bash while pouring the Spellbound "Eclipse" label Petite Sirah, depicting the cycle of the moon.
2014 Spellbound Petite Sirah, California, $15
This is a savory, full-bodied red that works well with meat dishes as easily as it does with chocolate. Give it a try with chocolate moon-pies for a whimsical dessert on eclipse eve.
Cheese & Wine Pairing Party
With the long Labor Day weekend just around the corner, plan to have an end-of-summer interactive gathering pairing wine and cheese. Have each guest bring a different style of cheese, while you provide a variety of wines to taste and mix and match.
Hearty red wines like merlot or cabernet sauvignon pair perfectly with aged, hard cheeses. Even chardonnay is a star avec fromage, but what about showcasing surprising sips that most folks don't think about when pairing wine and cheese? Like a sparkling wine or sauvignon blanc.
Korbel Extra Dry sparkling, California, $12
From the historic California sparkling wine producer Korbel, comes a sporty, wave-inspired bottle that makes summer sipping easy. This wine has a touch of sweetness that makes it a unique pick to pair alongside salty blue cheese with a drizzle of honey.
2016 Natura Sauvignon Blanc, Valle Central, Chile, $12
Hailing from the cool reaches of Chile, this zesty, dry white with tangy citrus flavors is made with organically-grown grapes. It's an ideal match with fresh cheeses like feta, goat cheese and ricotta. Serve this with a variety of jams like apricot and peach for cheese-pairing perfection.
Use this handy printout to help guests mix and match cheese and wine pairings.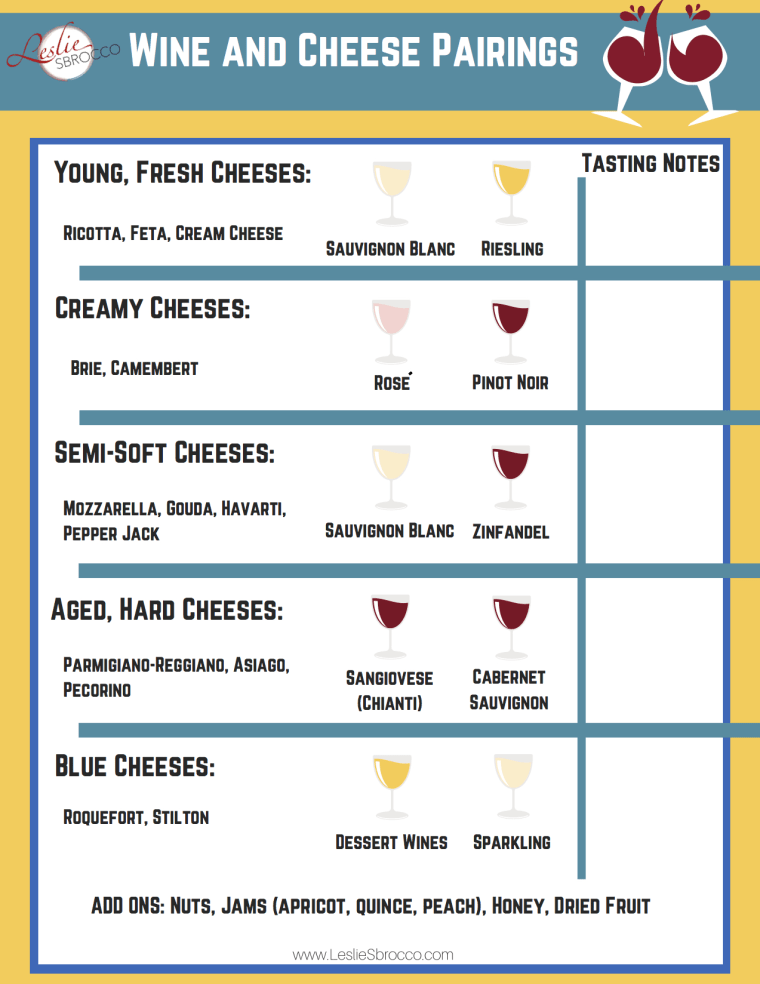 Shoulder Season Wines
Whether you're celebrating the kids going back to school or just settling into the fall routine, this duo of Italian wines will easily take you from hot days to cool nights.
2015 Carpineto "Dogajolo" Rosso, Toscano, Italy, $15
The Dogajolo from famed Italian winery Carpineto is a fantastic value at under $15 and showcases an appealing label evoking images of fall leaves. Pronounced "doga-yolo," the wine's name is inspired by the wood staves used in oak barrels. This smooth, spicy red from Tuscany is the ideal transition wine as it can be chilled slightly to serve on summer days or paired alongside braised meats and soups when fall kicks in.
2016 Carpineto "Dogajolo" Rosato, Toscano, Italy, $15
Here's a wine that's truly the whole package — beautiful to look at and delicious to taste. This rosato, made from Sangiovese (the red grape of Tuscany in Italy responsible for the great wines of the region), will carry you from summer to fall with ease. It's one of the best new, pink wines I've sampled all year. At this price, you should buy it by the case!