Food donations started to trickling in during the first week of Occupy Wall Street at Zuccotti Park in New York City. First came the pies anonymously ordered from Steve's Pizza, which delivered them from across the street to the hungry protesters. Next, helpful citizens brought their own edible creations to supply the masses, and, as the crowd grew, so did those contributions. Now, they have a high-functioning system called The People's Kitchen.
"We feed probably 1,000 people a day," said Chris O'Donnell, a 24-year-old professional cook who helped organize the sprawling kitchen that rests in the heart of the protest space. "And tonight, we will probably serve about 2,000."
On Friday afternoon, they were on round three of lunch service, which included sandwiches made with fresh bread and stuffed with cold cuts or peanut butter, rice and beans and a hearty green salad. The food line stretched about 15 people deep and consisted of all sorts, including a man in a pressed business suit, another wearing feathers in his hair and plaid flannel pants, and a woman all in black with heavy eye makeup.
O'Donnell, who used to cook at Mario Batali's West Village restaurant Lupa, started volunteering in the makeshift kitchen more than three weeks ago and saw the operation grow. Now, the volunteers have a few off-site areas in Brooklyn where they cook the produce, rice, beans and any meat given to them by various upstate farms or co-ops, or purchased with donated funds. According to O'Donnell, they spend between $1,500 to $2,000 daily, and given the numbers of people who eat three meals a day, that means they feed each one for about $1.50 to $2.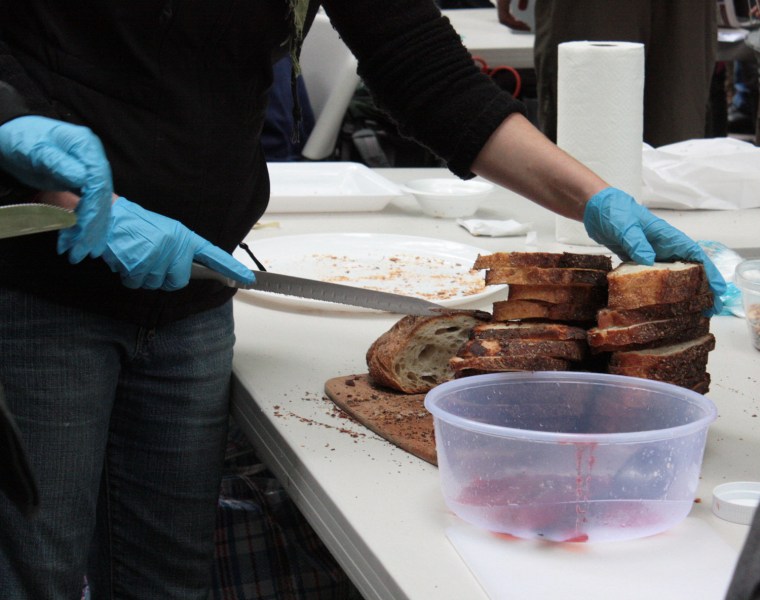 Not everyone sees the volunteer chefs' work as part of a good cause. Recently the New York Post ran an article about chef Eric Smith, 38, who formerly worked at the Sheraton in midtown Manhattan. "Last night, for example, while your family of four may have been forced to resort to Hamburger Helper, thanks to Smith's culinary magic, hordes of Occupy Wall Street protesters instead feasted on organic chicken, spaghetti Bolognese, roasted beet and sheep's milk-cheese salad and wild heirloom potatoes," Post writer Rebecca Rosenberg assessed. While Smith disagreed with the criticism, it hasn't stopped him from continuing to whip up nutritious, hot meals.
"We are here to feed the people," said O'Donnell, who mentioned that regardless of whether people are there to protest, if they are hungry, they should eat. "This is an example of how it should be — people shouldn't be hungry."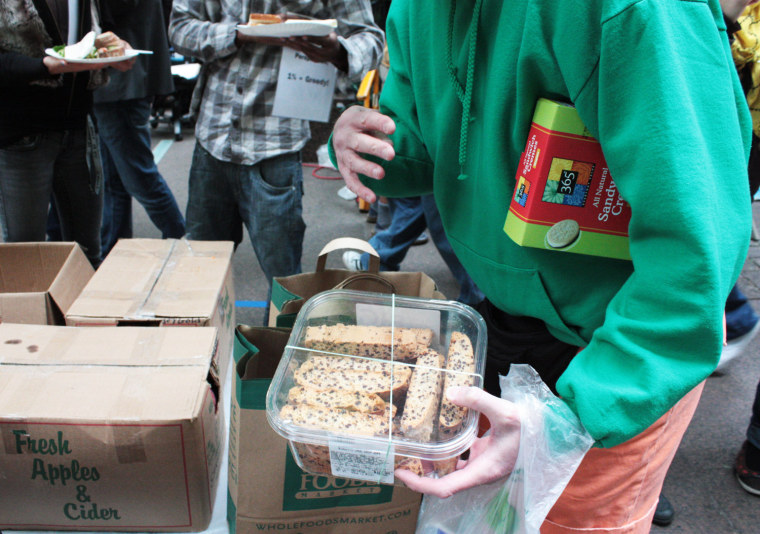 And we spotted one 80-year-old man taking that to heart, saying he just happened to walk by and decided to stay and eat. "I am amazed how fresh it is," said the man, who declined to give his name while adding that he didn't care much for the cause.
More and more everyday people are also continuing to share food with others during the protest. For 38 days, Jack Boyle, 56, has passed out treats he buys from Trader Joe's or Whole Foods. On Friday he had a supply cookies and, as he handed the goods to the kitchen staff, he likened the movement to a family that he wants to help feed.
Avi Saban, 24, who has dedicated himself to volunteering with the information committee, only grabs the free food when he has been working long hours and is really hungry. Or when, as happened during our conversation, someone hands him a handful of cookies.
"People donate some amazing food," he said. "And you should see the lines for dinner, it's out and around the park."