Delicious home cooked meals for your family don't require you spending big bucks at the grocery story. In fact, Erin Chase, "The $5 Dinner Mom" says it can cost you $5. Here, she shares her recipes for slow cooker black bean enchiladas, citrus-rosemary roasted chicken and pork chops with cranberry-mustard sauce.
Slow cooker black bean enchiladas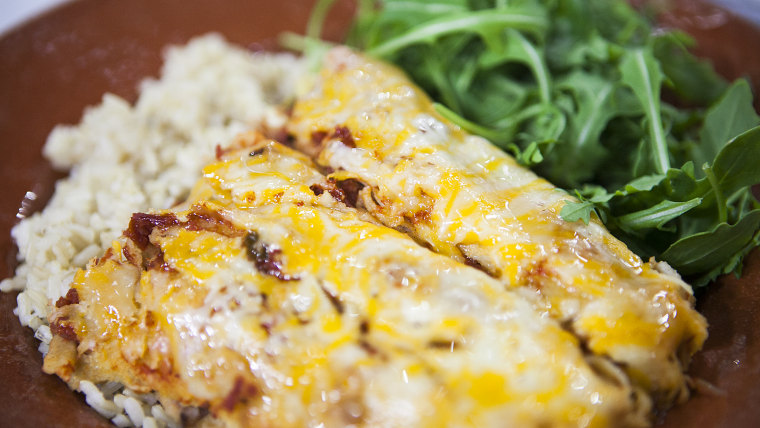 Yield: 4 servings
Cost: $5.52
Prep time: 15 minutes
Cooking times; 3-4 hours
15 oz can black beans, drained and rinsed
15 oz can corn, drained (or 2 cups frozen corn)
4 oz. can diced green chilies, drained 
1 tsp ground cumin
1 tsp salt
2 cups shredded quesadilla blend cheese, divided
2-3 cups salsa
12 corn tortillas, warmed
In a mixing bowl, mash the black beans with a potato masher or fork. Mix in the corn and green chilies. Stir in the ground cumin and salt. Last, add 1 cup of the shredded cheese and combine well.
Add about 1 cup of salsa to the base of the slow cooker and spread evenly on the bottom. Roll the bean-corn mixture into the warmed tortillas, dividing evenly. Place in the slow cooker seam side down, nestled tightly together. Pour the other cup of salsa over the top and then sprinkle the other cup of cheese on top.
Set the slow cooker on low and cook for 3 to 4 hours.
Serve with a side of rice and/or salad.

Citrus-rosemary roasted chicken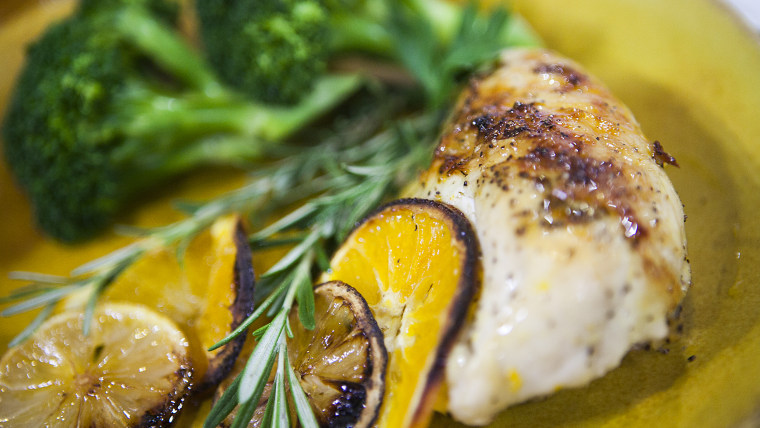 Yield: 4 to 6 servings
Cost: $4.71
Prep time: 10 minutes
Cooking time: 60 minutes
1 whole chicken, cut into pieces (It can be purchased this way too!)
Olive oil for drizzling over chicken 
About 1 tsp seasoning salt 
About 1 tsp garlic powder 
About 1 tsp pepper 
Rosemary sprigs 
1 large or 2 small oranges, sliced and zested 
2 lemons, sliced and zested 
Gravy optional: About 1 tsp flour or brown rice flour if gluten free

Handful of dinner rolls
A side of your favorite vegetable
Preheat the oven to 400 degrees F. 
Place the chicken pieces into a large roasting pan.
Drizzle the olive oil over the top of the chicken, then season with seasoning salt, garlic powder and pepper. Add the rosemary sprigs around the chicken pieces. Using a zester or grater, zest the ends of the orange(s) and lemons over the chicken pieces, getting as much zest off as you can. Slice the orange(s) and lemons and spread slices around the chicken and rosemary. 
Place the roasting pan into the preheated oven and roast uncovered for 1 hour. Baste after 40 minutes, if desired. 
Once the chicken is cooked through, remove from the oven and let cool slightly before serving. 
Optional gravy preparation: Using a baster, pull out all of the liquid from the roasting dish and place into a bowl; let the fat rise to the top and skim it off with a spoon. Whisk in about 2 Tbsp warm water plus about 1 tsp flour. Serve gravy over the chicken pieces. 
Warm the dinner rolls and prepare your favorite veggies. (We had broccoli.) 
To serve, remove the rosemary and citrus slices and serve chicken with rolls and vegetables, with a little gravy on top or on the side for dipping.

Pork chops with cranberry-mustard sauce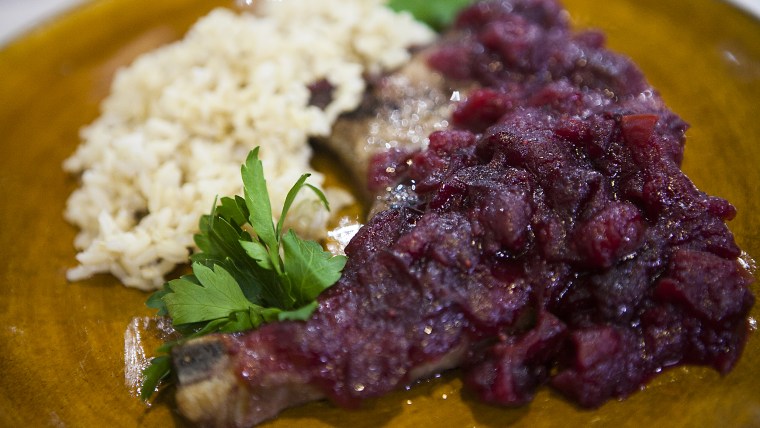 Yield: 4 servings
Cost: $5.18
Prep time: 5 minutes
Cooking time: 20 minutes to make the sauce, 30-35 minutes to bake
4 pork chops (about 1.5 lbs.)
Salt and pepper   
Dash of cinnamon on top of each chop 
1 12 oz. bag fresh cranberries (or 1 15 oz. can) 
1/4 cup spicy mustard
1 cup sugar 
1 cup brown rice 
1 bag frozen veggies (16 oz.)

Preheat oven to 375 degrees F. Spray a 9×13-inch glass baking dish with non-stick cooking spray. 
In a medium saucepan, combine the cranberries, spicy mustard and sugar with 1 cup of water. Bring to a boil, then reduce heat to medium and cook at a rolling boil for about 20 minutes, or until the cranberries have popped and sauce begins to thicken. (If using canned cranberries, stir together the cranberries, spicy mustard and half of the sugar in a bowl, then spread over the chops.) 
Add the pork chops to the baking dish and season with salt and pepper; add a dash of cinnamon to each chop. Pour the cooked sauce over the top of the pork chops and bake in the preheated oven for 30-35 minutes, or until pork chops are cooked through. Cooking time may vary, depending on thickness of the chop. 
Serve with a side of rice and veggies.