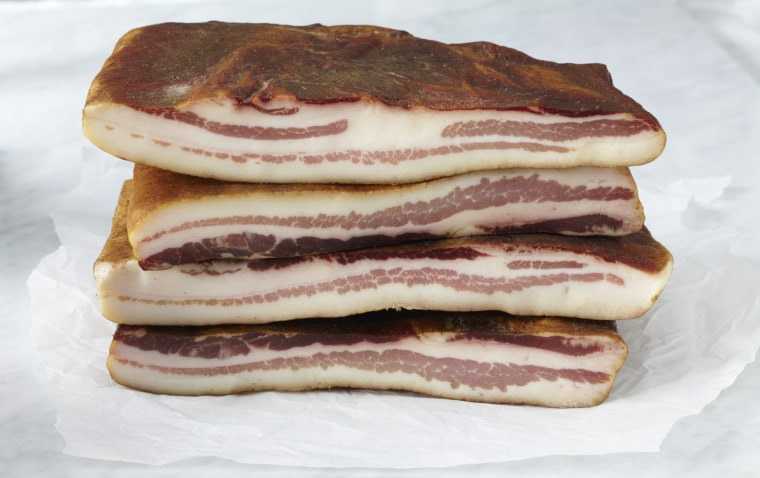 Frying your bacon is so passé. La Quercia caused quite the stir at this year's Fancy Food Show in Washington, D.C., when it premiered its new Tamworth bacon. What was the big deal? Make that a raw deal – this bacon is meant to be eaten uncooked.
The company uses pasture-raised, antibiotic-free Tamworth hogs (an English breed known as the "bacon pig"), grown especially for La Quercia over the last four years by a farm in Osage County, Missouri. The pork is cold-smoked using applewood and rubbed with sea salt and spices, with none of the nitrates you usually find in bacon.
"To me, there are two things that really distinguish the Tamworth from other types of bacon," said Herb Eckhouse, who owns La Quercia (Italian for "the oak") with his wife Kathy. "One thing is that it cures up really sweet. That means it has a nice, natural sweetness to it without having to add any sugar. The other thing that distinguishes it is the fat. The fat isn't rich and creamy like you'd get with a Berkshire pig. It's very soft, making it a nice complement to the meat instead of overwhelming it."
So, how does he eat it?
"I like to eat it raw or just very lightly cooked," he said. "You don't want to crisp it or you'll lose the fat. You want the fat to just melt in your mouth."
TODAY Food readers' best BBQ tips
What does Ben & Jerry think of bacon ice cream?