Al Roker is taking a road trip to surprise home cooks to have a Father's Day barbecue in their very own backyards.
In the first installment of our series, Al and pitmaster Myron Mixon are surprising a man named Mike Pooler in Stillwater, Minnesota. Mike is a devoted husband and father and an avid barbecue enthusiast. He competes in grilling contests with his brothers and will often travel all the way to another state for an extra special or unique cut of meat. His wife Julie who, calls him the "Mad Griller," nominated Mike for this special surprise.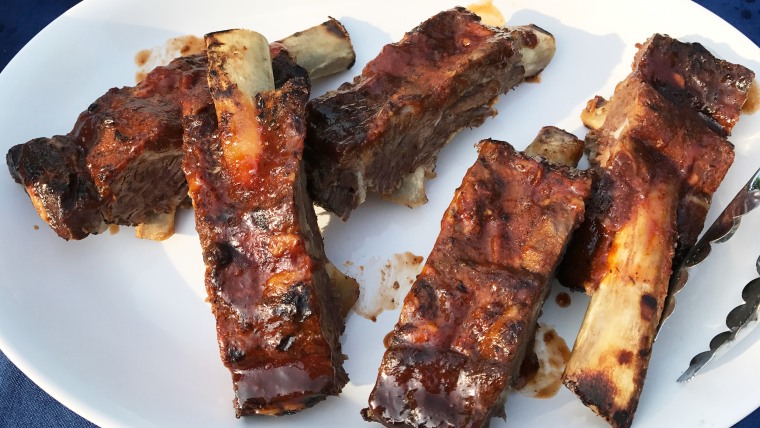 Al, Myron and Mike cook up two classic barbecue sides with exciting twists. They make creamy mac and cheese with smoky rib meat mixed in and potato salad loaded with bacon, chives and cheddar cheese. Myron also shares his tricks and techniques for making the best baby back ribs.
This recipe is great for using up leftover BBQ meat. And, who doesn't love mac & cheese, whether you're enjoying it as a side to your Q, or on its own!
Nothing pairs better with the smokiness of BBQ than the cool creaminess of a great potato salad. This version, which takes its cue from the classic loaded baked potato, is even better!
Myron Mixon's Rib Tips:
Rub your ribs
To give them maximum flavor. Combine 1 teaspoon each smoked paprika, dried thyme, garlic powder, onion powder, sea salt, fine black pepper, 1/4 teaspoon cayenne pepper, 1/2 teaspoon dried basil and 2 teaspoons light brown sugar. Massage the mixture into the ribs to give them a spicy, sweet and savory flavor.
Put them in a pan
Don't place the ribs directly onto the grate of the grill. Instead, put the ribs, bone side down, in an aluminum foil pan and cook over medium heat in a covered grill. This will protect the ribs from burning and helps keep them moist and tender.
Cover them up
Close the lid while your ribs are cooking to let the smoky flavors penetrate the meat.
Give them a spritz
Add extra flavor and keep the ribs moist with a flavorful spritz solution. Combine 3 cups apple juice, 2 cups white wine vinegar and 2 tablespoons liquid imitation butter in a spray bottle and shake to combine. Start spritzing at the 30 minute mark and every 15 minutes thereafter until the ribs have been smoked/cooked for two hours.
Keep them moist
After the ribs have smoked/cooked for two hours, pour about a cup of apple juice into the pan and cover tightly with aluminum foil. Cook on the grill, with the cover down, for about another hour.
Slather them with sauce
Once your ribs are cooked, remove them from the pan and place them directly on the grill grate to heat them through and give them a light char. Right before serving, brush them generously with your favorite BBQ sauce.
If you like those great grilling recipes, you should also try these: