Sure, you may know how to throw together a quick pasta using pantry staples, but if you're getting tired of making the same thing over and over again (hello, fried rice!), we've got some ideas for you.
Here are 14 of TODAY Food's fastest and easiest weeknight dinner recipes to get you out of your pantry-cooking rut. From crowd-pleasing classics, to healthy entrees loaded with veggies, there's something in here for everyone.
One way to cut down on dinnertime stress is to cut down on time in the kitchen. You can make this meal with store-bought chicken and pre-chopped veggies.
A favorite of the whole TODAY family, this recipe is also kid-tested and approved. Plus, it's a great way to turn leftover pasta (you can use penne, linguine or even macaroni) into a whole new meal.
No one will ever know you whipped up this steak dinner in just 25 minutes. The feta cream sauce is a deliciously salty topping, too.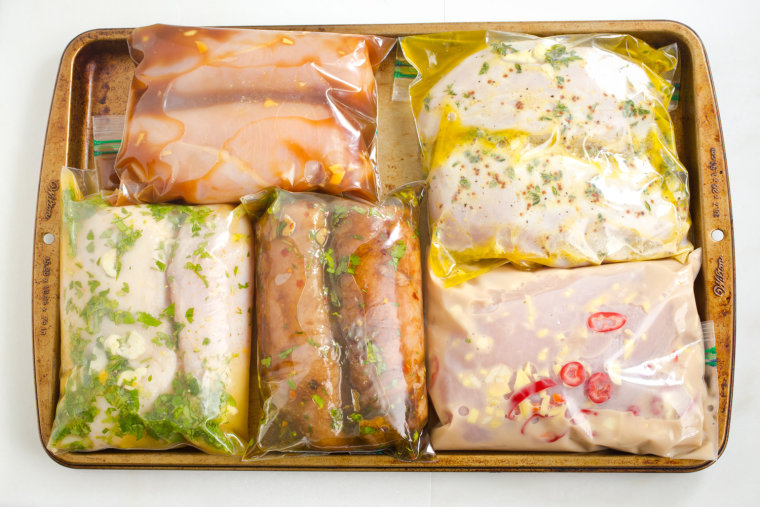 Prep these flavorful marinades in plastic bags in advance for the ultimate time-saving trick. You can put the chicken in the marinade bags and freeze it until you're ready to cook it. When you defrost it, it'll already be full of flavor, so all you'll have to do is throw it in the oven or put it on the grill.
If you love digging into a heaping bowl of pasta, then let Joy introduce you to your new favorite meal. Shakshuka is a one-skillet dish that's popular in Middle Eastern countries. She puts her own spin on it by simplifying the recipe and replacing the side of carb-loaded bread with lighter, nutrient-packed zucchini noodles. Although it's typically a breakfast food, shakshuka can be served any time of day — it makes a delicious eggs-for-dinner recipe.
You only need seven ingredients to make this delicious dinner — and you likely have them in your kitchen already.
Valerie Bertinelli loves this recipe because the flavors remind her so much of spinach and artichoke dip. "What makes this one-pot casserole even better is that it doesn't have any heavy, overly creamy ingredients and the chicken breast gives it a healthy dose of lean protein," she says.
Making pork nice and juicy can be difficult. But Al's recipe is super simple and fast. You'll be able to get this incredible dish on the table in only 20 minutes!
Giada's healthier and simplified version of eggplant Parmesan is a perfect fit for an easy weeknight meal — and it comes together on just one sheet pan!
There are many, many chicken recipes out there, but this is the only one food writer Priya Krishna cares about. Why? It's incredibly versatile and the funky, juicy, bright and slightly spicy flavors hit all the right notes for any dining occasion. Stuff this into tacos, serve over rice or serve it on its own.
Need more veggies in your life? This fast and tasty pasta has got you covered.
No-boil lasagna noodles speed up the cooking time with this comfort food favorite. There are endless ways to customize this casserole with different ingredients so that even the pickiest eater will love it.
This light weeknight dinner of lean protein and roasted veggies has all the flavors of a traditional stir-fry, but it's even easier to make. Everything gets baked on one sheet pan in just 30 minutes.
Frozen shrimp, frozen veggies are your friends! Use 'em all for this $5 ramen noodle dish.
This article was originally published on Aug. 22, 2016.