Fatima Ali, a finalist on season 15 of Bravo's hit reality show "Top Chef," inspired friends, fans and fellow chefs with a moving essay about her terminal cancer diagnosis published this week.
Now, many are paying it forward.
After being diagnosed with Ewing's sarcoma, a type of bone and soft tissue cancer, in 2017, Ali, or Fati as many know her, thought she was on the road to recovery. In February, doctors declared Ali "cancer-free," and in April, she returned to cooking with a sold-out show at the Pebble Beach Food and Wine Festival.
But in an essay published in Bon Appétit on Tuesday, Ali, 28, announced the cancer had returned and she had one year to live.
"It's funny, isn't it? When we think we have all the time in the world to live, we forget to indulge in the experiences of living. When that choice is yanked away from us, that's when we scramble to feel," Ali wrote.
And feel is what Ali intends to do.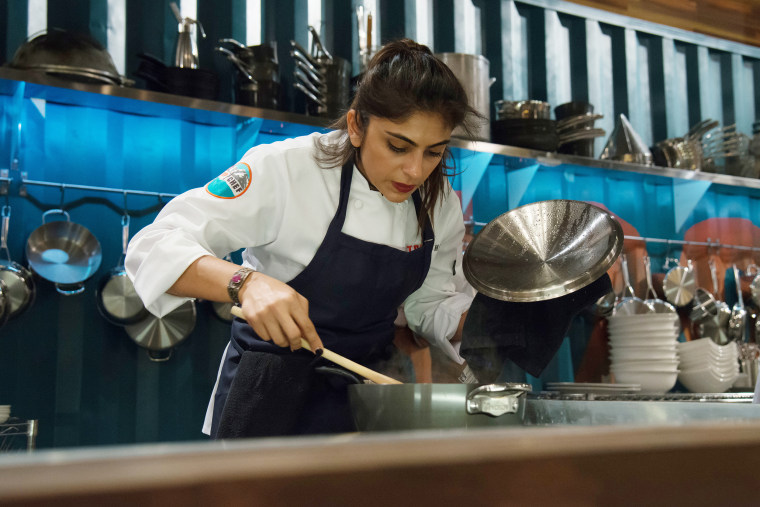 "Every day is an opportunity for me to experience something new. I used to dream of owning my own restaurant," Ali wrote. "Now I have an ever growing list of the ones I need to visit.
"From decadent uni and truffle toast at Chef's Table at Brooklyn Fare to spice-laden Szechuan hot pot in Flushing, I'm sketching a plan to eat my way through New York and the boroughs while I can."
Moved to help Ali live out the rest of her life with passion, gusto and adventurous taste buds, her culinary comrades coined #TeamFati have launched a GoFundMe campaign that will make extravagant dining and whatever else Ali sees fit more accessible in the coming months.
"Hey guys! Sometimes we need to rally, and this is one of those times. Please help. Most of you have read the beautiful article @cheffati wrote in @healthy_ish about her battle with cancer," fellow "Top Chef" competitor and runner-up Adrienne Cheatham wrote on Instagram.
"Let's try to help her experience all that life has to offer, from hot pot in Queens to @nomacph. It is her dream to live to the fullest and visit as many places as she can with the time she has, let's help her live it up!"
Dozens of chefs, from Ali's dear friend and "Top Chef" hosts Padma Lakshmi and Gail Simmons to Brooke Williamson, as well as fans of Ali, have donated and posted about the cause on social media.
The fundraiser, which kicked off on Wednesday, has already reached nearly $60,000 of its $150,000 goal.
Ali was not immediately available for comment but has already posted a thank-you on Twitter saying, "Thank you all so much from the bottom of my heart. I'm floored by everyone's generosity and kindness."