Parents often limit "screen time" for their children. But a recent study has shown that parents may also need to limit the time they spend scrolling through their devices, too.
Frankie & Benny's, a U.K.-based restaurant chain that serves New York-style Italian eats, recently commissioned a study of 1,500 people to see how technology has been influencing dinner table behavior. As it turns out, children and teens aren't the only ones overdoing it during mealtime.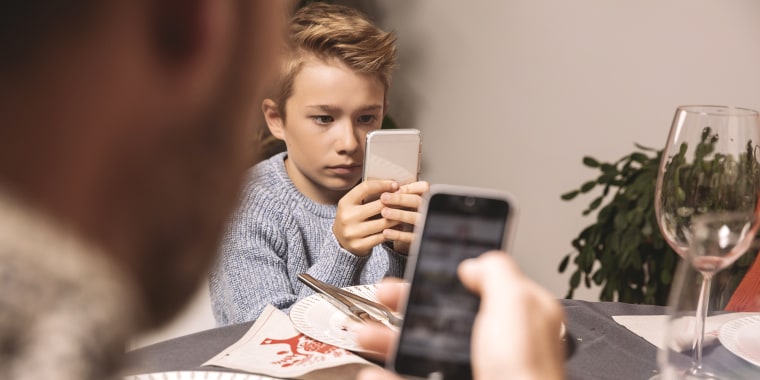 The study showed 72 percent of children between the ages of 6 and 16 want their parents to put their phones away and spend more time interacting with them while they eat. And 70 percent said they'd "confiscate" their parents' phones if given the chance (one in 10 kids even admitted to hiding devices to get more attention).
More than a quarter of parents admitted to using their phones during meals with their families and 23 percent said they did so while their child was talking about his or her day.
To combat these stats — and help reinforce the importance of family interactions — Frankie & Benny's, which own over 250 restaurants throughout the U.K., is running a "no-phone zone" promotion now through the first week of December. A Frankie & Benny's spokesperson told TODAY Food that the phone ban is not mandatory and is only geared towards diners with kids.
To give families an extra incentive to relinquish their devices, the chain will let kids of parents who give up their phones eat free. Frankie & Benny's staff members will keep parents' devices in a special box during the meal.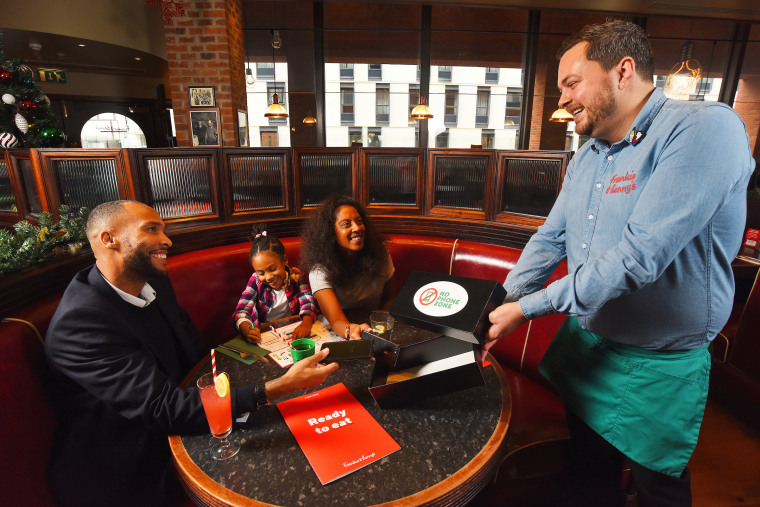 "Children spell love T-I-M-E and by putting away screens parents are sending the message that their children are important to them and that can only be good for family time," parenting expert Susan Atkins said a press release from the restaurant. "Parents are role models in everything that they do and in everything that they say, so by managing their own screen time parents are teaching their kids by example about when and where technology use is appropriate."
While the British chain may be the first to give away free food in exchange for phones, smartphone bans in restaurants aren't new. Last year in New York City, restaurant owner and chef Marco Canora got tired of disconnected diners at his establishment Hearth. So, last year he placed intriguing boxes at each table with a note that said, "Open Me," and an invitation on the inside to "unplug" during dinner.
Eleven Madison Park, Daniel Humm's Michelin-starred eatery, has also encouraged its customers to enjoy the moment and put their phones inside boxes, too.
And fine-dining establishments aren't the only dining establishments getting in on the ban trend. In 2016, Chick-fil-A challenged dine-in customers to stash their phones in "cell phone coops" to enjoy good, old fashioned crispy chicken in phone-free bliss.
When it comes to cell phone bands at restaurants, the internet is, not surprisingly, divided.
Many tweeters say they support managers' and restaurant owners' proactive approach to no-tech tables.
Others think a phone ban will inspire conversation.
A small Twitter poll showed that 68 percent of would-be diners thought a "digital detox" while going out to eat was beneficial.
But others, who might prefer their phones to the company of people, thought otherwise.
Another tweeter reminded those who took offense at the idea of the latest ban that it's not even mandatory.
Whether people should be rewarded for giving up screen time while dining out is certainly one of the great food debates of the modern age — but it's hard to argue with the value of spending time together as a family.