My dad loved to cook; not just grilling – though he did that with gusto, almost always in shorts, even during New England winters – but big, adventurous, hearty dishes. He made stews, considered his shrimp scampi to be a signature dish and was constantly perfecting his burger.

He seemed to pride himself on never following a recipe exactly, often eyeballing his ingredients. He was my go-to for kitchen advice, and I swear I could almost hear the smile in his voice when he'd start to share a recipe – me calling from San Francisco or Atlanta, my dad in our kitchen back in Connecticut.
It's safe to say I owe much of my love of cooking to my dad, or "Pops," as I liked to call him. When my husband, David, and I were first dating, he casually mentioned something about chicken pot pie. I called my dad for a recipe, sure he'd know the best way to impress my then-boyfriend. Before I knew it, I had an entire bird stuffed into a pot, more homemade chicken stock in my tiny San Francisco freezer than I'd ever need, and one very delicious, very well-received chicken pot pie.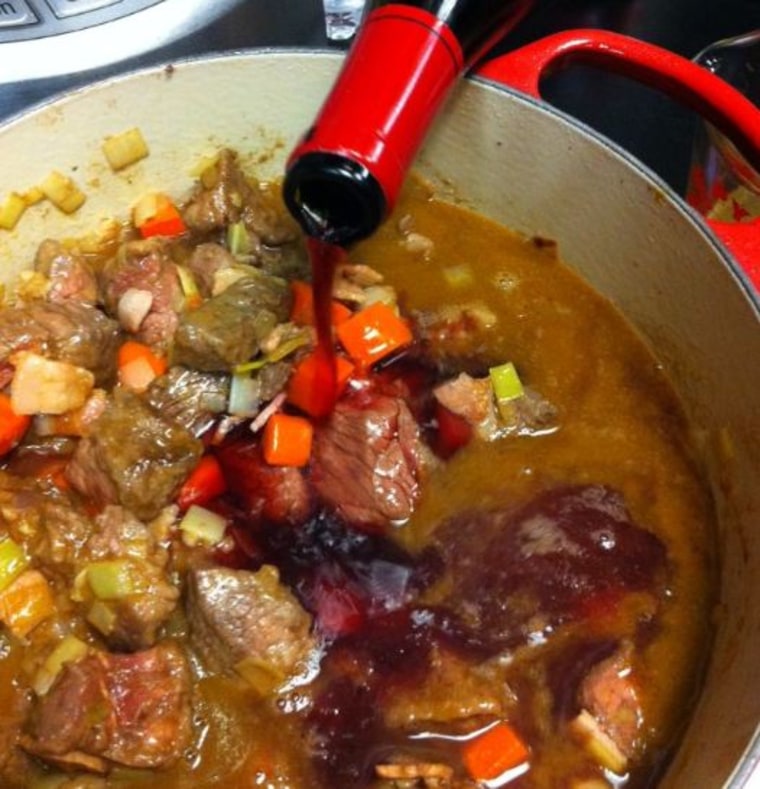 He loved to explore different markets – whether in Paris, San Francisco or Atlanta – and would make a day out of planning his feast. We'd come home to an apartment that not only smelled like home, it felt like home: full of love, including a hug from Pops when we walked through the door. When we came home to Connecticut, my dad always made it a big deal with a big meal.
One of his favorites, especially in the winter, was boeuf bourguignon. I can hear him saying it – he always preferred to say it in French – his voice going up a little at the end, rolling his "r," punctuating the air with his thumb and forefinger like he was putting a period at the end of those words, words so delicious you could taste them.
His eyes would sparkle as he told us about a little change he'd made to the recipe this time around, or a tip he'd learned from the butcher at the local meat market. His base was always "The New York Times Cookbook" recipe. The other constants were good bread and good wine. There was nothing like walking in the door to be enveloped by the warm smell of his cooking, trumped only by his warm, extra-long hug. There was so much love and so much joy in his cooking.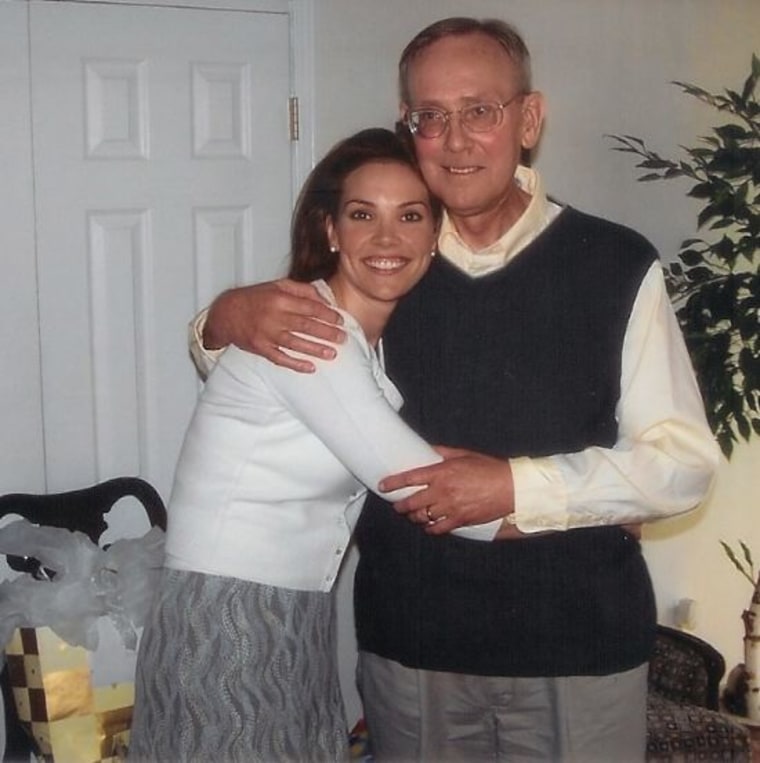 When David and I got engaged, we were living in Atlanta. David's aunt and uncle, Dan and LaWana, graciously threw us a wonderful shower in the months leading up to our big day, and my dad flew down to be there.
By this time, complications from treatments for his head and neck cancer had stolen his ability to enjoy the wonderful meals he took such pride in making. He was on a feeding tube, had lost most of his salivary glands due to his radiation treatments, and had limited ability to swallow. He had also lost most of his sense of smell, so he couldn't taste much – tough for someone who seasoned his dishes as he went.
But he never complained.
And he never stopped cooking.
When my dad arrived in Atlanta, he gave us our own copy of "The New York Times Cookbook." I pulled it out on one of the first cold days this fall. The crisp air called for something hearty, something to warm your bones and your soul. My dad would have recommended boeuf bourguignon, a dish he continued to make for us as long as he could stand at the stove; a dish he couldn't enjoy for the last eight years of his life – one he couldn't even smell, and the last thing we cooked together at my parents' house.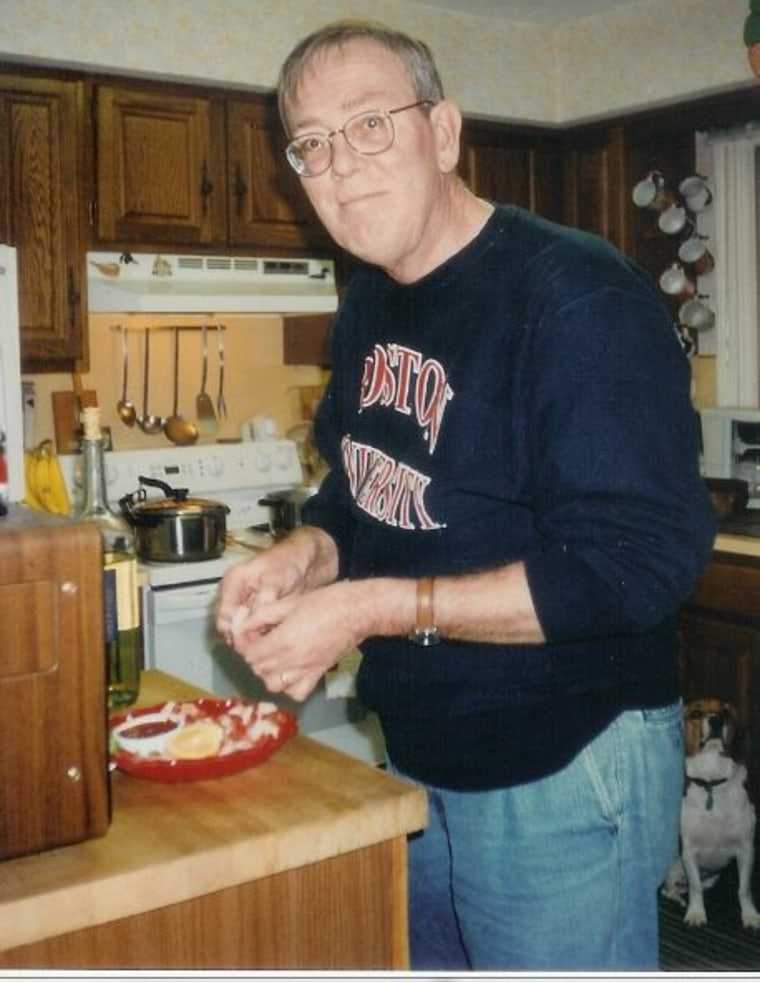 In true Hill form, I used that Times recipe as my guide. When I opened the book, something made me turn to the cover page. I hadn't seen my dad's handwriting in so long, it actually made me stop for a minute. The tears welled up as I smiled, thinking about how happy this cookbook had made him, and how excited he was to share it with us.
Because I learned from the best, I made a few changes to that well-loved recipe. I got started late, so I needed it to cook a little faster, without sacrificing that simmered-in flavor, so I put it in the oven for a bit. I added more vegetables, played with the spices and all the while thought of my dad.
I could almost sense him over my shoulder, smiling down, nodding in approval, and reminding me not to forget the bread.
Tell us, do you have a dish that reminds you of a loved one? Share your story in the comments and try Erica's recipe below.
Boeuf bourguignon
1/2 lb bacon, diced
3 lb cubed chuck
1/3 c + 2 Tb flour, divided
4 tbsp olive oil, divided
1/2 c brandy
6 tbsp butter, divided
2 leeks - white part only, rinsed well and diced
1 medium onion, minced
3 c carrots (I quarter lengthwise if thick, then chop into small chunks)
3 tsp minced garlic
1 tbsp tomato paste
1 (750 ml) Burgundy or pinot noir
1 1/2-2 c beef broth
2 sprigs of thyme - I had only one small fresh sprig left, so used that plus a good 2-3 tsp dried
2 1/2 Tbs fresh chopped parsley
2 bay leaves
1/8 tsp ground cloves
Salt and pepper to taste
1 lb pearl onions (I buy already peeled, frozen onions and defrost earlier in the day)
1 lb cremini mushroom caps, quartered if small, or cut in 6-8 thick pieces if large
Egg noodles
Warm, crusty French bread
Butter
Preheat oven to 375.
In large Dutch oven, cook bacon over medium heat until brown but not too crisp. Remove to plate with slotted spoon.
Liberally salt and pepper beef cubes, then toss in plastic freezer bag with 1/3 c flour to coat the pieces.
Add 2 tbsp olive oil to bacon grease in Dutch oven, brown meat in batches until brown on each side but not cooked through (a few minutes ea. side). Remove to plate with bacon using slotted spoon. Pour off excess fat, then add brandy to pot, deglaze while scraping up brown bits until consistency is thick and almost creamy (this will take a few minutes). Pour this over meat and bacon, set aside.
Add 2 tbsp each olive oil and unsalted butter to pot. Once melted, add leeks and onion. Cook for 1-2 minutes before adding carrots, cook for another 3-4 minutes to allow carrots to soften. Add garlic, cook another 1-2 minutes. Add tomato paste, mix well. Add meat, bacon and juices from dish, mix well. Add wine, broth to cover the meat and vegetables, spices and bring to a boil.
Simmer covered on stove for 20 minutes, then put in oven for one hour. After removing dish from oven, allow it to rest, covered, while preparing onions and mushrooms (or you can do this about 10 minutes before its scheduled to come out of oven).
Melt 1 tbsp butter in a 10-inch pan, cook onions until just browned, then add to stew. In same pan, melt an additional 1 tbsp butter, sauté mushrooms until natural juices have evaporated, add to stew. Mix well, season as needed (I usually end up adding more thyme and parsley as I like things well-seasoned, and love the flavor of thyme), simmer for 10 minutes.
If it needs thickening, combine 1-2 tbsp butter with same amount of flour and slowly stir mixture into stew. If making ahead, skip this step until you reheat the dish for serving and assess it at that time. As this is a somewhat time-consuming dish, my dad always recommended making this a day ahead because that gives the flavors time to really marinate. Serve with warm, crusty bread, egg noodles, and wine. Bon appetit!
More from TODAY Food:
Erica Hill: My mac and cheese is a 'hug in a baking dish'
Super Bowl of brews: Best beers of SF, Baltimore, NOLA
Savannah Guthrie defends Spam sushi: 'It's delicious!'