Chef, author and TV host Anthony Bourdain has died at the age of 61. He was found unresponsive by his long-time friend, chef Eric Ripert, in his hotel room in France where the duo was filming an episode of his award-winning TV series, "Parts Unknown."
It has been reported that suicide was the cause of death.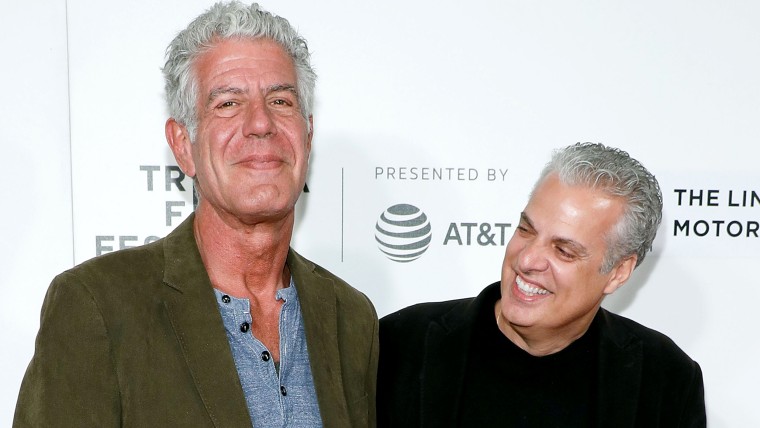 In a statement issued to TODAY, Ripert responded to the tragedy:
"Anthony was a dear friend. He was an exceptional human being, so inspiring and generous. One of the great storytellers of our time who connected with so many.
"I wish him peace. My love and prayers are with his family, friends and loved ones."
There has perhaps never been a more endearing, silver-haired bromance in the history of culinary television: Ripert's soft-spoken, fine-dining French chef character was the perfect foil for Bourdain's unwieldy, bad boy, try-anything-once persona.
"I like to bring the distinguished three-star Michelin chef and good friend Eric Ripert someplace every year and torture him," Bourdain said recently. He'd "torture" him, in the most loving way possible, with unbearably spicy foods and refills upon refills of alcohol.
After a handful of cameos on Bourdain's Travel Channel show "No Reservations," in 2010, the French-born Ripert finally got an episode devoted to his own roots — in Paris, of course — where they visited some of the city's oldest establishments, as well as new spots making a name for themselves.
In 2013, Bourdain ended his run on "No Reservations" and moved on to "Parts Unknown" on CNN, where Ripert was an immediate mainstay on the show. They traveled to Peru together, climbed a mountain (which Bourdain obviously hated) and were blessed by a shaman.
Then, in 2015, they went to Marseilles together, and by then it was clear they'd gotten very comfortable around one another as they dug into each other playfully for the entirety of the episode.
"But this a buddy picture, isn't it? Eric Ripert... [is] a Chevalier of France, I think that means he's some kind of knight or something, and my friend," teased Bourdain. "This causes him some problems. He, I like to remind him, has a reputation to protect. I do not."
In 2016, the pair took on the Sichuan region of China, and ate plenty of food coated in mouth-numbing Sichuan peppercorns. Bourdain literally cackled with delight after making his friend sweat from eating things like mapo tofu, chicken with chiles and a duck intestine hot pot.
And right before he served Sichuan peppercorn fish to Ripert, Bourdain told his friend, "Any second now, that perfect hair is going to burst into flames."
The ribbing, however, wasn't just Bourdain taking friendly jabs at Ripert. In 2017, Ripert schooled his friend on the slopes of the French Alps. Huffing and puffing, Bourdain described the slopes as "terrifying and difficult," while a smiling Ripert couldn't seem to get enough of the fresh powder.
Back in his comfort zone — inside, with lots of decadent food like pan-seared foie gras and an impressive cheese course — Bourdain got back to picking on his pal. As they dug into a meatless dish of bread smeared with a mushroom and cream sauce, Bourdain and Ripert voiced their differing opinions on the consumption of animal protein. Ripert, though concerned about the practice's environmental impact, said that "bovine flatulence" (yes, cow farts) is responsible for more carbon dioxide production than automobiles.
"See, this is why we should eat meat," Bourdain responded with his signature wit. "We're saving the planet ... we've got to kill these things!"
On Friday, as the culinary world continued to mourn the loss of a great chef with a larger-than-life personality, Ripert posted a lengthier statement on Twitter, mourning the loss of his "best friend."
If you or someone you know is in crisis, call the U.S. National Suicide Prevention Lifeline at 800-273-8255, text TALK to 741741 or visit SpeakingOfSuicide.com/resources for additional resources.