Below, you'll find the story of a basic roast chicken recipe that promises a marriage proposal from your boyfriend. Sound crazy? Yes. But will women all over America try it anyway? Probably. We've done crazier things for love.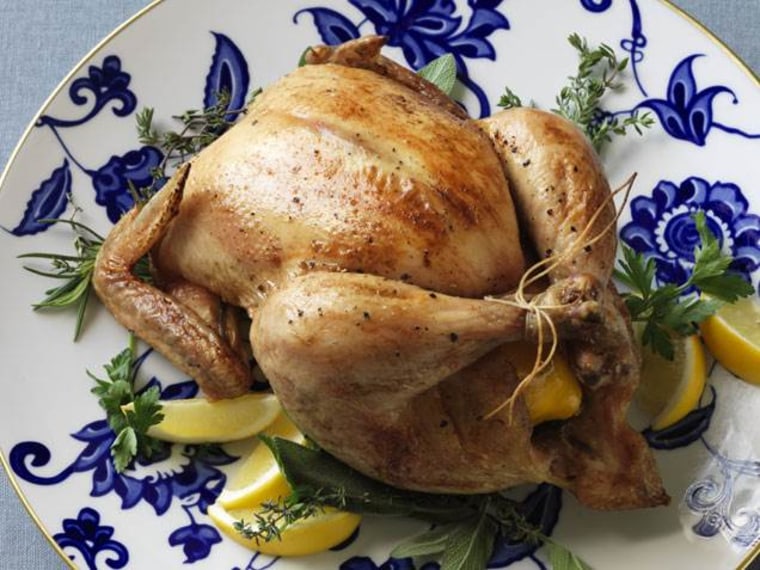 Glamour magazine editor Lindsey Unterberger, one of the many women who've become engaged after making this infamous dish, explains the phenomenon. Read her full story here and check out the recipe below.
[Ed. note: I made perfect roast chicken for my ex-boyfriend approximately 50 times, yet note the "ex." I'm not sure I'm a believer, but if enough of you subscribe to this theory I'll consider purchasing some stock in poultry farms.]
Recipe Success Story: "I Made Engagement Chicken and It Worked!"
By Lindsey Unterberger
Hi everyone! My name is Lindsey, but you can call me Engagement Chick. You see, back in 2009 I had been dating my boyfriend for seven year. Yes, seven years. To say I was itching for a ring would be an understatement. So I decided to take matters into my own hands, er oven mitts, and made Glamour magazine's infamous Engagement Chicken. If you haven't heard of it, Engagement Chicken is an easy roast chicken recipe that has been handed down from Glamour staffer to staffer, all of whom got engaged after making it for their men. Soon after making it, I was engaged. The bottom line is that this bird works.
And I'm not the only one; 70 other couples and counting have reported the same results! In fact, it became such a phenomenon that Glamour created a cookbook around it called 100 Recipes Every Woman Should Know: Engagement Chicken and 99 Other Fabulous Dishes to Get You Everything You Want in Life. From Forget the Mistake You Made at Work Margarita to Make New Friends Plum Cobbler, every recipe has its own bit of magic. But here's the recipe that started it all.
Roast Chicken With Lemon and Herbs
Serves 2 to 4
1 whole chicken (approximately 4 lbs)
1/2 cup fresh lemon juice, plus 3 whole lemons (including 1, sliced, for garnish)
1 tablespoon kosher or coarse sea salt
1/2 teaspoon freshly ground pepper
Fresh herbs, for garnish (4 sprigs rosemary, 4 sprigs sage, 8 sprigs thyme and 1 bunch flat-leaf parsley)
1. Position an oven rack in the upper third of the oven, and preheat the oven to 400°F. Remove the giblets from the chicken, wash it inside and out with cold water, then let the chicken drain, cavity down, in a colander for 2 minutes.
2. Pat the chicken dry with paper towels. Place it breast-side down in a medium roasting pan fitted with a rack, and pour the lemon juice all over the chicken, both inside and out. Season the chicken all over with salt and pepper inside and out.
3. With a fork, prick 2 whole lemons three times each in three different places, and place them deep inside the chicken cavity. Cavity size may vary, so if one lemon is partially sticking out, that's fine.
4. Put the chicken in the oven, lower the temperature to 350°F, and roast the chicken, uncovered, for 15 minutes.
5. Remove the roasting pan from the oven. Using tongs or two wooden spoons, turn the chicken breast-side up. Insert a meat thermometer into the thigh, and return the chicken to the oven. Roast for about 1 hour to 1 hour and 15 minutes or until the meat thermometer reads 180°F and the juices run clear when the thigh is pricked with a fork. Continue roasting if necessary. Keep in mind that cooking times vary in different ovens; roasting a chicken at 350°F takes approximately 18 to 20 minutes per pound, plus an additional 15 minutes.
6. Let the chicken rest for 10 minutes before carving. And here's the secret: Pour the juices from the roasting pan on top of the sliced chicken—this is the "marry me juice." Garnish with lemon slices and fresh herbs.
A version of this story originally appeared on iVillage.