Celebrated restaurateur Danny Meyer of the Union Square Hospitality Group announced Wednesday that he will eliminate tipping at all of his 13 restaurants over the next year.
The policy will start at The Modern in New York City in late November. In a statement, Meyer explained that tipping has been a "major obstacle" in providing "more meaningful career opportunities and advancement for our 1,800 employees." For customers arriving at The Modern, "you will no longer find a tip line on your check, and there will be no need to leave additional cash at the table, the coat check, or the bar," he wrote.
For Meyer's restaurants, this means prices will increase on individual menu items though, Meyer wrote in a statement, "Once these changes are implemented, the total cost you pay to dine with us won't differ much from what you pay now." Eater's Ryan Sutton, who broke the story Wednesday morning, wrote that "a general increase of 21 to 25 percent increase is planned."
Some restaurants abolish tipping — will more follow suit?
Some high-end restaurants like Sushi Yasuda and Per Se in New York City already use the no-gratuity model, as do eateries like Ivar's Salmon House in Seattle, where an $11 minimum wage went into effect in April, and will gradually increase to $15 over the next several years. In February, restaurateur-chef Tom Colicchio eliminated tipping during lunch at Craft in NYC, telling Crain's, "I suspect that 10 years from now, no one will know what a tip is."
In Chicago, restaurateur-chef Grant Achatz and his partner Nick Kokonas, CEO of Tock, Inc. and co-owner of Chicago's Alinea, Next and the Aviary, also utilize a no-tipping model that includes a 20 percent service charge that's included in the cost of a pre-paid meal. Kokonas was among the first adamant supporters of Meyer's announcement via Twitter today:
"Welcome to the future @dhmeyer, this is important — glad to have USHG with us."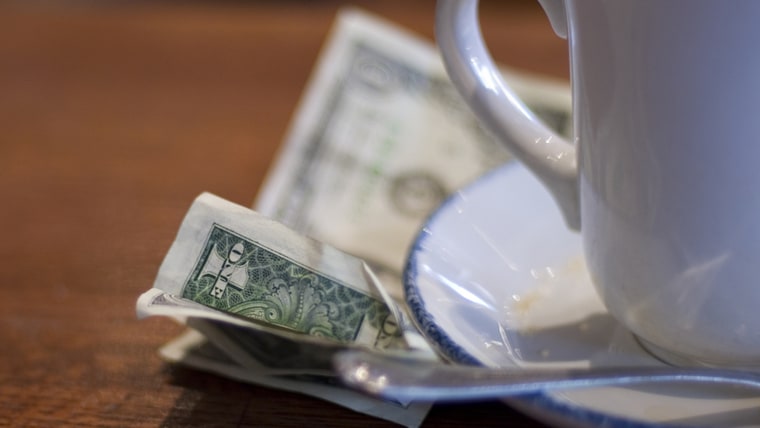 Kokonas gave TODAY.com an impassioned defense of the no-tipping policy.
"I literally did a little dance in my kitchen at home this morning when I read about [Meyer]. Here's the thing —the FLSA (Fair Labor Standards Act) is broken for mid to high-end restaurants. Add to that local legislation and tax rules and you get huge inequalities between front of house servers and cooks all working in the same restaurant. The ONLY way to solve this is to eliminate tipping.
"We've done [a mandatory service charge] successfully for the past five years here in Chicago and have literally built Tock around the ability to do that when booking a restaurant experience. But this is huge news when someone so successful joins the movement to a better way to manage restaurants -- which will result in both better service, fair wages, and better dining experience."
Earlier this year, Amanda Cohen, chef and owner of Dirt Candy in New York City, abolished tipping and instituted a 20 percent administration fee. She told TODAY.com that her decision was based on common human decency: "I think people who do a job should get paid for it, period. They shouldn't have to tap dance like performing monkeys for their salary."
And even mom-and-pop restaurants are jumping on the no-tip bandwagon.
Bob Conway, owner of Packhouse, a casual sandwich shop in Newport, Kentucky, has an all-inclusive service policy for diners (each check contains a 20 percent gratuity). The effects, Conway told TODAY.com in July, are far-reaching.
Conway said he has "low turnover, high morale and great team play within the staff." Staffers are going above and beyond, without being asked. "We found if you take care of your employees, they take care of you," he explained.
The idea behind USGH's forthcoming no-tip policy is that workers will have a consistent salary to rely upon instead of a fluctuating take-home. But the new model may also lower the amount that some servers earn.
"It brings about the question, how do you retain top serving talent at a high-end restaurant?" says Justin Swartz, a nationwide class action employment lawyer and partner at NYC's Outten & Golden LLP. "Some servers can make $100,000 per year. If they want to keep wages consistent, restaurants will have to pay that and figure out how much to raise their prices to compensate. It will definitely take a little while for restaurant owners to calibrate what to pay."
Of course, only a small percentage of tipped workers are making such large sums with the current system. Across the nation, tipped workers use food stamps at double the rate of the rest of the workforce, and are three-times as likely to live in poverty, according to Restaurant Opportunities Centers United (ROC).
Saru Jayaraman, co-director and co-founder of ROC, is optimistic about the possible trickle-down effect of USHG's new policy and what it could mean for the future of restaurant workers.
"This is originating in the conversation about eliminating the antiquated two-tier system [in which workers can get paid an extremely low minimum wage], not just eliminating tipping," says Jayaraman. "We are not advocating that restaurants go from paying say, $2.13 an hour to $15 an hour overnight, but rather over a span of several years. …It's about ensuring that servers are paid a living wage by their employer, not the customer. What we really applaud about Danny Meyer is that he's been very transparent about how he plans to do it, and how he plans to make sure that everyone ends up better, not worse."
Some chefs think that the implications of Meyer, who is widely credited with pioneering friendly-yet-elegant model of upscale dining, could significantly affect the way that the country looks at tipping.
"Danny Meyer changed the fine dining world in New York, and he could really change the American tipping culture too," says chef Harold Moore of NYC's Moore Food & Drink and Harold's Meat + Three. "...It might just be a net positive for everybody."