As it hurdles toward the Carolina coastline, Hurricane Florence has already been dubbed the "storm of a lifetime" by the National Weather Service.
By 2 a.m. Friday morning, Hurricane Florence is expected to become a category three storm off the coast of North Carolina, and it's expected to come inland around Myrtle Beach, South Carolina, by Saturday morning.
On Wednesday, TODAY's Al Roker reported that if the hurricane hovers over the coast, it will become a "storm surge machine," hitting the shore towns with walls of water and heavy rainfall.
For anyone in the hurricane's path, maintaining a proper food supply to ride out the storm (and potentially days after without power) is a major concern. These tips, gathered from FoodSafety.gov and the U.S. Department of Agriculture, will help arm your home with the best food supplies and advice to keep edible items safe in unreliable conditions.
Stocking up before the storm
1. Stock up on bottled water and non-perishable items that will be safe to eat without power. If you can still safely get to a store, keep in mind that easy-to-eat items such as granola bars, shelf-stable milks, cereal, water, canned beans, mixed nuts, bread and spreads like peanut butter are often available at convenience marts or drug stores. Many people might be flocking to grocery stores but you can potentially avoid large crowds by shopping at unconventional food purveyors. If you are headed to a grocery store, it's always a good idea to call ahead to make sure they're still stocked up on the items you need.
2. Make sure you have appliance thermometers on hand to keep in the refrigerator and freezer. This will make it easy to tell when temperatures rise above the recommended 40 degrees in the fridge and 0 degrees, or lower, in the freezer.
If you have to evacuate, try this clever hack to detect whether that freezer food defrosted while you were gone.
3. Build a food safety kit with emergency food supplies and non-electric cooking devices. The U.S. Department of Agriculture's (USDA) Food Safety recommends following these guidelines (including minimizing opening the fridge to keep it cold and storing meat and poultry separately) in the event of a power outage to keep food fresher longer. Before consuming any food after a power outage, it's important to thoroughly inspect it, and if it smells or looks off, just throw it out.
When the lights go out...
1. If the power goes, you can actually use the washing machine to store your food. Fill your washing machine with ice and place your perishables inside to keep food colder longer. When the ice melts, it will drain into the pipes just as water would while doing a load of laundry.
2. Keep the refrigerator and freezer doors closed for as long as possible. A full freezer can maintain its temperature for approximately 48 hours if it remains shut.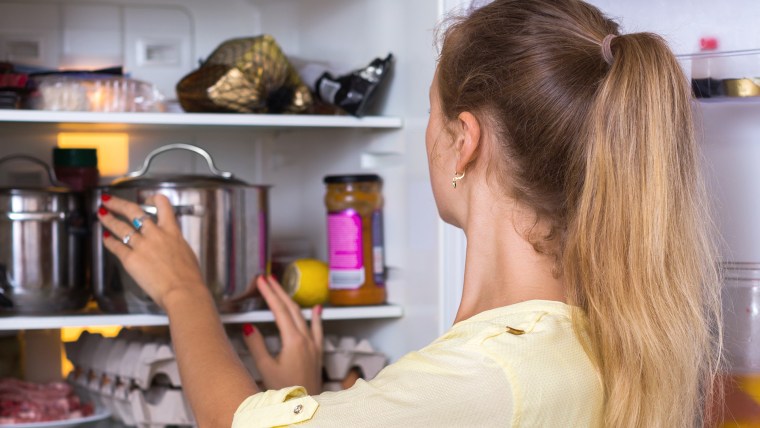 3. If your water supply becomes contaminated and you don't have access to bottled water and cannot boil water, you can disinfect it using household bleach. The USDA recommends adding 1/8 teaspoon (or 8 drops) of regular, unscented, liquid household bleach for each gallon of water, stir it well and let it stand for 30 minutes before you use it. Store disinfected water in clean containers with covers.
4. Toss any food that has an unusual odor, color or texture. If it just doesn't feel, look or smell right, trust your instincts and don't eat it. If food feels warm to the touch, you should toss it. Each food item should be thoroughly checked before eating.
For more tips on how to prepare your fridge and food items for a storm, see the latest guidelines from the USDA.